Rubber Roofing - Rich Textures, Natural Appeal
Rubber shingles represent another great innovation that can serve as a nice upgrade from asphalt shingles. Like composite, concrete, and metal shingle roofing, rubber can be fashioned into materials that look just like slate or cedar shake. Euroshield of Canada is a leader in rubber roofing. In addition to the material's durability and resistance to common weather and the climate headaches that plague metal roofing, cedar shake, and asphalt shingles, rubber can be very eco-friendly. Rubber roofing can be made from old tires and other recycled materials. The thick grade of some rubber roofing products provides a rich texturing to a shingled roof, just like slate and cedar shake.
Rubber is a good insulator, as well, and manufacturers like Euroshield go a step further by designing air pockets or cubicles into the underside of the shingle. These trap air and advance the insulating properties of the material. 
Pricing on rubber tile roofing is largely dependent on the contractor's cost from their local distributor and labor costs which vary by the size of the job, roof complexity, tear-off, etc.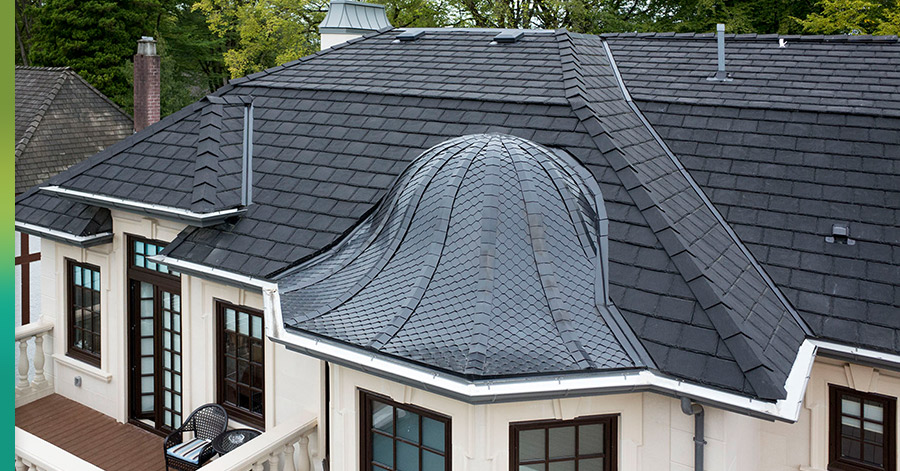 Rubber Roofing - Pros and Cons
PROS
Rubber roofing shingles are impact resistance to objects like large hailstones

Rubber shingles do not crack, curl, or fade

Styles of rubber roof shingles are available to simulate cedar shake, slate, and high grade asphalt shingles

Rubber shingles stand up top winds up to 160 mph. (e.g. Euroshield shingles were tested in PRI Labs – Tampa, FL)

Some types of rubber shingle roofing are effective in absorbing ultraviolet rays which can parch and damage asphalt shingles

Rubber roofing is an effective sound insulator
CONS
Installation often requires a factory trained and certified contractor

Rubber roofing ranges in cost from approximately

$7 to $12 per sq foot or $700-$1,200 per SQ, a bit higher than conventional asphalt shingles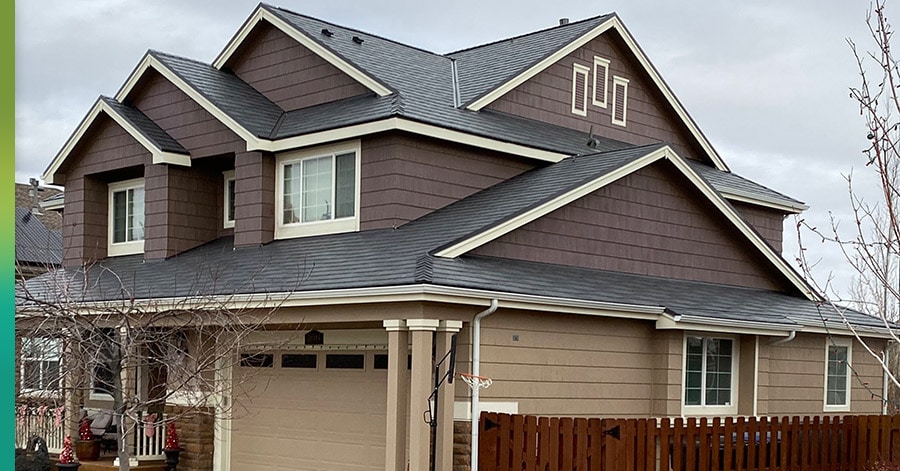 Present rubber roofing products to your clients virtually with iRoofing!
Discerning property owners who favor finer roofing materials expect a first-rate presentation and a bit of an education about product choices. Traditional sample boards, dog-eared manufacturers' brochures, or loose samples retrieved from the back of your roofing truck won't cut it with customers who are prepared to pay top-dollar for a new roof. 
Imagine having the ability to instantly grab digital images of rubber roofing material stored in the digital manufacturers' catalogs of the iRoofing portable app for iPhones, iPads, Android phones and tablets, then produce an accurate, line-item estimate for  the materials, installation, accessories and ancillary services. It's all easily achieved with the iRoofing mobile app. 
Present rubber roofing choices digitally with iRoofing's in-app catalogs
Simulate exactly how rubber products will look on your client's roof
Compare products side-by-side to upsell and close sales faster
Present detailed measurements and estimates, all with iRoofing 
To help you close the sale, you can use iRoofing's Roof Visualizer to perfectly simulate how a rubber roofing tile product will look on their specific property. Even compare products or colors side-by-side with the Visualizer. Your entire sales presentation, including your company merits, team photos, process explanation, roof sketches, estimate and closing documents can all be shared in your own highly professional, custom-branded, digital pitch book!
Make no mistake, this is the way to sell luxury roofing! 21st Century homeowners expect thorough, immediate, and digital presentations like that which iRoofing delivers.