Clay Tiles - Symbol of America's European Influence
Close your eyes and picture a countryside villa in Spain. What do you see? Bright colored stucco, herb gardens, and that distinctive, wavy, clay tiled reddish-orange roof, right?  While clay roofs may be popular in Spain, you find them all over the U.S. The connection between Spain and North America dates back to the 1500's, when Spain controlled vast territories including what is now the southwestern U.S. It's not surprising that clay tile roofs and Moorish architecture is so prevalent in California, Arizona, New Mexico, and Texas. Headquartered in California, Boral is one of America's largest manufacturers of top-quality roofing products. Rick Hackett, product manager for Boral touts the company's US Tile by Boral-  a line of premium clay tiles. "The quality options offered in numerous profiles and colors complement any architectural style including Traditional, Transitional, and Contemporary said Hackett. Boral Roofing systems are sustainable and manufactured in the United States. "Our sales team provides guidance to all our customers to help them decide which material, profile, and color to choose."
Pricing on Spanish tile roofing is largely dependent on the contractor's cost from their local distributor and labor costs which vary by the size of the job, roof complexity, tear-off, etc., but the average cost per SQ (100 sq. ft.) according to Modernize is $600 to $1,500.
Florida is another U.S. state where clay tile roofs are popular. One of the premier manufacturers of clay tile, Santafé, is based in Miami. Florida's Spanish influences date all the way back to the 1500's, when the Spanish built the first European city in St Augustine in 1565. The Ludowici company in New Lexington, Ohio has been making high-grade terra cotta tiles for a long time. In fact, the business started in 1888!
While America's European lineage is one reason for the prevalence of clay tile roofing, practicality is the main reason for the enduring use of clay and ceramic roof tiles.
Clay Tile - Pros and Cons
PROS
Clay roof tiles (also referred to as ceramic tiles and terra cotta) can last over 100 years
Clay tiles are weather-resistant, withstanding hot sunny climates as well as very cold conditions (Best performance is from ASTM Grade 1 rated products. (C1167 -03 Standard Specification for clay roof tiles)
Clay tiles are formed of natural materials and thus are more environmentally-friendly
Clay roofing has positive insulation properties as the curved shape channels air between the tiles and the roof deck
Clay tiles are naturally fire-resistant
CONS
Though not as heavy as slate, ceramic tiles are still quite weighty and are slightly heavier than concrete tiles
Ceramic tiles take more time to install, incurring higher labor costs
Ceramic tile materials are more expensive than conventional shingle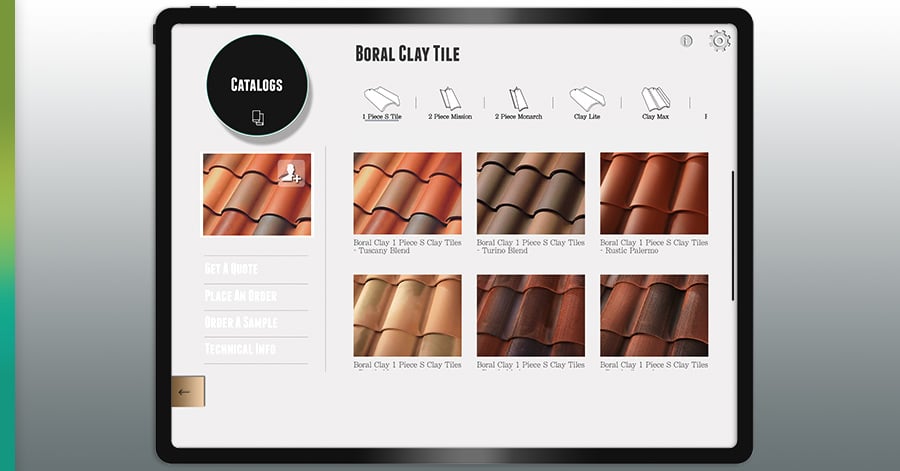 Present clay tile roofing products to your clients virtually with iRoofing!
Discerning property owners who favor finer roofing materials expect a first-rate presentation and a bit of an education about product choices. Traditional sample boards, dog-eared manufacturers' brochures, or loose samples retrieved from the back of your roofing truck won't cut it with customers who are prepared to pay top-dollar for a new roof.
Imagine having the ability to instantly grab digital images of clay and terra cotta roofing material stored in the digital manufacturers' catalogs of the iRoofing portable app for iPhones, iPads, Android phones, and tablets, then produce an accurate, line-item estimate for the materials, installation, accessories and ancillary services. It's all easily achieved with the iRoofing mobile app.
Present clay tile roofing choices digitally with iRoofing's in-app catalogs
Simulate exactly how clay tile products will look on your client's roof
Compare products side-by-side to upsell and close sales faster
Present detailed measurements and estimates, all with iRoofing 
To help you close the sale, you can use iRoofing's Roof Visualizer to perfectly simulate how a clay/ceramic roofing product will look on their specific property. Even compare products or colors side-by-side with the Visualizer. Your entire sales presentation, including your company merits, team photos, process explanation, roof sketches, estimate and closing documents can all be shared in your own highly professional, custom-branded, digital pitch book!
Make no mistake, this is the way to sell luxury roofing! 21st Century homeowners expect thorough, immediate, and digital presentations like that which iRoofing delivers.