Slate Roofing is Great Roofing!
Slate is the highest prized roofing material in the Western World. Long admired for its natural beauty and resiliency, luxury slate graces some of the finest homes and most cherished structures. As roofing contractors, you may not deal a lot with slate material unless it's a specialty of yours, but you know what it is.  Just in case you don't know the full definition of slate, here's how Wikipedia defines it. Slate is "a fine-grained, foliated, homogeneous metamorphic rock derived from an original shale-type sedimentary rock composed of clay or volcanic ash through low-grade regional metamorphism." So, stick that in your pipe vent and smoke it!
Pricing on luxury slate roofing is largely dependent on the contractor's cost from their local distributor and labor costs which vary by the size of the job, roof complexity, tear-off, etc., but the average cost per SQ (100 sq. ft.) according to Modernize is $900 to $1,600.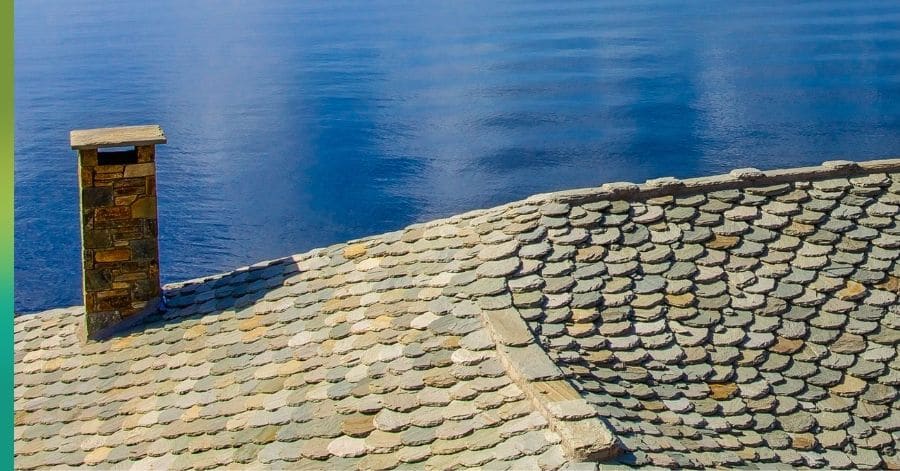 Slate roofs are extremely durable, richly attractive, and definitely add value to a property.  In the U.S., you will probably find the greatest number of slate roofs in the northeast, from Maine on down into West Virginia. The immigrants who settled in the U.S. came from Western Europe, where slate has been mined and used for building over many centuries.
Pros and Cons of Natural Slate
PROS
Slate has a rich, elegant appearance

Slate's long-lasting durability is incomparable. Slate roofs in Europe have lasted over 400 years 

Slate can add significant market value to a home or building

Slate comes if a variety of natural colors 

Slate is a natural material producing virtually no landfill waste nor pollutants during its manufacturing
CONS
Slate is the heaviest roofing material. It requires stronger roof decking and/or reinforcing of roof trusses 

Slate carries higher material and labor costs compared to most other roofing surfaces but can save money over a long term 
Pennsylvania, Vermont, and New York are responsible for most of the U.S.-sourced natural slate, including that produced by Evergreen Slate Company of Vermont.  Tom Collard of Evergreen Slate Company vouches for slate's superior quality. "Our slate graces the roof of The Pentagon as well as distinctive churches and institutions here and abroad," said Collard. "Also, as a result of extensive forest fires in California and upper northwest, we've seen an uptick in the use of slate roofing because of its fireproof qualities." Collard says most contractors, especially those experienced in cedar shake roofing, can install slate without a lot of special training or slate certification.
There are synthetic slate products, as well. TruSlate® by GAF is a hybrid solution that contains real slate but it's lighter in weight.  Da Vinci of Lenexa, Kansas manufactures very high-quality synthetic slate and claims its products are less prone to serious hail strikes and fissures that might develop in natural slate over time due to repeated freezing and thawing.
Slate requires a stronger structural undergirding as it asserts about 10 lb.s of pressure per square foot.  Another aspect of slate you and your clients must consider is the higher cost of installation, but the finished product is well worth its timeless beauty.
Present slate roofing products to your clients virtually with iRoofing!
Discerning property owners who favor finer roofing materials expect a first-rate presentation and a bit of an education about product choices. Traditional sample boards, dog-eared manufacturers' brochures, or loose samples retrieved from the back of your roofing truck won't cut it with customers who are prepared to pay top-dollar for a new roof.
Imagine having the ability to instantly grab digital images of slate roofing material stored in the digital manufacturers' catalogs of the iRoofing portable app for iPhones, iPads, Android phones, and tablets, then produce an accurate, line-item estimate for the materials, installation, accessories and ancillary services. It's all easily achieved with the iRoofing mobile app.
Present slate roofing choices digitally with iRoofing's in-app catalogs
Simulate exactly how slate products will look on your client's roof
Compare products side-by-side to upsell and close sales faster
Present detailed measurements and estimates, all with iRoofing 
To help you close the sale, you can use iRoofing's Roof Visualizer to perfectly simulate how a slate product will look on their specific property. Even compare products or colors side-by-side with the Visualizer. Your entire sales presentation, including your company merits, team photos, process explanation, roof sketches, estimate and closing documents can all be shared in your own highly professional, custom-branded, digital pitch book!
Make no mistake, this is the way to sell luxury roofing! 21st Century homeowners expect thorough, immediate and digital presentations like that which iRoofing delivers.