Composite tile is a fantastic alternative to higher-priced natural materials
Slate and cedar shake shingles are often simulated with composite material composed of fiberglass, asphalt, recycled plastic, and other sustainable elements. Composite roofing tile is made to be light, durable, and more affordable than real slate or cedar split shake. Composite tiles can be molded to resemble almost any desired texture or simulate a natural material. There can also be any number of color choices. Producers such as Boral can tint the composite materials so consumers are certain to find a hue that complements their property perfectly. Boral's Inspire Classic Slate composite tiles have textured surfaces modeled from real stone and come in 20 different shades. Classic Slate delivers the appearance of a natural slate roof while offering lightweight, low-cost, and great durability.
Common Questions About Composite Roof Tiles
This article addresses common questions about composite roof tiles. Pricing on composite roofing is largely dependent on the contractor's cost from their local distributor and labor costs which vary by the size of the job, roof complexity, tear-off, etc., but the average cost per SQ (100 sq. ft.) is $400-$600 installed according to the home improvement marketplace, Modernize.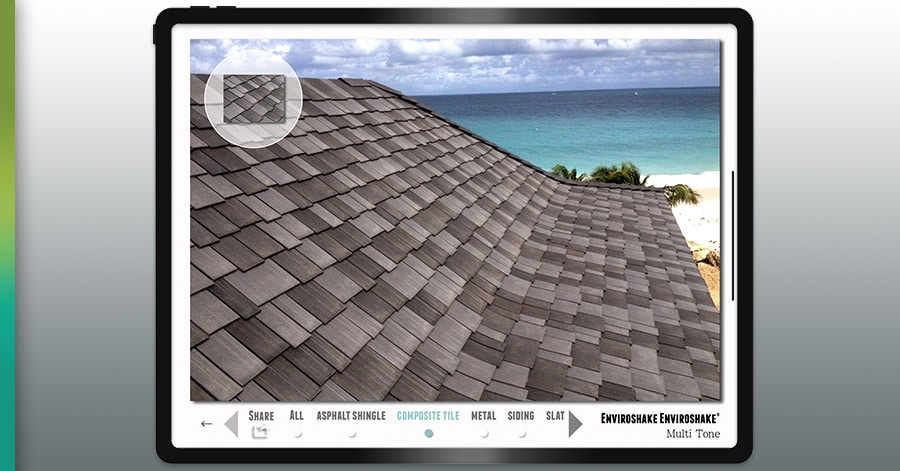 Enviroshake® and EnviroSlate®, both made by Enviroshake of Canada,  are composite roofing tiles that authentically replicate the look of natural weathered cedar roofing material and slate roofing material. These composites are engineered with features that enhance the materials' performance under severe weather and are resistant to environmental stressors.
Enviroshake® replicates natural taper-sawn cedar shakes. It's a premium composite roofing product created using 95% sustainable materials. The material authentically replicates the look of natural roofing slate. The manufacturer touts Enviroslate as less susceptible to mold, mildew, fungus, rot, or insect infestation. It is also hail resistant and can withstand severe weather conditions and extreme temperature fluctuations.
Some composite roof tile products are referenced as "architectural roof tiles." These high-quality roofing products are usually composed of a heavy fiberglass mat base and ceramic-coated mineral granules embedded in refined asphalt. 
Composite Tiles - Pros and Cons
PROS
Composite roofing can withstand wind, fire, and hail 

Because many recycled materials are used in their production, composite roof tiles are considered eco-friendly

Composite tiles come in a wide variety of colors and textures to resemble the most sought-after natural roofing products

Unlike authentic slate, which may require a reinforced roof deck, composite tiles are lighter
CONS 
Compared to asphalt shingles, composite materials are heavier.

One SQ (100 sq. ft.) can weigh up to 500 pounds, requiring a roof deck of adequate strength

Composite can be more expensive than even some of the higher-end asphalt tiles
Present composite roofing products to your clients virtually with iRoofing!
Discerning property owners who favor finer roofing materials expect a first-rate presentation and a bit of an education about product choices. Traditional sample boards, dog-eared manufacturers' brochures, or loose samples retrieved from the back of your roofing truck won't cut it with customers who are prepared to pay top-dollar for a new roof.
Imagine having the ability to instantly grab digital images of composite roofing material stored in the digital manufacturers' catalogs of the iRoofing portable app for iPhones, iPads, Android phones, and tablets, then produce an accurate, line-item estimate for the materials, installation, accessories, and ancillary services. It's all easily achieved with the iRoofing mobile app.
Present composite tile roofing choices digitally with iRoofing's in-app catalogs
Simulate exactly how composite tiles will look on your client's roof
Compare products side-by-side to upsell and close sales faster
Present detailed measurements and estimates, all with iRoofing 
To help you close the sale, you can use iRoofing's Roof Visualizer to perfectly simulate how a composite roofing tile product will look on their specific property. Even compare products or colors side-by-side with the Visualizer. Your entire sales presentation, including your company merits, team photos, process explanation, roof sketches, estimate, and closing documents can all be shared in your own highly professional, custom-branded, digital pitch book!
Make no mistake, this is the way to sell luxury roofing! 21st Century homeowners expect thorough, immediate, and digital presentations like that which iRoofing delivers.