A Delicacy of Property Owners and Architects
Of all the traditional forms of roof coverings, cedar shake stands out as truly warm, organic, and rustic… in a very chic way.  Cedar was once very popular for roofing and siding, as resources for old-growth cedar trees were abundant. Over time, that has changed and now cedar roofing is more of a delicacy of property owners and architects.
Traditionally, wherever there are ample resources for a particular building product, the more likely it is to see it used within that region. Before North America's complete interconnectedness of highways and railways, people naturally used construction materials available in their vicinity, including cedar, once so abundant in Washington, Oregon, California, and Western Canada.
The upper northwestern U.S. and Pacific coastal region of Canada exemplify how traditional building materials remain popular, despite very modern materials being readily available for decades.  While asphalt shingles still dominate the roofing market everywhere, split shake (traditionally made from western red cedar and Alaskan yellow cedar) still endures and is often the product-of-choice among architects of fine homes.
According to Terry Adkins at Cedar Roofing Supply based in Bend, Oregon, "Throughout modern history, the global market for spruce, hemlock, Douglas fir and cedar lumber, including split cedar shake for roofing, relied on the wet forests of the Pacific Northwest. Once there was a seemingly endless supply of western red cedar in the region stretching from northern California up into British Columbia, but over the years these wild forests have become either depleted or protected." Now, cedar primarily comes from British Columbia, near Vancouver, Canada where old-growth forest can still be harvested and a wealth of logs are salvaged or "mined" from wet, bottomland bogs.  Adkins is a 42-year veteran of the cedar roofing industry and his partner Colin Forman are walking-talking encyclopedias when it comes to this wood roofing and siding material.
Are cedar shingles expensive?
Pricing on cedar shingles is largely dependent on the contractor's cost from their local distributor and labor costs which vary by the size of the job, roof complexity, tear-off, etc., but the average cost per SQ (100 sq. ft.) according to HomeAdvisor is  $600 to $670.

Real Cedar Roofing - Pros and Cons
PROS
Cedar roofing has strong insulating properties and promotes energy-efficiency 

Cedar shake and shingles are durable, providing 30 or more years of reliable performance

Cedar roofing is rigid and less susceptible than asphalt shingles to bending and cracking due to strong winds

Cedar is naturally resistant to insect infestation, especially when the cedar shake is treated with chromated copper arsenate (CCA), which can also help prevent the growth of fungus, moss, and mildew. 

Cedar roofing has an special aesthetic appeal and distinctive style

Cedar is a renewable resource 
CONS
Split shake is more expensive to buy, install, and maintain compared to other roofing materials 

In order to be fire retardant, cedar roofing must be treated with a product like

Shingle Seal™ or Flame Stop™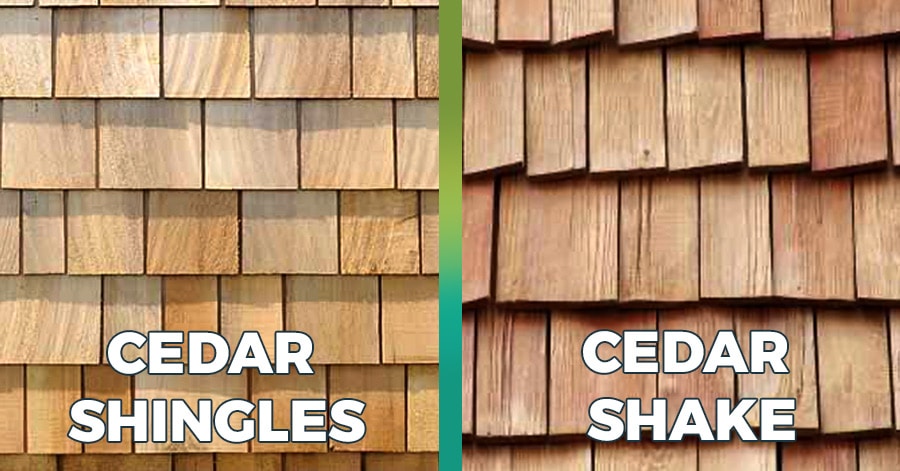 Cedar Shake versus Cedar Shingles
Cedar shake shingles are normally tapered (taper sawn), rectangular and about 16-24 inches long. Edges of the split shake can be "irregular" by design, giving them a rough hewn, naturally contoured appearance. More highly processed shake shingles have cleaner edges. These are specified as "rebutted and re-squared" (R&R) shingles. Different species of wood are used and shake shingle lengths can vary from the standard 16 inches mentioned above.
Because wood shake is more susceptible to fires, today's cedar roofing materials are treated with fire retardant chemicals, making them Class A Fire Rated in many cases.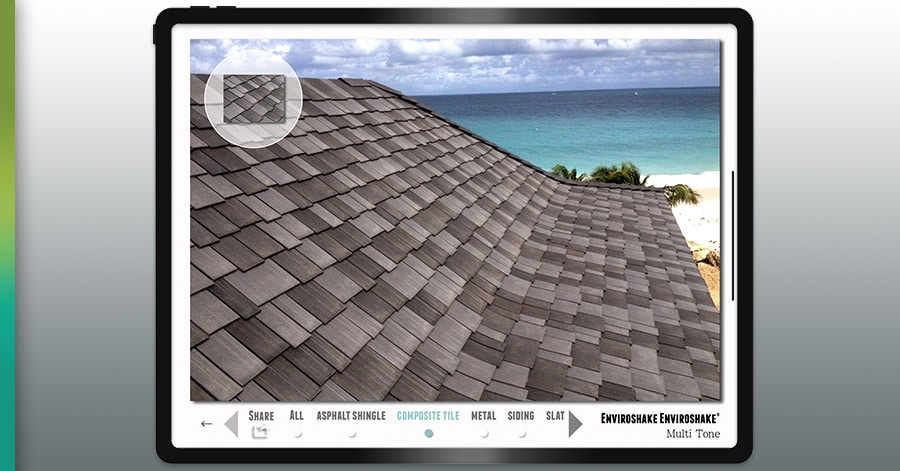 Some of today's shake style roofing products are made from a durable polymer composite (composite cedar shake), like that manufactured by Brava of Washington, Iowa and Presidential shake roofing by Certainteed. Enviroshake of Canada makes an innovative synthetic shingle using cellulosic fibers for maximum durability. Boral produces a concrete roof tile modeled after traditional heavy hand-split cedar shakes.
Present cedar roofing products to your clients virtually with iRoofing!
Discerning property owners who favor finer roofing materials expect a first-rate presentation and a bit of an education about product choices. Traditional sample boards, dog-eared manufacturers' brochures, or loose samples retrieved from the back of your roofing truck won't cut it with customers who are prepared to pay top-dollar for a new roof.
Imagine having the ability to instantly grab digital images of cedar roofing material stored in the digital manufacturers' catalogs of the iRoofing portable app for iPhones, iPads, Android phones, and tablets, then produce an accurate, line-item estimate for the materials, installation, accessories, and ancillary services. It's all easily achieved with the iRoofing mobile app.
Present cedar roofing choices digitally with iRoofing's in-app catalogs
Simulate exactly how cedar products will look on your client's roof
Compare products side-by-side to upsell and close sales faster
Present detailed measurements and estimates, all with iRoofing 

To help you close the sale, you can use iRoofing's Roof Visualizer to perfectly simulate how a cedar product will look on their specific property. Even compare products or colors side-by-side with the Visualizer. Your entire sales presentation, including your company merits, team photos, process explanation, roof sketches, estimate, and closing documents can all be shared in your own highly professional, custom-branded, digital pitch book!
Make no mistake, this is the way to sell luxury roofing! 21st Century homeowners expect thorough, immediate and digital presentations like that which iRoofing delivers.