Close roofing projects virtually... from anywhere.
Since 2012, our clients have used iRoofing to win more bids and spend less time on-site.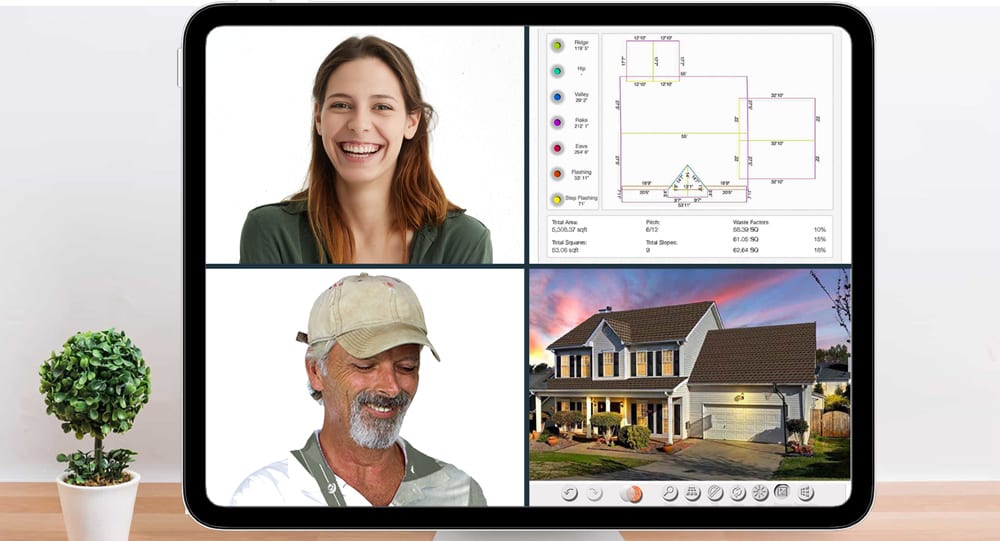 Close deals from anywhere with our exclusive, all-in-one software.
✓ DIY Aerial Measurements (Unlimited!)
✓ Remote Pitch Book Presentations
✓ Accurate, Customized Estimates
✓ Past Projects Locator Map
✓ Roof Visualization for Any Property
✓ Material Selection and Ordering
✓ Customer Organization/Management
✓ Digital Contracts to Close Deals Faster
Your entire sales process, in one easy-to-use mobile app.
Take control of your success.
Measure, estimate and present your roofing company with a custom mobile app. Designed to save you time to focus on sales and close more jobs.
Since 2012, iRoofing has been a leader in providing the BEST and MOST accurate roofing software application for contractors. Our state-of-the-art roofing app is backed by thousands of happy customers ranging from one man operations to the largest companies in North America.  Contractors who use our mobile roofing application increase efficiency, productivity, and grow their businesses by closing more sales.
We are all about SERVICE, INNOVATION, and TRUST. Our roofing software account managers will aid you every step of the way with FREE and UNLIMITED training and the RAPID customer support we are proud of.
We're always innovating based on contractor feedback!
FREE with any membership
4x Clearer than satellite
Available in mainland US
Measure with your Android phone
Organize clients & daily tasks
iPhone coming soon!
Save & sync all projects
Collaborate with coworkers
Oversee projects!
Parapet wall calculations
Material & accessories estimates
Auto Roof Pitch Detection
Choose levels of detail
Exclude/include sections
Expand overlapped areas
Step by step on-site reporting tool
Mark-up measurements & photos
Professional & thorough reports
"My investment in iRoofing is a no-brainer, especially for a business oriented contractor. We're saving time & increasing sales. As a result, we're growing profits."
"I've spent untold hours trying to get roof measurements. The simplicity and accuracy I get from the iRoofing app is amazing."
"I'm prepared the night before, spend more time in front of my clients& close more deals because of it. Now we have four salesmen using it with the same results."
"We love your app! We've utilized it in every sale since we got it! We'll be uploading job photos from it in the future."
"I was able to do 17 estimates in 1 hour. Got the job and a raise. Thanks to Elizabeth for signing us. iRoofing paid for itself for 10 years today."
"We love your app! We've utilized it in every sale since we got it! We'll be uploading jobs photos from it in the future. "
"I'm an iRoofing addict for almost 2 years, successfully executing flawless measurements and winning the professionalism game!!!"
"This is the most complete and comprehensive estimating and sales tool EVER!! 'Wow' your customers from the first impression to close!! %!"
See how iRoofing can work for you
EXPLORE THE iRoofing Toolbox
One Application, Multiple Solutions...
Measurement Tool
Accurate, professional measurement reports in the palm of your hand! No need to order reports – create your own in 5 minutes!
Digital Pitch Book
Present your business in an unforgettable way with before & after photos, video testimonials, & more! Impress property owners.
Roof Visualizer
Show exactly how a new roof will look on an image of your customer's property.
Help them make a confident decision!
Instant Estimator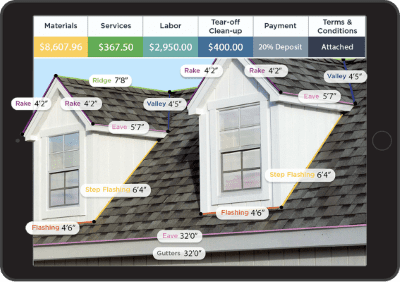 Turn measurements into precise estimates in minutes, customized with YOUR company's pricing for labor, materials & more!
SIGN CONTRACTS
Upload digital roofing contracts for easy signing once you close the sale! Organized, professional, & ready when you need them!
All your customers' information in one place! Show prospects a map of all the jobs you've done in the area, and close sales faster!
your success is our business
Each and every iRoofing contractor receives:
via Phone, Email,
& live chat
for constant improvements
Featuring over 100,000 products
WE CONTINUE TO add roofing & siding materials for your convenience