Customized, Accurate Roof Estimating Software
Roof Estimator App - Key Points:
✓ Turn any roof measurement into an online roof estimate
✓ Customize with your company's pricing
✓ Up-sell with good, better, and best options
✓ Create line-item or price per square professional roof estimates
✓ Send roofing material orders directly to your preferred distributor
Residential & Commercial Roofing Estimating Software
iRoofing is a roofing estimate app, too! Roof estimating software via the iRoof portable app enables you to convert your DIY measurements into detailed, accurate roof replacement and roof repair estimates in minutes.
Using iRoofing's roof estimator you will no longer waste time and money on complicated spreadsheets or expensive software. This innovative roof estimate app is fully customized with your company's pricing. The roofing estimate app automatically generates estimates, invoices, and work orders. There's no cost per-use and every membership includes unlimited access for three members of your team.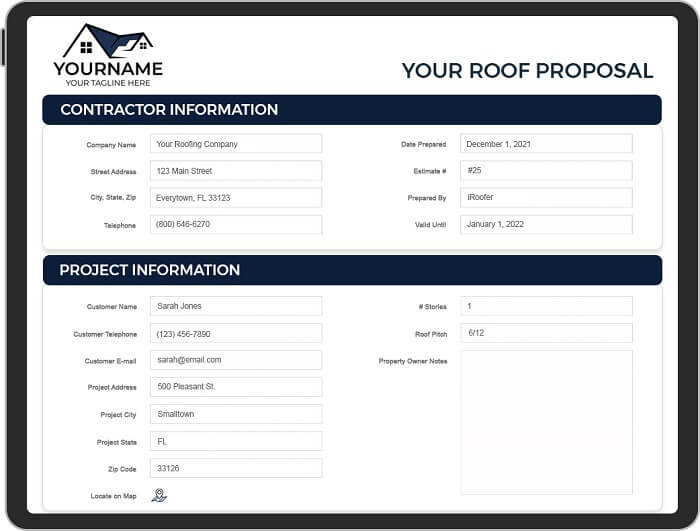 Minutes to create a measurement + estimate
Average time it takes to measure a roof and turn it into an instant, full estimate with iRoofing.
Professional roof estimates
"We love the iRoofing app. We've utilized it in every sale since we got it."
JASON FRANK | REMSTAR ROOFING & EXTERIORS
#1 App for Roofing Estimates
Our roofing estimate app gives you the freedom to calculate pricing any way you prefer, by SQs, square-feet, and metric values. The roof estimating software integrates with iRoofing's roof measurement tool and extensive in-app digital roofing product catalogs.
Full, line item roof estimates
Estimate by SQs, Sq. Ft., or complete project

Metric values & conversions
Customized with your pricing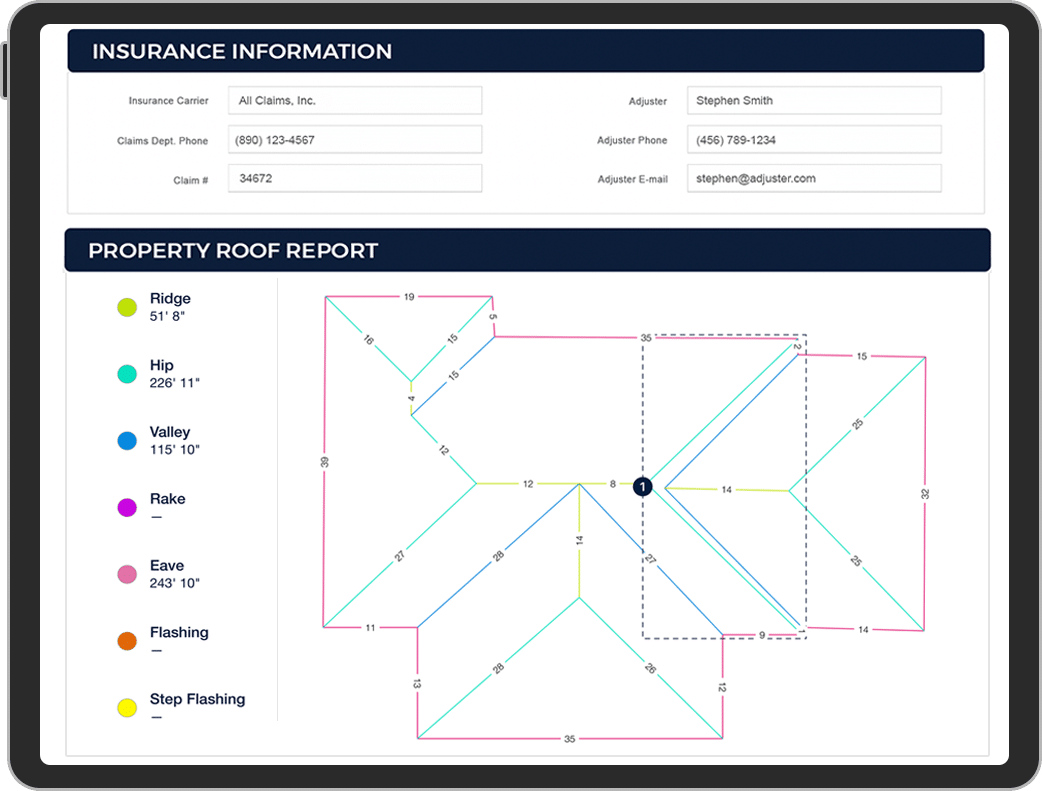 MEASUREMENTS + ESTIMATES Per Hour
Average amount you can complete in 1 hour…
even more if you're an iRoofing Pro!
Fast & Accurate Roof Estimates
"I was able to do 17 estimates in 1 hour. Got the job and a raise. Thanks to the iRoofing team for signing us. iRoofing paid for itself for 10 years today."
JOHN WALTERS | AAA CONSTRUCTION-RESTORATION
Complete Roof Estimating Software
iRoofing's roof estimating app includes pricing for:
Products are displayed based upon availability in your area
Easily calculate roof estimates in pricing tiers – "good, better, best" – to give your clients options and make it easier for you to upsell. Cost of materials is accurate based on your supplier, and photos of each product are included in your estimate
Labor costs can be calculated on a per-square basis
By calculating per square, you reflect the quantity of material used for the job. If the roof's pitch is steep enough to require additional safety harnesses and equipment, costs for that equipment will be included by the roof estimate calculator
Spec tear-off cost based on the type of material removed
The total weight of excess and removed material is calculated based on the amount of material used
The weight allowance for each dumpster, the cubic yards of the dumpsters available, and the cost for the number of dumpsters necessary.
Materials – The weight of excess or removed material (shingles, underlayment, sheathing…) is calculated automatically by lbs./SQ in your dumpster & clean up costs.
Additional Roof Estimate Services
Warranties & More – Include pricing for warranties and any additional service(s) provided by your company
The instant roof estimate calculator is designed to be fully customizable to fit your needs, whether it's specifying insurance information, adjuster information, or choosing the date when your online roof estimate will expire.
The following options give you even more flexibility when creating estimates with iRoofing:
Notes:
Once a client signs your contract, your roof material estimate becomes a binding document. Include notes to ensure that every detail is covered from day one, guaranteeing that you and your clients are always on the same page.
Profit:
Set your desired profit for the job by percentage or total sum. Include your overhead costs, tax for labor and materials, any special delivery costs, and more.
Payment Structure:
Since your iRoofing estimate is a binding document, you can include the payment structure for the job, which can be customized to reflect your agreement with the client.
Terms & Conditions:
Use your own terms and conditions (or copy/paste them from an existing template) to provide your clients with a clear expectation of the service(s) you will perform.
SAVE, PRINT, SHARE ESTIMATES
You can print any estimate directly from your device or share it with your clients via email, Dropbox, Google Drive, or Microsoft OneDrive.
Roof estimates are saved to your client's file in iRoofing's secure Customer Database, giving you immediate access to all relevant information about the job in one place.
Extra information (such as Roof Visualizer photos, on-site photos, drone images, product specs, etc.) can be included in the final bid with the tap of a button, further increasing the professionalism of your roof estimate calculator
amount of estimates after
"Game changer! We love iRoofing, it has reduced our costs and improved our accuracy and pricing. The staff is always helpful. Easy app to use, we recommend it all the time."
Anna olivier | roofing louisiana
Roof Estimate App Software Settings
The settings page allows you to customize roofing estimates with your pricing, including:
Services
Labor
Tear Off
Dumpsters & Trash
Profit & Payment Structure
Terms/Conditions
Add roofing materials & Accessories
The materials page displays all product information, including:
Manufacturer
Color
Units of Measure
Your own Pricing
Associated Products
From Roof Report To Estimate
Roof Report
iRoofing measurements integrate directly into your estimate, including:
• Total SQs
• Linear Measurements
• Pitch
• Waste Factor
Estimate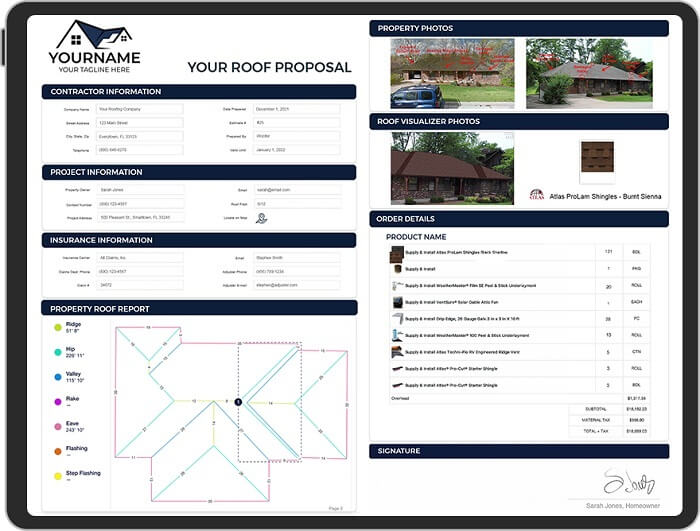 The final roof estimate contains all relevant information about the job, including:
• Project & Client Information
• Property Photos
• Insurance Information
• Order Details & Final Price
• Services
• Payment Structure…and more!
More about the accuracy of Instant Roof Estimates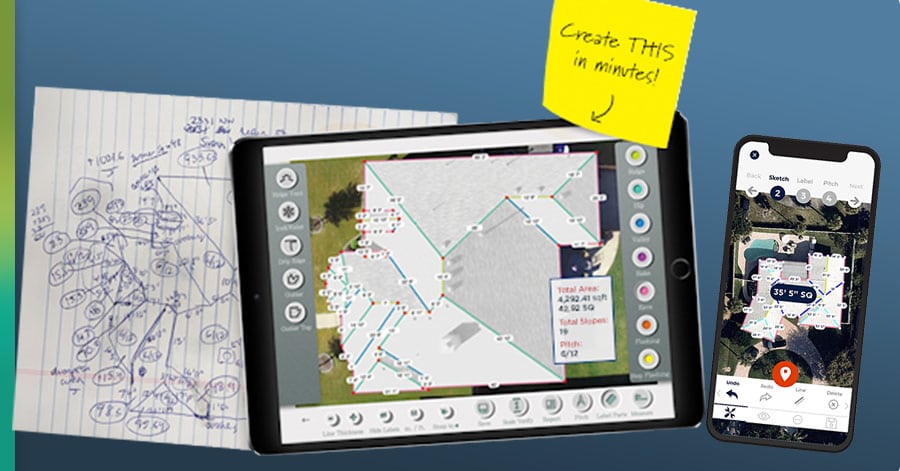 Calculate Roof Sq. Ft, Roof SQs, and Metric Measurements in Minutes! roof calculator app By now, most roofing contractors know that measuring a roof does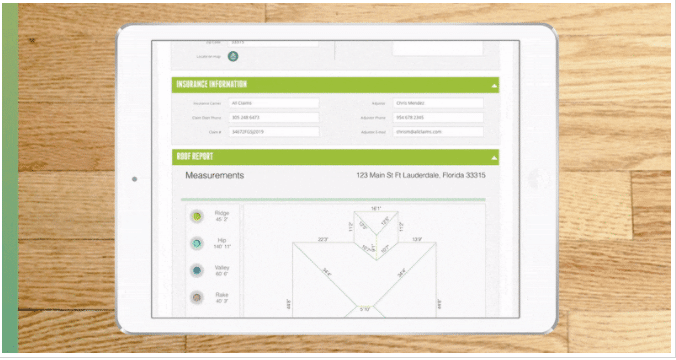 Man can not live by roof measurement tools alone! Accurate measurements are just the beginning of any roofing quote. A complete and accurate assessment of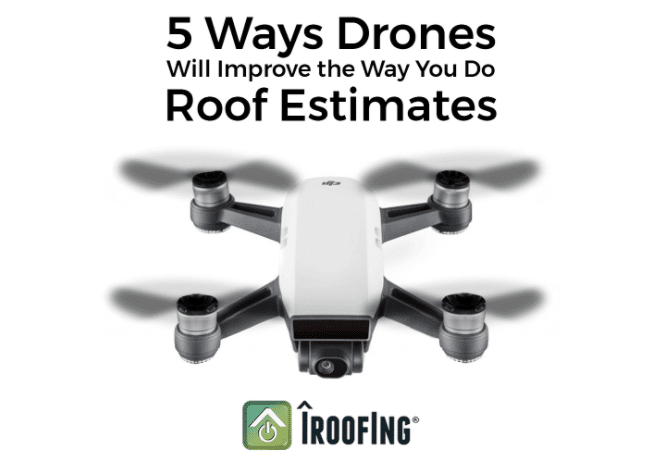 Roofing is Not for the Faint of Heart Did you know that residential construction workers are far more likely to suffer a work-related injury or
Roof Estimating App - FAQs