What ever happened to roofs that really made a statement – roofs that inspired those intricate sandcastles we made at the beach – roofs that defined many of the glorious edifices of Old World royalty? Stately Tudor and Queen Anne-style homes may have found their biggest fans during the 1890s, but they're alive and well today in the form of beautiful new homes and well-cared-for originals. How are such distinctive styles still possible and in fact more doable than ever before?
In an era when architects, builders, and roofing contractors are better equipped than ever before, classic homes and buildings with complex roofs don't have to be bygone enigmas, thanks in part to roof design software.
In the 1970's, IBM introduced Computer-Aided Design (CAD for short) which gave rise to today's solutions like AutoDesk and PlanGrid. Architects and builders realize the cost benefits of construction technology ("contech" for short). But not until iRoofing emerged in 2012 did contractors have the ultimate roof design software.
With a modern roof design app, contractors can create a detailed roof system proposal with a simple overhead image of a home or building taken from satellite, HD aerial, drone, or blueprint images. Property owners are luckier now than ever before, as developers, architects, builders, and roofing pros are capable of measuring, estimating, and simulating the most complicated and accentuated roof styles… all in a matter of minutes. With software like iRoofing – the world's first multi-featured DIY roofing app for contractors  – people can clearly see their desired roof with choices of roof materials, colors, quality, and cost ranges. 
Here is How Modern Roof Design Software Works
Is there an architectural style or roof design that you or your client really want to see come to life? Are you unsure of how much material might be needed to cover a complex roof featuring curved slopes, fancy roof lines, dormers, and chimney penetrations? No problem.
With the iRoofing app, access a satellite, drone, or HD aerial image of the property, or upload an architect's blueprint.
Alternatively, upload an inspirational design and blueprint from sources like this.
Measure each part of the roof with tech tools that instantly and accurately calculate roof measurements.
Select specific materials from an extensive digital catalog of leading roofing manufacturers' products.
See selected materials and their exact line-item costs in a detailed, digital estimate with contractor-specific pricing based on mark-ups, waste factor, labor fees, and special service add-ons, like dumpster rental and haul-away.
Create a realistic simulation of the new roof materials and roof design directly on an image of any property. It's a capability of iRoofing that helps homeowners proceed on a project with complete confidence knowing everything about their home improvement project, including the roof costs, how roof materials will appear on their own home or building, and the "process" and professionalism of their roofing contractor.
Once a roof design app-generated proposal receives sign-off, the contractor can instantly create a Purchase Order with iRoofing and send it off to their distributor straight from the app! 
Roof Design Software: The Features
Remote, DIY roof measurements from satellite, aerial, drone, and blueprint images
From anywhere, anytime, roofing contractors are able to measure any roof, create a professional roof report, and instantly turn it into a detailed, custom estimate. No initial visits to the property necessary and no climbing a ladder to measure manually.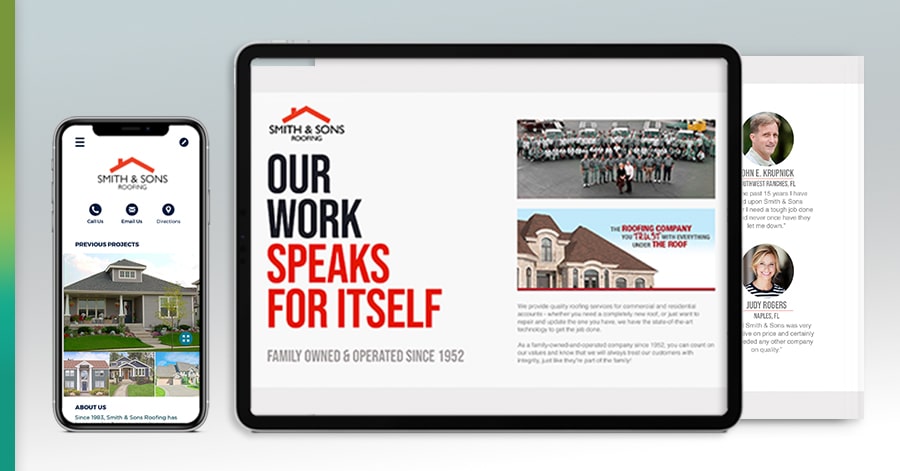 Virtual Sales Presentations
With iRoofing's digital pitchbook, contractors are able to present dynamic, personalized company and project presentations, including everything a property owner wants and needs to know.
Saving Money by Working Smarter
The #1 DIY roof design software – iRoofing – facilitates efficient daily project management. The app reduces drive time, as many tasks are easily done from anywhere the contractor has a data or WIFI connection.
Roof Simulations Like You've Never Seen Them Before
The many features of the iRoofing app include a sophisticated Roof Visualizer. Now property owners can see exactly what any roof material will look like on an image of their very own home. This feature is proven to help contractors close deals faster.