The Best Drones for Roofers and Why You Should Use Them
Why use a drone for roof inspection?
The answer is simple. Drones have come a long way in the last 10 years. Now these fun little fliers are more affordable and feature-packed than ever. Today's drones carry a fantastic payload of HD digital camera and video hardware, too. Drones are easy to use and extremely compatible with well-designed drone roof inspection software, like the iRoofing portable DIY app for iPads, iPhones, Android phones and tablets.
Drones - They're Better Than Ever
Drones for roofing have become more affordable
New drones carry sophisticated imaging hardware
Drones are easier to use than ever before
Drones are compatible with iRoofing's phone and tablet apps
Drones like the DJI Mini 2 are small and less restricted by FAA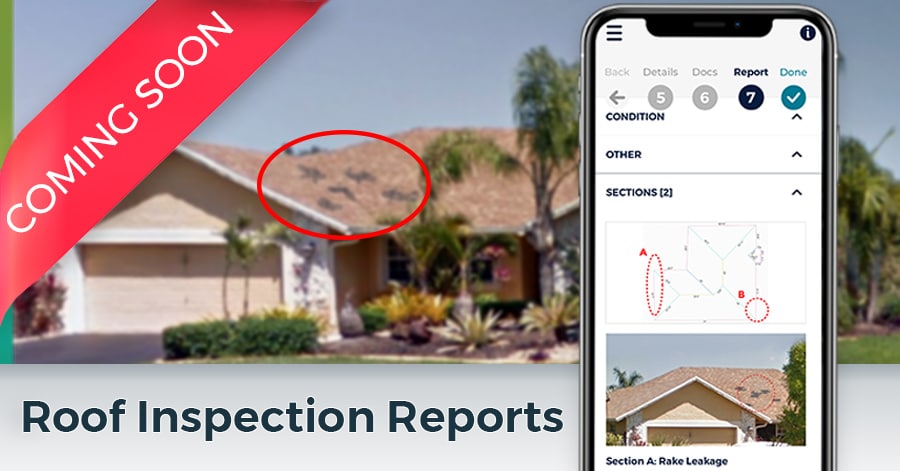 A drone is a good support tool for roof inspection reports. Today, it's never been easier to conduct roof inspections. The iRoofing app is developing a roof inspection report tool that works on its Android phone and iPhone versions. iRoofing gives contractors a simple way to document roof repair needs and save them to a customer profile. The insurance industry and its adjusters use a variety of methods to produce digital roof inspection reports and cost-out any needed repairs, based on prevailing insurance industry parts and labor coverage pricing. Now, roofing pros will have the same capability in the palm of their hand.
Drones can document all kinds of roof conditions
Aging and wear-and-tear of roof coverings
Stains due to moisture retention
Loose or missing shingles, tiles, etc.
Bent or curled edges of metal panel roofing
Holes made by burrowing pests, such as squirrels
Deterioration of wooden roof soffits and fascia
Punctures due to falling objects like tree limbs
Malfunctioning gutter systems
Best Drones for Roof Inspections
We researched dozens of drones for roofing pros, evaluating specifications and pricing. We wanted you to know how each drone varies in terms of weight, ease of operation, battery charge duration, and pricing. These are our top 5 drones for roofing:
DJI Mini 2
DJI Mavic Mini
Hubsan Zino
UpAir 2
Parrot Anafi
1.DJI Mini 2 – This is iRoofing's newest favorite and the best drone for roof surveys in our opinion. The Mini 2 is available now at reduced cost when purchasing a 1-year membership to iRoofing.
Weighing in at less than 249 grams, about the same weight as a hamster, the Mini II – from leading drone manufacturer DJI – is light and compact, like its predecessor the Mavic Mini, which is also a great drone to own. The palm-sized Mini 2 drone is ideal for roofing pros, and iRoofing has membership plans that include the Mini 2 drone bundled in an affordable annual plan with access for 3 devices! The Mini 2 will stay aloft for about a half-hour on a single battery charge. That's plenty of time to survey a roof and send images back to your iRoofing app-enabled iPhone, iPad, Android phone, or tablet.
Mini 2 can withstand sturdy winds, too. It's operational at wind speeds over 20 mph. The onboard camera lets you take professional-quality pictures and videos, and features wide-angle, 180-degree, panorama, and 4x zoom features
2. DJI Mavic Mini – One of iRoofing's top performing drones, the Mavic Mini is a high-quality aircraft that's easy to operate for creating a drone roof report. It's an affordable means to facilitate your roof measurement needs.
3. Hubsan Zino – This is one of the less expensive options on the market. This roofing drone comes with a 4K camera and some advanced features. It is a cheaper alternatives
4. UpAir 2 – Another "budget" drone, this carries a "3-eye camera," so called because it has three lenses – a 16MP, useful for still photos; a 4K UHD lens ideal for video; and a 2K FHD lens.
5. Parrot Anafi – This drone is Parrot's answer to DJI's newest models. It's compact and capable of capturing good overhead roof images in 4K. It's more expensive than the Hubsan and UpAir drones.
Get a Drone. Do more roof inspections, roof reports, and measurements
Drones have never been so affordable and easy to fly. Their practical applications for roofing and construction are obvious. Today, every successful roofing contractor should have a drone, especially since you can couple it with smart technology such as a do-it-yourself remote roof measurement app like iRoofing.
Drone roof inspection software - See it in action