Man can not live by roof measurement tools alone! Accurate measurements are just the beginning of any roofing quote.  A complete and accurate assessment of all the costs involved – labor, roof materials, the cost of removing roof debris, extra services… it's all essential to giving customers a fair price and making a fair profit margin for yourself. Today, there are technology-based solutions to the sometimes complex job of estimating roof repair and replacement. 
Here are the Top 6 Reasons to use a modern, portable technology solution for estimating a roofing project based on price per SQ or perhaps an alternative pricing basis, according to your company's best practices and/or the property owner's special requests. Either way, your estimate and your presentation of the work at hand is sure to impress the customer when you utilize a great software solution with a roofing materials calculator.  It will really help demonstrate your professionalism!
1. Easily and quickly calculate material costs, paperlessly.
OK, so you've done your roof measurements. Now it's time to figure out how much roofing material you'll need and that includes underlayment, shingles (or any other material), roofing nails, shingle starter, drip edge, flashing, plumbing boots, staples, etc. You know that if you leave anything out of your quote it might come back to bite you later in the form of extra costs which might not be fair to pass along to the property owner later on. Roof estimation software can show you all the products available in your area, and only the brands you have chosen to sell by giving you the choice to "hide" the in-app digital roof material catalogs you don't need.  You'll be able to generate estimates in product pricing tiers (i.e. "good, better, best"). This can help you upsell to superior roofing materials for your customer. With smart technology for roofing, the cost of materials is accurate based on the costs you've defined for the items.  Being able to show your client a price-per-SQ detailed estimate conveys you've taken the time to make their project as accurate as possible although the app has made it quick and easy for you.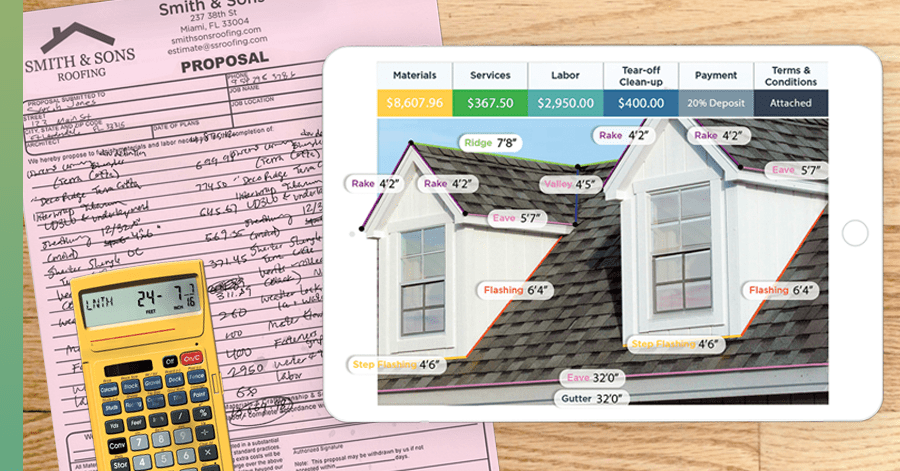 2. Automatically factor in your labor costs.
You know the total roof dimensions, the linear feet or the total roof squares…You also know the materials you want to use. Now it's time to estimate the labor costs which is made easy by software that incorporates a roofing material calculator with roofing labor cost considered, as well. You know generally how long it takes to cover the roof squares you've measured. For example, if your project involves slate, you've figured in more time to install the slate, compared to asphalt shingles. In other cases covering a layer of old asphalt roofing shingles versus removing an old layer while not always advisable, might save your team major time, plus, and requires little or no tear off to haul away. Thus, you can price your labor and dumpster costs accordingly. And yet in another case, a steep-pitched roof will require additional safety harnesses and equipment.  An intelligently-designed roof estimate can automatically assume extra time and costs due to that fact, and assist you in preparing accordingly. 
3. Work-up your estimate in multiple ways.
Smart roof estimator software will allow you to price a job in multiple ways. You can generate a price per square estimate or generate an estimate by line item, including labor and materials. Best of all, a good technology solution, such as iRoofing, doesn't let any potential costs slip through the cracks, not even the precise amount of fasteners will get left out of the total cost to the customer for a proper roof repair or replacement. Nothing wins a property owner's confidence more than knowing and seeing exactly which materials and roof components generated the change in the roofing estimate. Well-designed roofing applications allow you to show them each and every detail while educating them on every aspect of the roofing work involved. They're never left wondering how you arrived at your professional estimate!
4. Instantly recalculate when a customer changes their mind.
When it comes to aesthetics, people can change their mind a lot. "I want black shingles. No, I want grey ones."  "I want real terracotta tiles! Wait… does the composite terracotta has a 50-year warranty? I'll take those!" You gotta love it, after all, they're the customer… the lifeblood of your roofing business.  With a technology tool that helps you assemble fair and accurate estimates on the spot, based also on the measurements you've produced from the application, property owners can change their mind until the cows come home because, in no time, you can swap out the materials and recalculate the cost.  If your software solution is really smart and has a roof simulator or an exterior house visualizer, you can show the property owner exactly how the texture and color of their selected roof materials will look on their home while you're standing in front of them. You might even be able to show them side-by-side comparisons of different roof materials.  In this day and age, customers expect a speedy response and by using a smart software solution for roofing, you're able to give them that!
5. Present your roof quote in a truly professional manner.
Once your estimate is completed using your roofing material calculator, you can print it directly from your device or share it with property owners via email, Dropbox or Google Drive. Roof estimates are saved to your client's file in the Customer Database, giving you immediate access to the roofing estimate, measurements, visualizations and photos at any time. These assets can all be included in the final bid, making for a complete and impressive digital presentation. Now you're ready to get the property owner to sign on the dotted line, both of you feeling confident that you have done things fairly, accurately and professionally.  If you are meeting with them face-to-face when you're closing the job, just show them the contract on your portable tablet and let them sign it right then and there via your touch screen.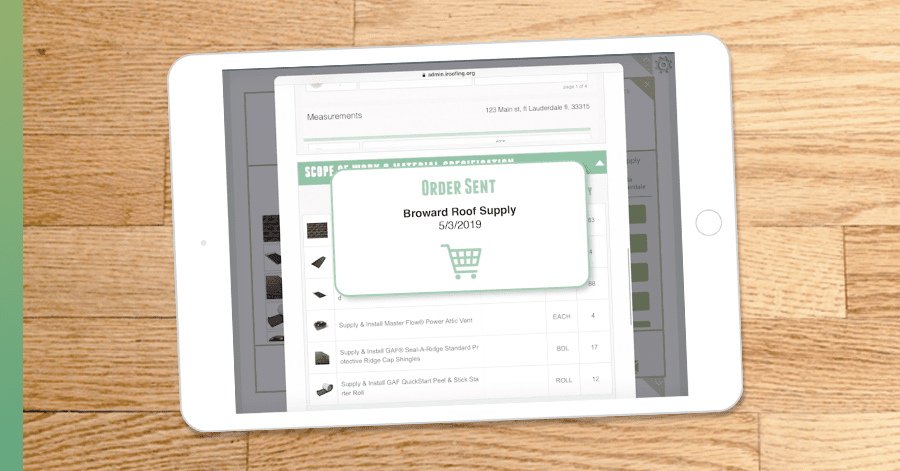 6. Order materials from your distributor using your app.
When your estimate is accepted by the property owner, it's time to order all the materials you'll need for the roof replacement project.  With a good software solution, it's as easy as 1-2-3. Within your estimate are all the items right down to the appropriate amount of roofing nails.  Now all you have to do is send that list to your distributor.  The distributors contained in your app are those of your choosing and there's no need to hunt and peck to find a company that serves your area or your preferences. So, with the click of a button, your material needs are provided to the distributor. The time you'll save is remarkable and your client will be happy to know the job can begin without the delays inherent in doing material calculations and orders manually.
Today, there are just a few complete technology solutions for roofing professionals, which include a roofing material calculator and even fewer that are completely mobile and portable… iRoofing.org is the only all-inclusive roofing software solution currently on the market. It has led the industry in the development of digital apps for roofing contractors since 2012. To learn more about iRoofing's all-in-one powerful platform for fully customized roof measurement, estimation; new roof visualization; contractor pitchbook; customer list management; and digital sales agreements, plus, iRoofing's unrivaled, 1-on-1 free and unlimited training click here.