Who's tired of talking about COVID-19? Even though iRoofing has long held the perfect antidote to doing your roof measurements, estimates, and sales presentations, without the necessity to be on property owners' premises, the lingering pandemic is leading many roofers to reduce physical interactions with property owners. Now, apps like iRoofing and ZOOM video conferencing are becoming indispensable.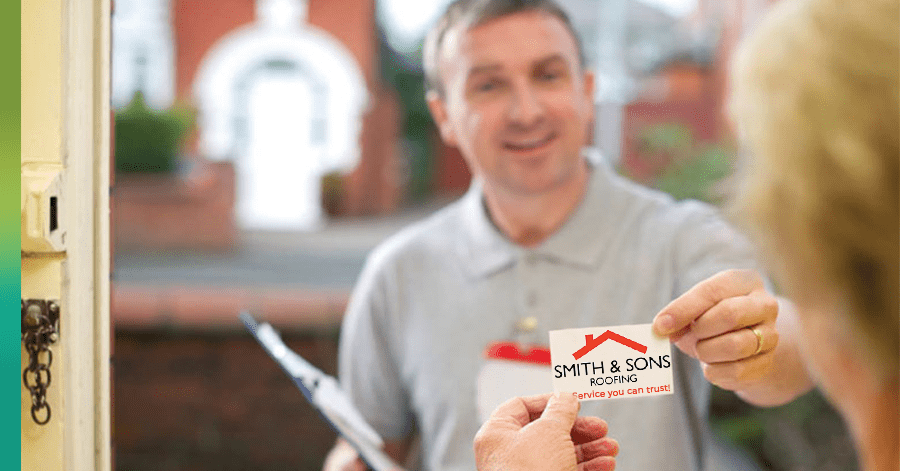 Will we ever return to the times when roofing pros could readily walk up to a front door, ring the doorbell, and be greeted by a homeowner whose smile isn't cloaked by a mask? Each month that passes, that traditional way of doing business – showing up at your client's home or business and pressing the flesh – looks increasingly like a thing of the past. But for the ever-optimistic roofing pros like you, it's not hard to see a silver lining in all this fear and madness.
Whether you use a roofing app like iRoofing or not, you can adapt a little more "high tech" into your business by staging virtual meetings with clients. After all, you're no stranger to virtual correspondence… We can go all the way back to Alexander Graham Bell for that. And, if you ever Skyped or face-timed anyone, you're already 90% on the way to being an astute virtual meeting host.
What You'll Need to Conduct a Virtual Meeting
CONFERENCING HARDWARE AND SET-UP
The best way to conduct a virtual presentation, especially when making a first impression or sales pitch to a customer, is to sit yourself in front of a personal computer, laptop, or tablet equipped with a camera and microphone. Know how to control these functions on your device and test them out beforehand, so you don't fumble and stumble once you connect with your client.
Consider your physical surroundings as they will appear to your client. Make your area neat and professional. It doesn't matter whether you'll be conducting your meeting from home or from your office, as long as your area is quiet and uncluttered.
Of course, you will also need a steady connection to the internet, such as a WiFi connection. In most cases, you'll be sharing slides and images during your virtual meetings and whatever device you choose to use can serve that purpose… desktop, tablet, or smartphone. 
Personal Desktop Computer, or…
Laptop, or…
Tablet (iPad or Android)
WI-FI or hardwire connectivity to Internet
VIDEO CONFERENCING SOFTWARE
There are several widely popular video conferencing applications. In April 2020, Zoom had over 300 million daily meeting participants. ZOOM skyrocketed to popularity after COVID-19 set in. When planning to conduct a video conference with a property owner, ZOOM or Skype might be your best bets because your customer might already be very familiar with using them. You can use a video conferencing app like ZOOM or Google Meet to schedule the event, so you and your customer are reminded when the time for the meeting approaches. Your customer can confirm their intent to participate or suggest another time, as well.
Recommended Video Conferencing Options:
Zoom
Skype
Google Meet
WebEx
Join.me
Google Slides, Powerpoint, Prezi, Canva, and LinkedIn SlideShare are among some of the best digital presentation tools, but if you're a Hi-Tech Contractor®, you probably have a digital pitchbook and other digital documents and images in your iRoofing app. Since you can easily conduct your virtual meeting from the device on which you installed iRoofing, simply share your selected screens from the iRoofing app, such as your digital pitch book, roof estimate, roof simulation, and notated images helping the property owner to see and clearly understand where problems might exist on their roof. These detailed images can come from a visit you made to the property with your drone, from satellite or Clearoof™ HD aerial imagery, blueprints, or after a manual inspection of the roof.
Recommended Presentation Software Options:
iRoofing
Google Slides
Prezi
Canva
LinkedIn SlideShare
Keynote (MAC users)
Powerpoint (Windows users)
App Customization – Pro Tips
Did you know iRoofing is a white-label app, meaning you can fully brand it as if your company created the software? Here are our tips for making the most out of the many customization options.
Upload a company logo to your iRoofing profile. (iRoofing normally does this for you when you sign up.)

Add a presentation for your company and any educational materials that can inform property owners of your work approach.

Display your preferred manufacturers contained in the app's expansive digital catalogs. 

Customized your Roof Estimator templates. (Need help?  iRoofing stands ready to assist you with unlimited training and tech support!)

Input addresses of past jobs. iRoofing will display those properties as locator pins on an interactive map. 

Upload your Contracts and Terms & Conditions so that you're always ready to close a sale.
WHAT YOUR PRESENTATION SHOULD INCLUDE
In no more than 20 slides, you should be able to cover all you need to in a virtual sales presentation. Don't make your presentation too long, but don't leave out important selling points about your company and its process either.
Include a picture of your staff and/or crew wearing company-branded attire.

Show your branded, clean company vehicles

Include earned certifications, awards, and special licenses.

Discuss your company's involvement in the local community, i.e., sponsorship of local youth league teams or charitable causes.

Show before-and-after images of past jobs.

List and show samples of your preferred roofing products.

Include customer testimonials.

Illustrate why you use technology, such as drones and roofing software, and explain their advantages to the customer.

Outline your roof removal, disposal, installation, and clean-up process.

Add educational illustrations, such as, key components of a roofing system.
HOW TO GET READY TO GO "ON-AIR"
Everyone knows you're a handsome devil. Most roofing pros are. But before sitting down to initiate your virtual meeting, take a look in the mirror to make sure you look spiffy. Is your shirt buttoned straight? Guys, did you remove the toilet paper patch where you nicked your chin shaving? Ladies… nevermind, you always look marvelous. 
It's always better to have practiced your presentation and familiarize yourself with the content and software you'll be using to sell your company and your project.
Inform your family and co-workers that you'll be in a meeting and to try not to disturb you. Put a sign on your door to that effect.  If someone walks in on you during the virtual meeting, even if it's your dog…make light of it and introduce him/her to your customer. It will personalize the experience. 
Once the meeting begins, start by introducing yourself and your role at the company. Reiterate the purpose of the meeting, what you plan to cover, and approximately how long you expect the session to take. If you're a Hi-Tech Contractor® who uses iRoofing, explain to the customer how you were able to remotely measure their roof, estimate the job and simulate new, recommended products right on an image of their house or business. They will be impressed!