Roof Skylights Make Home Life and Work Life Better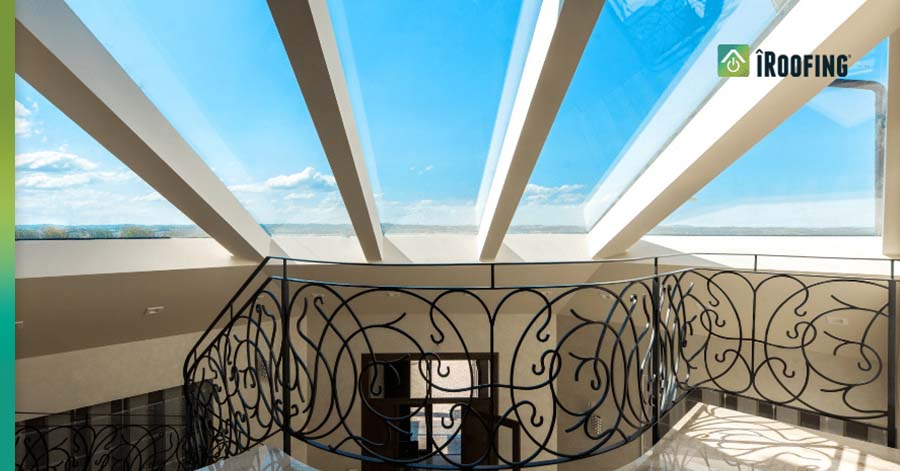 You can go all the way back to ancient Rome to find the construction of skylights. The oculus designed into the domed ceiling of the Roman Pantheon is an example of how the concept of letting glorious sunlight stream into an interior space has always been important to people. Open skylights like that of the Pantheon, made a lot of sense before artificial light cast its glow on the Industrial Revolution.  Yet, since the advent of modern lighting, the desire for natural light in our living and working environments has held constant. Skylights built into roofing have enabled us to fulfill our need for nature's warm light to keep rooms illuminated and spirits elevated!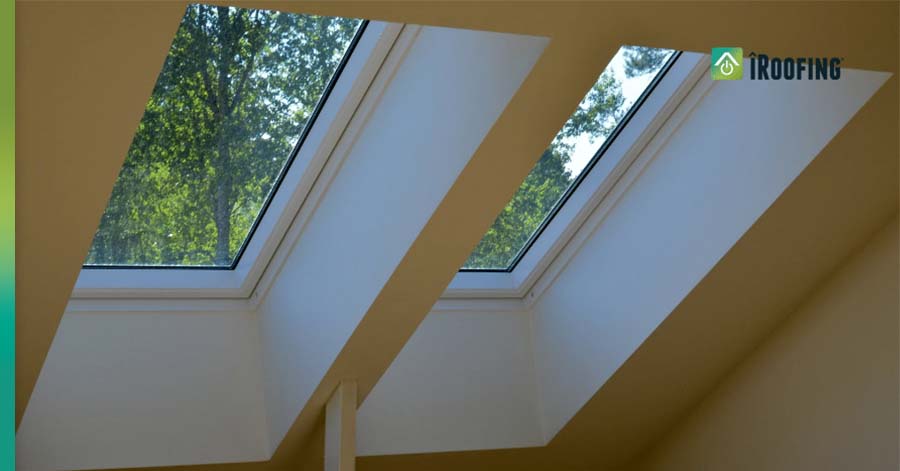 Fixed skylights do not have a means of opening and closing. They're built into the roof solely for the purpose of letting in light. While the same is true for tubular or "tunnel" skylights, those can extend through levels of a structure whereas regular fixed skylights only illuminate the interior area on the level just under a roof.  
Fixed skylights come in a variety of sizes and shapes, and have fewer parts vulnerable to leakage, as from corroded seals on skylights for metal roofs, flat roof skylights, and conventional asphalt shingle or tile skylights that can be opened and closed. Wind blown debris that can also interfere with the full, tight closure of the manual skylight. 
Less likely to ever leak
Available in a wide variety of sizes and styles
Fewer parts that can breakdown compared to ventilated skylights
Manual, Ventilating Skylight
A manual skylight enables occupants of a home or building to open and close the unit, similar to a "hatch" design.  Obviously, the advantage of a manual skylight is that it offers the best of both worlds – warm invigorating sunlight to illuminate interior spaces and the option of letting in fresh air to take the stuffiness out of enclosed, heated or air-conditioned rooms.
Manual skylights operate with simple, low-maintenance hardware – a crank and extender pole which push open or pull closed the skylight with a straight arm, split arm, or scissor arm operating mechanism.
Allows for both light and fresh air to enhance interior atmosphere
Simple, dependable hardware for opening and closing
Adds to property value and buyer appeal
Motorized, Ventilating Skylights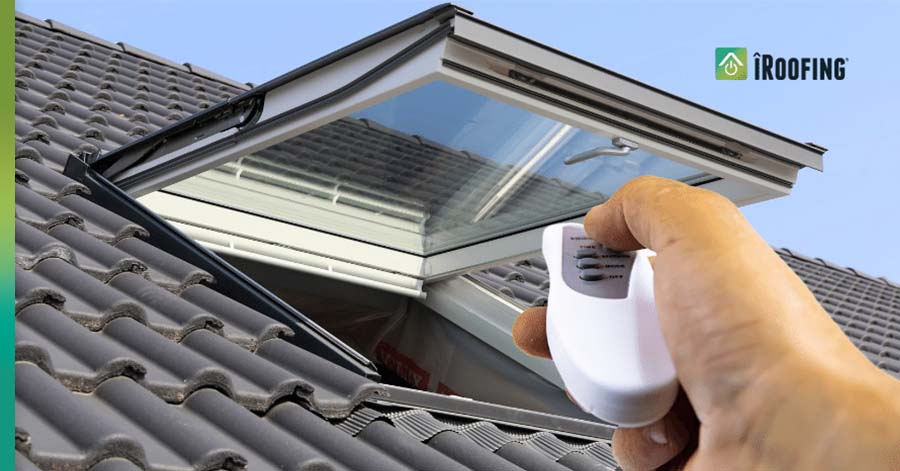 Motorized skylights can open and close with the push of a button. Other than the ease of operating these vented skylights there's little difference between them and manual roof skylights.  The most popular electrically motorized skylights operate on standard 120 volts. These skylights are great when mounted high overhead because they avoid the need for long extender poles to wind a manual crank.
In areas where frequent power outages occur, motorized skylights may not be the best choice. Property owners and contractors should consult with the product manufacturer to assess what options there are to close or open automatic skylights in the event of a blackout.
Easier to open and close
Some can be operated with a remote control
Certain models can be controlled from a smartphone app
Solar-Powered, Ventilating Skylights
Solar-powered skylights operate on a self-contained solar cell and internal battery. The skylights use the sun's power to open and close. Property owners may be eligible for a 26% federal solar tax credit off the product purchase and installation costs of solar-powered skylights. Some models are designed with an acoustic rain sensor that picks up the sound of rainfall to close automatically!  In addition, models of solar-powered skylights can be controlled from a smartphone. 
Since solar-powered units operate with self-sufficient motorized components, they can function during power outages. 
Operates even during power outages
Qualifies for a federal Tax credit
Selected models have rain sensors which close the skylight automatically
Tunnel (or Tubular) Skylight
Tunnel skylights, sometimes referred to TDDs (Tubular Daylighting Devices), are made of an acrylic dome mounted on the base of a tube or shaft that goes down through the roof structure. A light diffuser is built into the end of the shaft. From the inside of a room, this type of skylight looks like a large flush-mount light. 
Tunnel skylights can extend through levels of a multi-story home or building (via passage through a closet or other inconspicuous area) to illuminate a ground floor space, such as a kitchen, whereas most other types of skylights can only brighten an interior area on the level of the structure just under a roof.  
Brings natural light to any level of a home or building
Design to flush-mount at the ceiling for a sleek, modern look
Light diffusers within the shaft produce nice, soft lighting
A skylight roof window is a kind of hybrid between a dormer and a skylight. In other words, it's a window built into the design of the roof. The purpose of a roof window is similar to a skylight in that it lets in natural light and fresh air. Think of it as a storm window on a diagonal plane that can open and close thanks to a top-hinge or center-pivot hinged construction. Normally, the occupant of a home with roof windows can walk up to the unit to open and close it as they would a regular casement window. 
Transparent or Translucent Materials Used in Skylights
Glass: Skylights are typically made using coated glass that reduces radiant heat by filtering ultraviolet sunlight. In some models there are layered panes in between which is an inert gas that adds to the skylight's thermal efficiency.
Plastic: Another familiar style of skylights comes in the form of molded convex shapes.  Plastic glazing is commonly used in these skylights. These domed skylight assemblies are typically used on low slope roofs. Because the surface is domed, rain water, leaves and snow slides down from the surfaces and is efficiently channeled onto the slope of the roof.
Acrylic, Polycarbonate, or Co-polyester: Skylight glazing materials often consist of acrylic, polycarbonate, or co-polyester material. Glazing of this type helps the impact resistant-quality of domed skylights.
For Roofs with Skylights
Use iRoofing - The #1 Roofing Software
For roof measurements to be precise, they have to account for roof penetrations, including skylights. iRoofing, the world's first and most advanced DIY roofing software, provides the best way to measure roofs accurately and account for skylights and other roof penetrations.
Unlike bare-bones roofing apps that only give you a perimeter measurement or offer clumsy solutions to measuring each slope and roof part, iRoofing makes it easy, including giving contractors a "Subtract" function for roof penetrations, that do not require shingle covering. Plus, iRoofing has the industry's most comprehensive digital roofing materials catalog. The catalog is built right into the app and includes products from Velux Skylights and Columbia Skylights in addition to thousands of shingle, metal, tile, slate, and shake products!
When it Comes to Skylights, Folks Count on Roofing Contractors!
When a builder or property owner wants skylights installed in a new build or existing structure, they turn to a qualified roofing contractor. Roofing contractors are specialists when it comes to leak prevention measures. They understand the techniques and the materials necessary to repair or install a roof so that it performs its most important and most basic function – preventing moisture intrusion into a home or building. At one time, skylights may have been notorious with promoting roof leaks but today's roofing professionals have become eminently competent in the art of skylight installation. The leading manufacturers of skylights and roof windows have authored detailed guidelines and best-practices in installing their products, and roofing contractors who follow these instructions carefully will ensure a water tight fit that will last for years. Right off the bat, if a new skylight doesn't leak after the first heavy rain, it won't be a problem for a very long time, if ever.
What Are The Best Skylights?
Velux is one of the leaders in manufacturing high-quality skylights for homes and commercial buildings. Velux products are widely available in the U.S. The company got its start in Denmark and now operates in 40 countries.
Canada-based Columbia Skylights is one of North America's leading producers of commercial and residential skylight systems. Columbia's skylight products are exported internationally.
Other fine manufacturers of skylights include Sun Optics, ICON, SIG Skylights, Sun-Tek, Natural Light Energy Systems, and Solar Industries.