It used to be that roofing contractors lugged around sample boards, bulky manufacturers' catalogs, clipboards with carbon copy contract forms, homespun 3-ring binders with snapshots of previous roofing jobs, business certificates proving they're legit, and "Thank You" notes from past customers.  Back in those days, these practical elements seemed to do the trick, no matter how dusty or dog-eared they became after so many presentations to potential new clients. Besides, what more should a property owner expect from a hard-working roofing contractor? These well-worn pitchbooks and props were a reflection of the great work ethic and the toughness of a culture that plies their trade on eaves of imminent danger.
Wait. Hold on! This approach to selling a new roof is not a thing of the past at all! Despite being a bit archaic, it works as well today as it did 30 years ago. It's not unprofessional either. It's personal and down-to-earth. People like that, right? Well, maybe. But, imagine having all those useful selling tools in one compact and convenient place, instantly accessible from your iPad, Android tablet or even a smartphone. All the paperwork, the pictures and product samples you once carried around in the cab of your truck are now held in one hand as you knock on your customer's front door with the other. People in this day and age expect a visually rich representation of what your company's all about, how you approach your work, and what your finished product looks like. Now, as you're sitting down with your client at their kitchen table, in your clean company uniform, you're ready to play your most important role – representing your company and closing a sale for a new roof. A digital pitchbook is a key to accomplishing that goal!
What a great digital pitchbook looks like...
Your pitchbook is mainly designed to demonstrate the strength and reliability of your company. So here's what you should include:
Brand your digital presentation with your logo; your company colors; your company's purpose or mission statement; and company location and contact information. A company that treats its brand image seriously projects credibility that builds confidence with customers.
No matter how many people you employ, a team photo is great to have. By humanizing your company you create a stronger connection and appeal to your customer. See if you can pull your team together on a nice day wearing their fresh clean uniforms and posed around your company's vehicles! If there are any company mascots – dogs or cats – get them in your shot, too!
Your company's success probably has a lot to do with the methodical approach you take to your business and to each roofing job. Tell customers about your process and why it works so well. Illustrate it with pictures or diagrams. Include images of one or more past projects showing the finished roof as well as the various stages of preparation, installation and clean-up. This will help the property owner know exactly what to expect.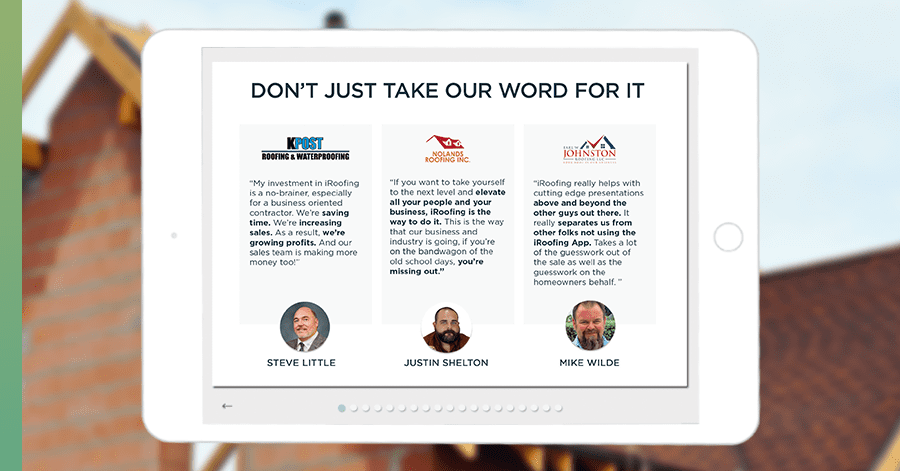 Assemble all those nice comments that you received from past customers who emailed you, sent you a note or posted kind words on your Facebook page. Then create a slide for your presentation with all those great testimonials.
Are you on Yelp, Angie'sList, HomeAdvisor, Houzz, Porch? Create a slide with all the stellar ratings you've earned or just those which you wish to highlight.
Roofing comes naturally to you but not to the client. They see only the external layer. Only you can tell them about the decking, underlayment, ice & water, fasteners, vents and all the rest of the vital details that go into engineering a new roof. If you primarily use metal vs shingle, for example, the pricing will be higher. A digital pitchbook can make it easy for you to compare and contrast the advantages of metal roofing's durability.
Roofing is a high-risk occupation but you've got it covered. Let your customer know your crew is insured and any mishaps or property damage that occurs during the roofing job will fall on the shoulders of your company, not theirs.
8. Licenses, Certifications, Community Affiliations
You're a legitimate business with a corporate and community conscience and that's not something that should go unmentioned. Show your customers the licenses you hold, the certificates you've earned and any community events you've taken part in or sponsored.
9. Preferred Manufacturers
Let your customers know that you're up to speed on the latest and greatest roof materials and that you are committed to providing the right quality products for their project. With great software your pitchbook can easily include details and images of manufacturers' products accessible within the app. Also, you could offer customers a warranty by choosing a few materials from the same manufacturer (depending on the manufacturer specifications).
If your company offers or recommends any financing options for roof replacement cost, you can cover those details in your digital pitchbook. When you think about all the important points that go into selling your service and major expense a roofing job represents to a property owner, having a digital pitchbook can ensure that you cover those points thoroughly and in a logical sequence.
So, do you need a killer digital pitchbook? Yeah, you do.
Smartly-designed software platforms can give you amazing digital presentations that help you make a great first impression with customers.  A new roof is a big investment and property owners want to feel they are making the right choice in their selection of a roofing contractor.  A great pitchbook can do the trick, especially when your software combines roof measurement, roof estimating, and roof simulation all in one. Get on Google and try searching "roofers' digital pitchbook" or "roofing pitchbook video" to find the solution that's right for you or