I Measure. I Estimate. I Eat!
The Kringle Roofing company is swamped with business this time of year. Christmas is when many gingerbread people wish to replace their stale or sagging roofs, neglected for almost a year.
"While we specialize in gingerbread roofing and confection-based coatings, we also have to deal with a rash of roof repairs this time of year," said Kringle Roofing's president, Kris Kringle.  Reindeer hooves and the harsh impact from sleigh landings frequently destroy shingles, tiles and shake roofing. It's a worldwide phenomenon. "We suspect the little ol' driver so lively and quick is getting behind the wheel under the influence of egg nog," added Kringle.
Kringle Roofing uses the iRoofing app to measure numerous gingerbread houses in need of attention leading up to the holidays. With the app's satellite or aerial imagery, Kringle's helpers stay cozy in the company's workshop and perform all the measurements remotely. Each cookie client receives a professional roof report and estimate by email. They can review the documents right on their iPez phones. All the details are there – the gingerbread material cost, wax paper underlayments, accessories including gumdrops, candy canes, M&Ms, etc. Some of the homes need new gutters too, which Kringle installs using a piping bag.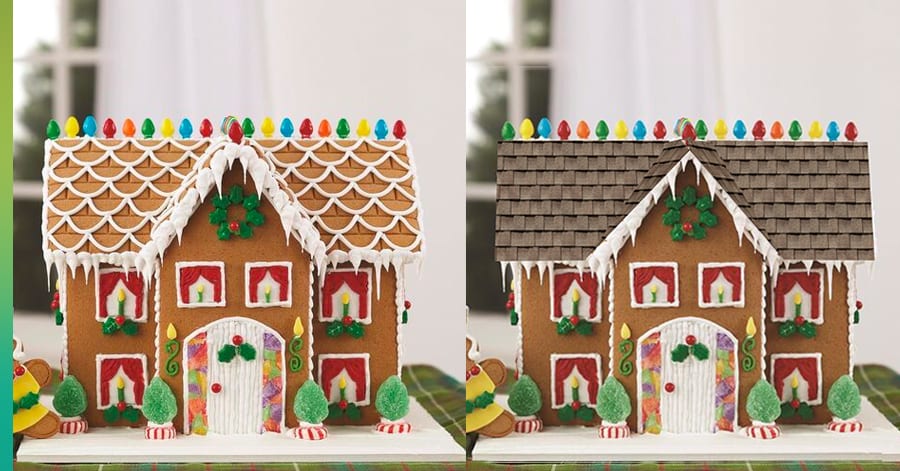 Gingerbread folk tend to be fickle when it comes to deciding whether they should replace their roof with traditional ingredients or go something more conventional that won't get stale or moldy over time. Kringle Roofing helps procrastinating cookies decide on a roofing product by simulating what any given material will look like – right on an image of their own gingerbread house! "We can show our crumby clients what any material will look like by using iRoofing's Roof Visualizer tool. The tool pulls from hundreds of roofing material choices contained in the application's vast digital catalog of roofing manufacturers' products. When they see how tasty their new roof looks on their delicious house, it's hard to get the sweet little grim off their faces," said Kringle.
"Once we finished all the paperwork and got the gingerbread man to sign-off on the digital contract, we used the iRoofing app to send the purchase order for materials straight over to the distributor, Tiny Tim Industrial Baked Goods. Everything's being drop-shipped to the property for installation by a team of itinerant elves in time for Christmas Eve," exclaimed a joyful Kris Kringle.