When you think of stately homes, perhaps you picture long cobblestone driveways leading up to multi-story manors. Walls and arched entryways are fashioned of old bricks or stone and festooned with ivy.  Bronze or copper downspouts bear a patina earned from decades of exposure to the elements. The lawns are manicured and trimmed with sculpted hedging. Every aspect of these places seems fit for a queen. And, as prominent as any other surface of these grand estates pictured in your mind, are their steep sloped rooftops, glistening in the sunlight and morning dew.
What you're picturing is not a scene from Downton Abbey. Throughout North America, roofing contractors know that there are thousands of proud homes in upscale neighborhoods and picturesque resort towns with residents who crave the most distinctive roofing materials.
Common Questions About Premium Roofing Materials
What is the most expensive roofing material?
What is the most durable roofing material?
What roofing shingles are the best quality?
Are there different grades of roofing shingles?
Pricing for various types of luxury roofing products and their installation is largely dependent on the contractor's materials cost from their local distributor and labor costs which vary by the type of roof (slate, cedar shake, Spanish barrel tile, cement, etc.), the size and complexity of the roof to be covered, tear-off and disposal of old roofing, etc. Each of our articles on luxury roofing products explores in more detail those questions property owners seek answers to.
Why use luxury roofing products?
To every property owner, not just the wealthy, their homes are their castles. Most people are passionate about maintaining a beautiful residence, no matter how opulent or how modest the architecture and square footage might be.
The roof alone can account for more than 1/3rd of the frontal view of a home as seen from the street. The higher the angle of the roof pitch, the more surface becomes visible. Indeed, it's a major aesthetic element of any pitched roof structure! That's one reason why there's a lucrative market for high end roofing materials, including architectural roof tiles.
Other reasons for the demand in high end luxury shingles, ceramic tiles, concrete tiles, slate, cedar shake, high-grade composite material, and metal shingles are their strength and longevity.  When roof repairs and replacements account for 41% of all home improvement spending, homeowners who can afford the best products, get the best products, because they know they'll last longer and can cost less in the long haul.
In this series of articles, we'll take a look at each category of luxury roofing material, where they originated, why they are desired, and what some of the pros and cons are of each type of roofing system.
Types of Luxury Roofing Material
Concrete tiles
Ceramic tiles, such as Spanish and terra cotta materials
Slate
Cedar shake
High-grade composite material/architectural tiles
Metal shingles
Photovoltaic solar "shingles," like those developed by Tesla
Rubber roofing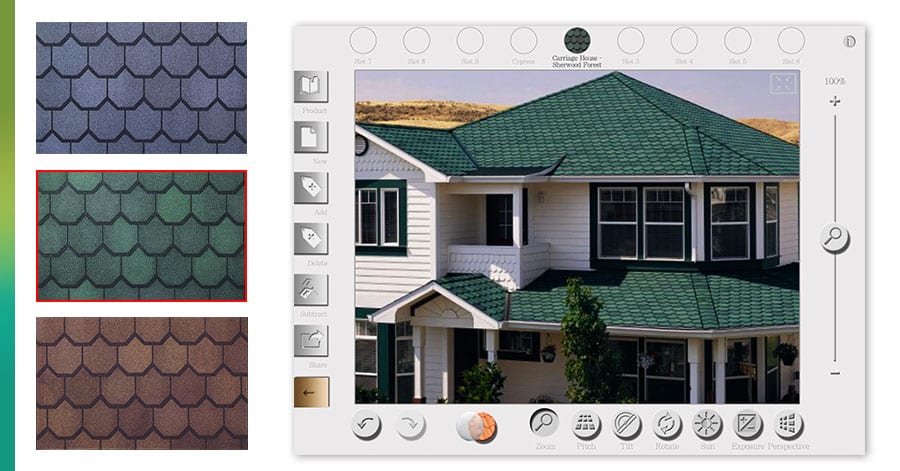 What About Asphalt Shingles?
Many manufacturers of asphalt shingles – by far the most popular type of roofing material in North America – have developed premium shingle products lines. High end conventional asphalt shingles, such as GAF Timberline, Presidential roofing material from Certainteed, and Owens Corning Berkshire can also be included in the conversation about "luxury" roofing, but in this article we'll discuss natural roofing material and other deluxe alternatives to asphalt shingles.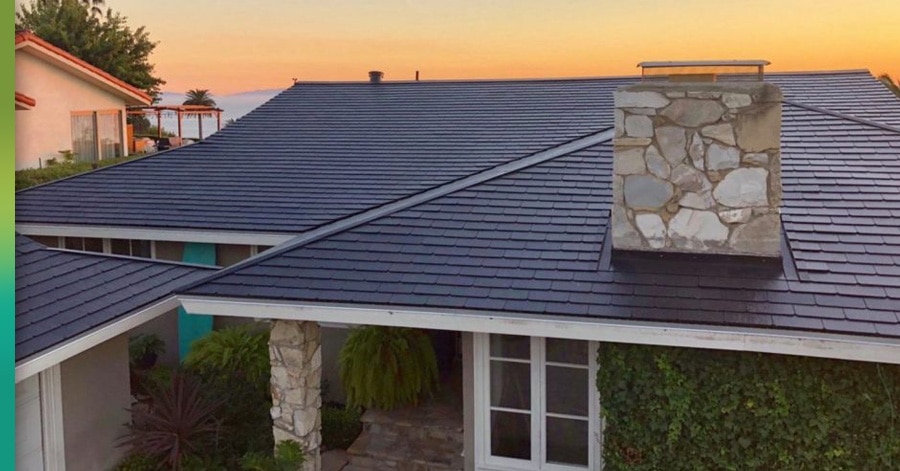 Luxury Roofing Products by Region
No matter where you go,  you'll find luxury roofing products on the creations of the most discerning builders and architects. Design-conscious and quality-minded property owners are specifying luxury roofing products for their new homes or roof replacements.  Naturally, there are some patterns across the nation which show preferences toward particular roof materials. Some of this regional variation is based on practicality, such as which material best weathers an area's prevailing climate or risk of forest fires. Other influences favoring certain roof materials can simply be chalked up to traditions that date back centuries. Styles common in Europe and other places from which New World settlers came, and forms that were used by Native Americans, including the distinctive flat roofs of the Pueblo Indians of what is now New Mexico and Arizona are found today in neighborhoods across North America.
Present
Luxury Roofing Products
Virtually with iRoofing!
Discerning property owners who favor finer roofing materials expect a first-rate presentation and a bit of an education about product choices.
Imagine having the ability to instantly grab digital images of any luxury roofing material mentioned in this series of articles, then creating an accurate, line-item estimate to show your client, including the ability to instantly update the estimate to show clients how a particular choice of a roofing product changes the project costs based on your custom mark-up and the varying labor cost involved. It's all easily achieved with the iRoofing mobile app.
To help you close the sale, you can use iRoofing with an image of your client's home, to perfectly simulate any roofing product and color they like. Even compare their preferred products side-by-side with the app's digital Visualizer tool. Show them new roof simulations from different vantage points on their property— street views, side views, or from the back yard.
Make no mistake, this is the way to sell luxury roofing! 21st Century homeowners expect thorough, immediate and digital presentations like that which iRoofing delivers. Successful roofing pros are almost always Hi-Tech Contractors™.
Learn more about each type of luxury roofing...