Roofing Contractors Know How to Roll!
The three cardinal rules of a successful Roofing Contractor…
Do quality work

Deliver a fair value to customers

Drive cool trucks!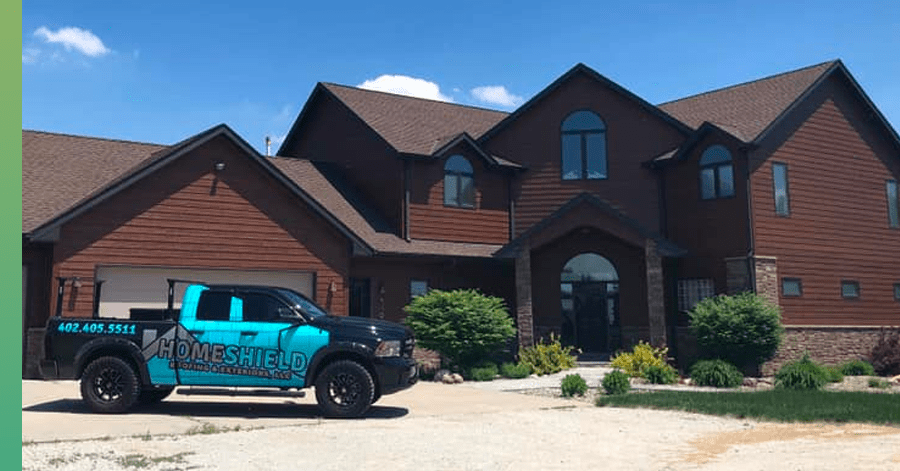 When it comes to promoting themselves, roofing professionals are pretty smart cookies. Some of you have great looking shirts or uniforms. Some have high-tech digital pitch books that show off all your fantastic capabilities and your stellar roofing work from past jobs. Some have a list of happy customers a mile long… And it seems that ALL of you have awesome trucks tricked-out with cool graphics, colors, and logos!
Recently, iRoofing asked roofing companies to share pictures of their trucks and truck wraps. The response was overwhelming.  Roofers really know how to roll. Check out some of these fantastic rolling billboards. No wonder your businesses are thriving, you have the right equipment to impress customers. Hopefully, that equipment also includes our fantastic roof measurement and estimating software!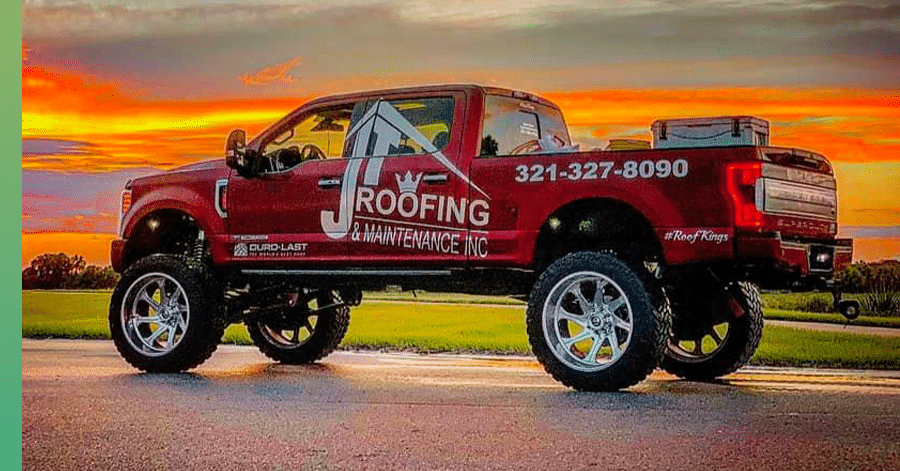 Americans spend an average of 15 hours a week in a car, either as a driver or passenger. Men in certain age groups can be elusive to TV advertisers. At the same time, they have a lot of exposure to outdoor media. In-car audiences are a vital advertising consideration in all-sized U.S. media markets. 
Best of all, the cost of your truck graphics is a legitimate, tax-deductible expense, so go for it!
Your vehicle conveys your professionalism. Roofing vehicle wraps branded with your company's logo instill confidence among the customers and prospects who you encounter. 
Your vehicle wrap is a really efficient way to communicate your message.  According to figures compiled by the American Trucking Association, 9-out-of-10 people you pass by will notice your truck graphics.

In studies reported by

Robinson, Yesawich & Pepperdine

on the visual impact of trucks in traffic:
♦ 97% of viewers can recall seeing truck ads
♦ 75% of viewers develop an impression about a company and what it offers
♦ 98% said truck graphics create a positive brand image
♦ 29% of viewers would make a purchase decision based on a truck's branding
One research source, Geopath, which projected stats across a variety of city and suburban traffic zones, estimated that a company vehicle can garner from 30,000 up to 70,000 impressions daily.
Top 10 Tips for Roofing Truck Wraps
Design your truck wrap with a strong logo, image , and easy-to-read text. Keep things simple and bold:
♦ Company Name
♦ Phone Number
♦ Website
2. Start with High-Res Art
If you're going to use background images use the highest quality/high-resolution files to minimize blurriness when enlarged.
Avoid small print and try to use bold, sans-serif fonts like Arial, Calibri or Verdana. Cursive fonts are much harder to read.
Try to use bright, vibrant colors, but also consider your brand's color scheme. Graphic consistency underscores your professionalism, so use the same colors and designs on your truck as you do on your business cards, postcards, webpage,  etc.
When using background colors, make sure they don't interfere with the readability of your text and the clarity of your logo.
6. Flat Surfaces work Best
If you're using wraps, keep the important information (company name/logo, phone number, URL) along flat surfaces of your truck. Avoid wrapping it around a wheel well, fender or tailgate.
Your branding should appear on both sides of your roofing vehicle wrap and, if possible, even your hood and tailgate!
Vehicle graphics should be produced and applied by a professional to ensure proper fit, adherence, and durability. Let them work with your logo and color schemes and ask them to present a few versions showing exactly what your truck will look like.
When parking your truck on a job site, try to park perpendicular to a busy roadway so it can be easily noticed by approaching traffic. First and foremost, park in a safe, legal spot and someplace approved by the property owner.
High pressure water streams used in many automated car washes can lift the seams and edges of the vinyl material and may even cause rips. Brushes and bristles can also damage your graphic applications. Your safest bet is to hand wash your truck with mild soap and water.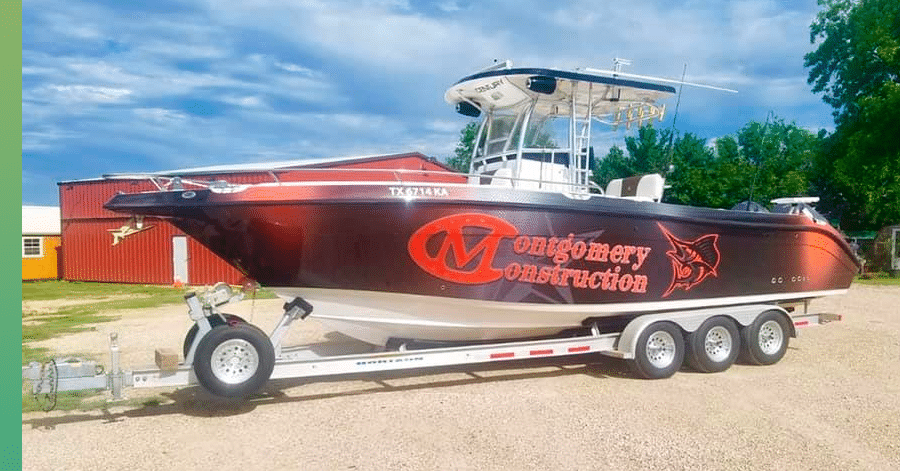 Don't limit yourself to trucks! Maybe your next prospect will see you out on the water!
Based on all the terrific roofing trucks out there, this blog may sound like we're preaching to the choir. So, Hallelujah!  Thanks for sharing your divine truck pictures and truck wraps. From all of us at iRoofing… Godspeed.