Comfortable, Durable Styles in Roofing Clothes
You might not consider roofing and construction workers as trend-setting fashionistas, but they are. Just go back about 150 years, to 1873 when blue jeans were patented by Levi Strauss & Company. The historic clothing innovation was conceived when the wife of a San Francisco-area laborer asked Jacob Davis to make a really durable pair of pants for her husband to wear on the job. Davis came up with the idea of placing metal rivets at certain stress points on the denim trousers he designed. With his partner Levi Strauss, they called the product "overalls," later to be coined "blue jeans" and" jeans" during the 1960s – a corruption of the name "Genoa" – as in Genoa, Italy – where denim's twilled cotton fabric was originally formulated.
Key Components of Safe, Comfortable Roofing Clothes
Durable work pants
Advanced-fabric shirts
Performance t-shirts
Sun protection headgear
Toolbelts
Protective eyewear
Performance briefs
Teamwear/Uniforms
Roofing boots and shoes
But the fashion-forward sensibilities of construction pros, including roofers, didn't stop with dungarees… In addition, several other utilitarian styles took hold on job sites before sweeping the couture-conscious masses.  For example, take cargo pants, also referred to as carpenter pants or painter's paints. With handy tool-toting loops and fabric reinforcements throughout, cargo pants became a roofing apparel mainstay of workers before tickling the fancy of the bourgeois who took them to the streets and made them "cool."
From head to toe, rugged workers have set the tone for casual apparel now seen from boardwalks to board rooms. Who would have thought that practical work boots would eventually make it to the fashion runways of Paris and Milan? Yet, you can now buy such proletariat-inspired kicks from the likes of Prada and Valentino… just beware, they'll run you about the same cost as an entire SQ of roof tile!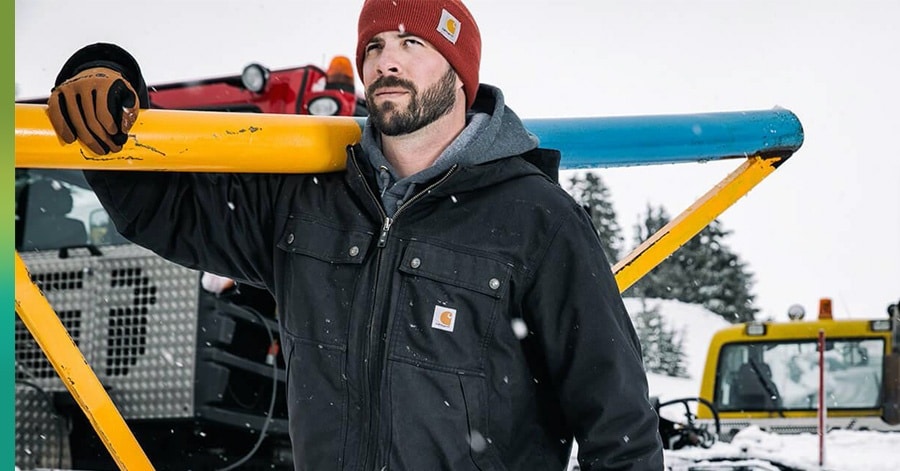 It would be difficult to pinpoint when the first purpose-designed work boots were cobbled together, but the distinctive leather and thick-soled footwear for construction work has its origins in early combat boots, with the first steel-toed renditions stepping out in the early 1900s thanks to brands like Red Wing and Iron Age. Jump forward to about the 1970s and work boots made their way onto the Main Street and into the mainstream. Today, classic leather work boots include some tanned, sexy specimens that fetch a fee as hefty as their tough construction. In fact, The Frye Company which supplied boots to troops in WWII, and now stands as the oldest continuously operated American shoe company, has focused entirely on fashion – no more battlefields and job sites.
For the roofer's strapping upper torso, the flannel shirt must get a mention. Carhartt introduced these shirts which came popular among American workers starting in the late 1800s (Think "Lumberjack.") While roofer's working under a hot sun might not care for flannel when they're fixing ice dams or wrestling with a roof repair in the late fall, a classic plaid flannel shirt does just the trick.  For the rest of the time, cool, comfortable t-shirts (long-sleeve recommended) and high-tech vented shirts of various fabric blends are perfect for the job.