Fine Products Praised by Roofing Contractors the World Over
There's a certain amount of prestige connected with driving a luxury automobile.  People notice the make and model. They know you are behind the wheel of a high-performance vehicle for which you paid a pretty penny.  Not only do you have a high-quality car but you have a status symbol of sorts.  Hard to believe that even the exotic coachmakers like Rolls Royce, Lamborghini, and Ferrari have utility vehicles now, too. In late 2022, Tesla's Cybertruck will roll off assembly lines.
It's not quite the same with building products. And unless the subject is slate, cedar shake, or terracotta roof tiles, the type of shingles on your home or building are never really noticed that much. Nonetheless, that doesn't mean you're not riding in style.
The Boral Assortment of Fine Roofing Products
Clay
Concrete
Composite
Stone-coated Steel
In our series of articles on high-end roofing manufacturers, Boral tops the list.  While the average person can't look up at a roof and tell you whose products are on it, luxury and durability manifest in roofs that often last for generations. Sure, certain qualities might give away the fact that a roof isn't just standard fare, but rather one with superior shingles or tiles. Such qualities could be the richness and resiliency of color, the shingle thickness or grade, the compliment it makes to a fine home or upscale business establishment. These are the qualities a roofing contractor and a property owner can expect from Boral.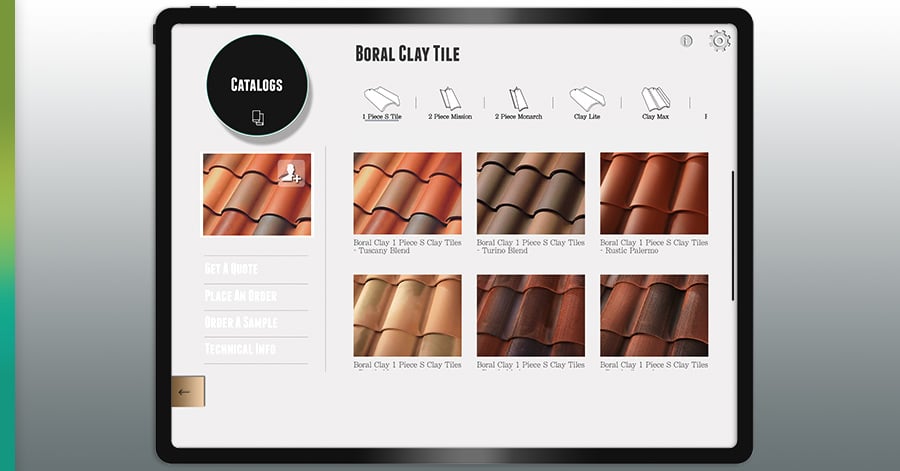 The Portable App that Has It all for Roofing Pros
The iRoofing app embraces all the great roofing and siding product manufacturers with its extensive in-app catalogs showing each product offered by North America's best brands, including Boral, of course! The products are displayed in digital glory and the thousands of selections range from basic asphalt shingles to authentic slate.
iRoofing's digital catalogs integrate with other features of the software, including its realistic Roof Visualizer.  Now you can select a material in any color available, such as Boral's Inspire® slate composite in Mist Grey, and simulate it flawlessly on an image of your client's home or commercial property.
The ONLY roof simulator that works with multiple manufacturers

Access thousands of roofing materials and components, updated regularly

Set it to show only the products available by area or your choice

Get technical specifications, installation instructions, and approval docs

Shingles, cedar, slate, composite, ceramic, concrete, metal…it's all there!
The app also integrates manufacturers' products into its Estimator tool. Your custom templates for project estimates automatically add your retail mark-up, labor costs specific to the material used, waste factor, and ancillary services like dumpster fees.
Test drive the iRoofing app today by scheduling a FREE demonstration CLICK HERE
Clay | Ceramic | Spanish Tiles by Boral
In each of the Boral Roofing product categories, as well as in regions across the United States, this 75-year old company founded in Australia with extensive operations in North America presents a variety of trending colors and profiles. For example, US Tile by Boral® is the company's premium clay roofing line. Clay roofing tiles, particularly those produced by Boral, provide high standards of sustainability and craftsmanship.
According to Rick Hackett, product manager for all Boral product lines, "By offering Class A Fire Protection, Boral's clay roofing products protect from weather and forest fires like those plaguing California, Oregon, Washington, and Colorado. Regional products also carry Class 3 and 4 Hail Protection. These ratings reflect resiliency, which is important in areas with heavy climate variations, whether those be heat, wind, rain or hail."
BENEFITS OF CLAY ROOF TILES:
Clay roof tiles can last over 100 years
Clay tiles withstand both hot sunny climates as well as very cold conditions
Clay tiles are formed of natural materials, so they're environmentally-friendly
Clay roofing is a good insulator. Its curved contours channels air between the roof covering and the deck underneath the roofing system.
Clay roofing materials are fire resistant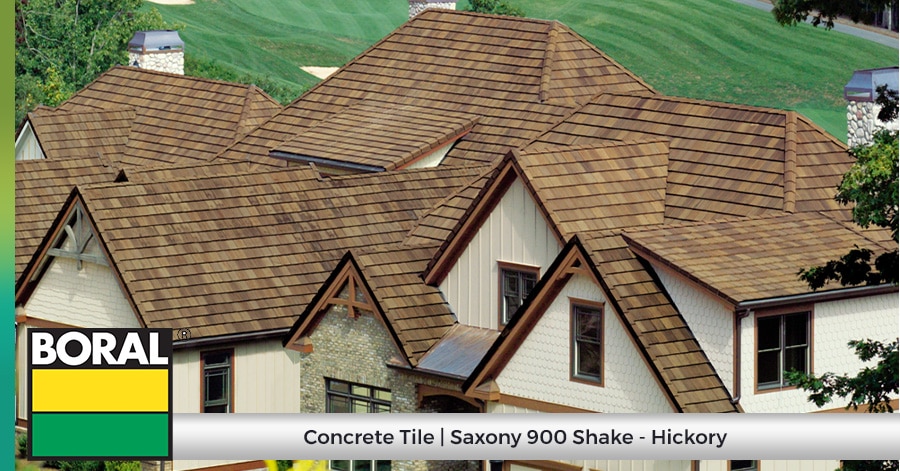 Concrete Roof Tiles by Boral
Another notable example of Boral's obsession with high quality is its Vista Collection of concrete tiles. Exhibiting a "luxury flair," Saxony Country Slate is Boral's newest concrete profile and is available in five colors developed to achieve harmonious compatibility with homes in Texas and the Midwest. Boral's concrete roof tiles also come with a Limited Lifetime Warranty.
"Since concrete roof tiles are also Class A Fire Protection rated, they're replacing cedar shingles in many communities out west, where wildfires have become more frequent and widespread," Hackett told iRoofing. 
BENEFITS OF CONCRETE ROOF TILES
Concrete tiles are extremely durable and Boral offers a

Limited Lifetime Warranty on these products

 

Since it's a rigid material, concrete tiles are far less susceptible to lifting in strong gusting winds

Concrete can be formed into almost any shape to resemble slate or cedar shake, for example.

Many concrete tiles are constructed from natural materia

ls that are fully recyclable and biodegradable
Composite Roof Tiles by Boral
Composite tile is a fantastic alternative to higher-priced natural materials. Slate and cedar shake shingles are often simulated with composite material composed of fiberglass, asphalt, recycled plastic, and other sustainable elements. Composite roofing tile is made to be light, durable, and more affordable than real slate or cedar split shake. Composite tiles can be molded to resemble almost any desired texture or simulate a natural material. There can also be any number of color choices. With Boral's extensive line of composite tile colors, roofing contractors and property owners are sure to find a hue that complements their desires. Boral's Inspire® Classic Slate composite tiles have textured surfaces modeled from real stone and come in 20 different shades. Classic Slate delivers the appearance of a natural slate roof while offering lightweight, low-cost, and great durability.
BENEFITS OF COMPOSITE ROOF TILES
Composite roofing can withstand wind, fire and hail 

Because many recycled materials are used in their production, composite roof tiles are considered eco-friendly

Composite tiles come in a wide variety of colors and textures to resemble the most sought-after natural roofing products

Unlike authentic slate, which may require a reinforced roof deck, composite tiles are lighter
Metal Roof Shingles by Boral
Copper was the earliest form of metal roofing used in the U.S., appearing in the 1700's. By the mid-1800's, the idea of galvanizing metal panels with zinc to protect them from rust moved metal roofing into the mainstream. And yet, metal shingles and tiles resembling cedar shake, cedar shingles, or metal roofing material with the traditional look of high-barrel Spanish tiles are relatively new inventions. 
BENEFITS OF METAL ROOF TILES
Metal roofing typically requires less maintenance

Stone-coated Steel roofing by Boral is very durable, withstanding many years of wear and tear and still emerging resilient

Metal shingles and tiles can complement modern home architecture Metal can be molded in any form to give the rich appearance of natural materials like slate or clay, "barreled" roofing
What Else is Great About Boral?
"Boral Roofing provides installation methodologies and instruction for all of its roofing products as each material is installed differently," said Rick Hackett of Boral. 
Additionally, Boral provides online tutorials as well as the ability to connect with their trainers live and to set up in-person tutorials for the teams needing instruction. Installation guidance can be found on the company's website. 
Boral recently launched its online showroom, proving again that they like to stay ahead of the game and set the highest standards in manufacturing and product presentation.
So, if you're a roofing contractor with opportunities to get clients to upgrade to some of the highest quality roofing products, which are also affordable and warranty-backed, Boral would be an excellent brand to include in your offerings. All the big distributors carry some of Boral's products… Gulfeagle Supply, Beacon, ABC, and Allied, to name a few.
By getting the iRoofing app, you can present Boral roofing products and other great brands with the software's digital catalogs, Roof Visualizer, Roof Estimator, and iRoofing's dynamic digital Pitchbook for stellar sales presentations.