In March, we told you about "green roofs," as we were inspired by St Patrick's Day! Now, we are even more inclined to share some insights on sustainable roofing because it's Earth Day 2021!  The special day was preceded by a timely announcement on April 20, 2021, by GAF. The renowned manufacturer of roofing and building materials has invested $100 million into a new shingle recycling program.
After years of research, GAF has finally produced the industry's first asphalt roofing shingles containing 90% recycled material from post-consumer and post-manufacture waste shingles.
"With Earth Day upon us, I'm really happy to announce that GAF has successfully produced shingles with 15% recycled material," said GAF President Jim Schnepper in an exclusive video chat with Roofing Contractor magazine.  And, the U.S. Patent and Trademark Office issued GAF three patents covering this new shingle recycling process.
In celebration of  Earth Day 2021, as it did on St. Patrick's Day, iRoofing takes a look at roofing that qualifies as green – literally and figuratively – including the innovative systems that make their contribution to a better, more sustainable, and "greener" environment.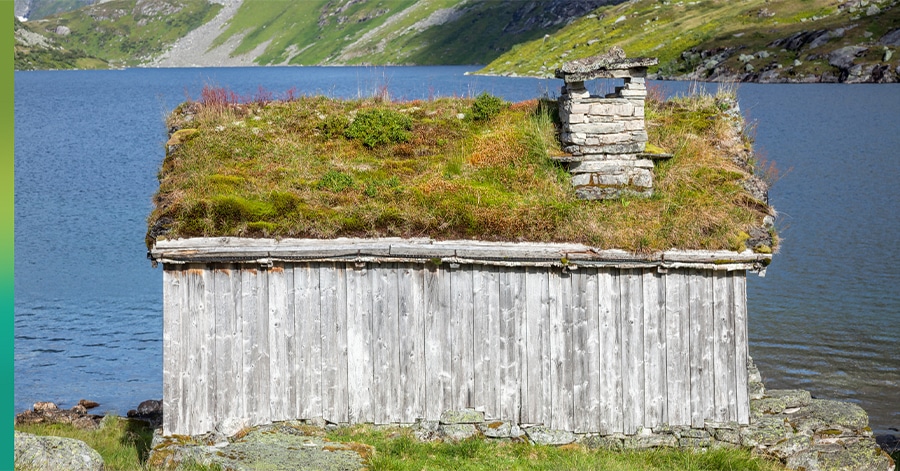 You can't tell a story about sustainable "green" roofing without highlighting the sod and thatched roofs once so common in Ireland, Scotland, Wales, and throughout Scandinavia. One can almost envision little green leprechauns skittering in and out of these idyllic hovels set in verdant landscapes of Northern Europe. Gone now, for the most part, these grassy roofs were as practical as most roofing is today – and even more sustainable. When all it took was a few layers of birch bark topped with sod patches from adjacent pasture land, a homeowner could keep a green roof in great shape indefinitely with just a few good farm implements and a strong back! A few of these buildings exist today, but green roofs have come a long way since the ol' Danny Boy days.
Green roofs are one of several applications of sustainable building strategies. Comprised of a waterproofing membrane, insulation, draining and retention mats, a filtering layer and finally soil (or soilless growing substances like peat moss, perlite, or vermiculite), and plantings, architects and builders have perfected the art of rooftop gardens and unique green living spaces atop homes ranging from single-family flat-roof dwellings to towering high rises.
Roofs Made of Natural Materials
It can be argued that roofing made from natural materials can also be classified under the category of "green roofing." Popular roofing products made from slate, clay and cedar shake, which require minimal processing, produce less of an environmental impact than heavily fabricated materials and petroleum-based products. Materials such as slate and clay tile are known to last longer than other types of roofing, and this longevity factor also reduces negative impact on the environment. Some slate roofs have lasted for centuries, in fact. So, when a roof installation involves machinery and transportation only once in generations, it results in less waste and carbon emissions.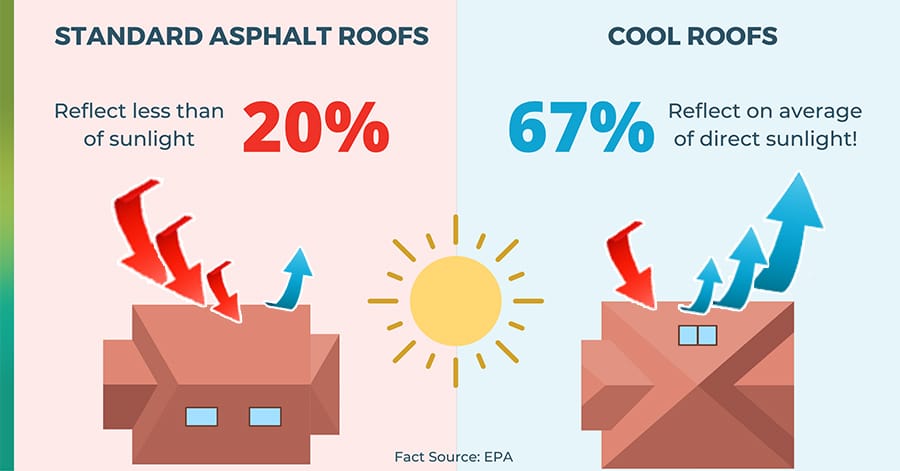 Most roofing is composed of asphalt shingles. They're by far the most common and usually the most affordable material used in roof coverings. Asphalt roofs are almost always a dark color… black, gray, dark green, etc.  When the sun is shining, these dark-colored roofs heat up as they fail to effectively reflect ultraviolet rays of the sun. Asphalt roofs instead absorb the heat and hold it, reaching temperatures of nearly 200o at times. Naturally, this leads to more energy consumption within a dwelling, as air conditioners run incessantly.  By repeatedly overheating, roofs end up deteriorating sooner than other types of material. While most asphalt shingle roofs are practical and last over a decade, roofs vulnerable to high temperatures and frequent direct sunlight are not the most efficient or sustainable.
On the other hand, "cool roofs," such as those made by Certainteed in its Landmark Solaris® and Presidential Solaris® product lines can more efficiently reflect infrared and ultraviolet sunlight. This then reduces the heat factor on the roof and ultimately inside the home or building. The higher thermal emittance of cool roofs, which radiate solar energy, last longer and reduce energy costs from constant use of air conditioning. Cool roofs were originally of a light-colored asphalt material, but recently have been manufactured in darker hues that can still reflect the harmful ultraviolet rays of the sun. By lowering energy use, cool roofs decrease the production of associated air pollution and greenhouse gas emissions.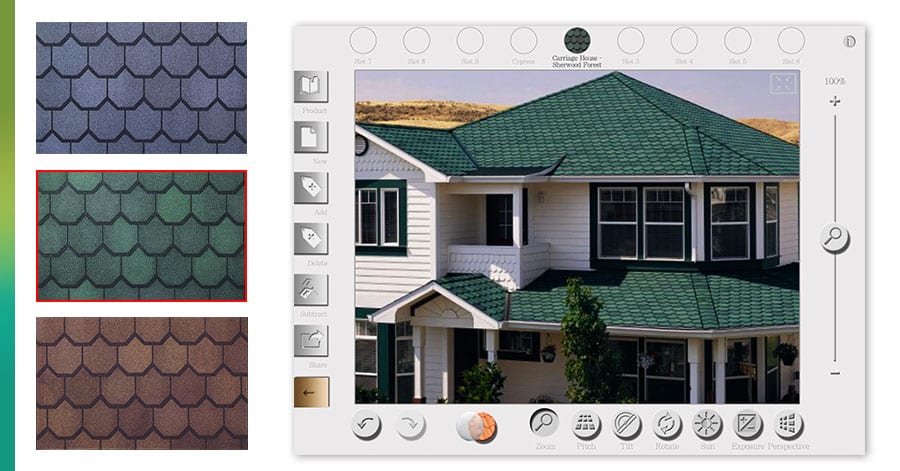 How iRoofing Can Reduce Your Carbon Footprint
While today's innovative roofing materials are making a positive impact on conservation, so are modern business practices by Hi-Tech Contractors™.
iRoofing -The World's #1 DIY Roofing Software – enables roofing pros to cut down on trips to the job site and conserve resources in other ways, too.
Measure, estimate, and simulate new roofs from afar by accessing satellite and hi-resolution aerial overhead imagery using the iRoofing app

Hold virtual meetings with clients on your smartphone or tablet instead of traveling to and from their property

With iRoofing's in-app digital catalogs, there's no need for bulky manufacturers' product brochures. 

Stop printing out proposals and product sheets. Share a brilliant digital proposal with any client. 21st Century property owners expect their contractors to be tech-savvy

Create digital contracts to share with clients and paperless purchase orders that you can send straight to your distributor via email!
Save the Planet. Become a Hi-Tech Contractor™
Solar Panels and Solar Roof Tiles
Solar panels have long been a fixture on homes of those who are "green-minded" and by other practical folks looking to save on the high costs of electricity. In October 2019, Elon Musk announced that Tesla's revolutionary new solar roof tiles would soon be ready for mass-market distribution. Solar roof tiles are a relatively new, innovative photovoltaic glass material. Tesla's "Solar Roof" has a dark-colored, tempered glass finish. Solar roof tiles are a very eco-friendly roofing solution because, in the long term, they can greatly reduce hydroelectric or fossil fuel consumption for heating and cooling homes and buildings, and running appliances and equipment.  Tesla photovoltaic roof tiles are sleek and attractive. They are also very resilient and can withstand severe weather conditions well.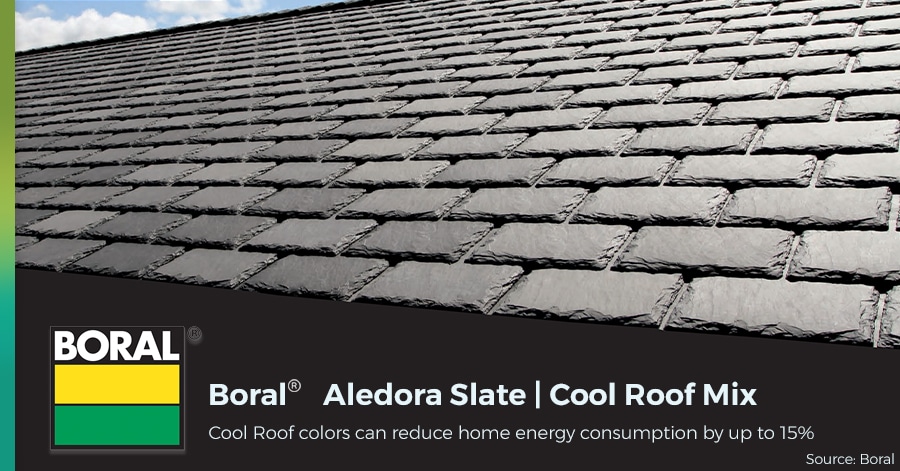 Composite Roofing Made from Recycled Materials
Today, just about any traditional roofing material can be simulated using composite material from recycled plastic and other sustainable elements. For example, Boral's Inspire Classic Slate composite tiles have textured surfaces modeled from real stone and come in many color choices. Enviroshake® – a Canadian manufacturer – replicates natural taper-sawn cedar shakes. It's a premium composite roofing product created using 95% sustainable materials. Another "green roofing" manufacturer is Brava of Iowa. They produce a composite tile made from recycled and recyclable material. It's a great alternative to traditional Spanish clay tile and comes in other textures, too, such as slate and cedar shake.
Now might be the time to promote "green" roofing
Not all roofing contractors have gone green, so to speak. If you haven't evaluated eco-friendly roofing products as a choice for your residential or commercial clients, now might be the time. Various state and federal lending programs are making it easier for property owners to justify the extra costs often associated with environmentally progressive roofing products, like solar roofs and cool roofs. People are in tune with needs for managing fossil fuel emissions, and many are conscious of conspicuous energy consumption. More electric cars and hybrids are being sold, and this lifestyle choice is certain to filter into other aspects of living.
Look into all the "green" alternatives available in your area and the installation guidelines and training associated with innovative, energy-efficient and recycled roofing. Let's all do our part to make the air and water cleaner and our hard-earned dollars go a bit farther.