How to Prevent Roof Snow Hazards with Snow Retention Systems
Snowflakes may be a beautiful miracle of nature, but like most natural phenomena, snow has a menacing side. One of the least familiar hazards of snow build-up is when it forms atop roofs to eventually slide off a home or building and onto valuable property, delicate landscaping, or worst of all, unsuspecting people. This is why companies like S-5 have developed snow retention systems for pitched roofs.
The problem with snow amassing on a roof is particularly concerning when it comes to metal roofs. Since metal is such an effective conductor of heat, a slight increase in the temperature of a metal roof surface (brought on by sunshine, warming of ambient air, and/or the transfer of HVAC heat from the building interior) can cause the base of a mass of snow to melt and slide down under the force of gravity. Fortunately, there are innovative roof attachments that can address the dangerous situation posed by roof avalanches without compromising the integrity of the surface coating of metal roofs.
Why Install Roof Snow Guards for Snow Retention?
Protect passers-by from being struck by falling masses of snow
Prevent weighty slabs of snow from breaking off gutters and damaging skylights
Allow snow to efficiency channel off the roof as it melts, aoiding leaks that can occur from standing water on a roof
Stop large masses of snow from suddenly falling onto landscaping features around the foundation of a home or building
Protect cars and possessions beneath a roof's eave from damage by large build-ups of snow crashing down from the roof
Are Ice Dams Different than Roof Snow Build-Up?
Ice dams are another cold-climate hazard to property owners and their valuables. While ice dams are not specifically associated with metal roofs, they do promote the build-up of snow behind a naturally-formed ice ridge along a roof's edge. Ice dams can develop on any type of pitched roof – asphalt shingle, tile, slate, cedar shake, etc. The barrier that an ice dam creates prevents efficient channeling of melting snow from a roof. This can result in eventual moisture penetration, leakage, and damage to roof framing and building interiors. A sudden release of snow and ice can happen, too, when the ice dam "breaks" due to the push behind it from snow build-up or from melting of the ice dam itself.
Ice Dams are a natural build-up of ice as the "drip-edge" along the roof's eave develops layer upon layer of frozen moisture
Snow build-up happens when snow "sticks" to a roof in freezing weather and continues to accumulate into a weighty mass

Roofing Pros Should Add Roof Snow Guards to Help Property Owners in Snowy Areas
There's more than one way to assist a property owner whose home or commercial structure is subject to dangerous roof snow accumulation. One smart way to remove snow on a metal roof is to simply rake it off using a specialized tool such as The Avalanche snow rake. But, that only addresses the issue once it's a problem. A more proactive and permanent solution to roof snow avalanches is to install snow guards. There are many manufacturers of snow guards and one of the leaders in the industry is S-5. There are also several types of snow guards. Some types of snow guards are made from polycarbonate material – tough, durable thermoplastic polymers like those used for eyeglass lenses and exterior car parts. These snow guards are affixed to a roof with silicone adhesive, then anchored down with screws driven into the roof's joists.
The process of installing snow guards is best accomplished in warmer months, as the adhesive used can be given time to fully dry and harden (at least 24 hours) under optimal temperatures.
Essentially, snow guards serve to divide a frozen mass into small snowdrifts or streams of snowmelt, instead of a virtual mini-glacier that can cause injury and destruction as it drops off the edge of a roof.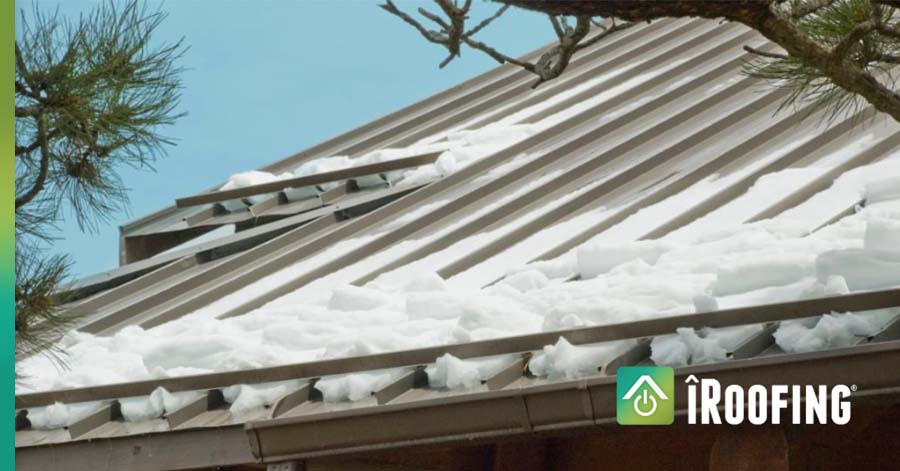 Types of Metal Roof Snow Guards
There are two basic types of snow guards for metal roofs, 1) Snow guards that fit over and clamp onto a standing seam of a standing seam metal roof and 2) Snow guards that conform to the ribs on a corrugated metal panel roof, and are affixed to the roof with screws and adhesive.
Corrugated metal roof snow guards
Standing seam metal roof snow guards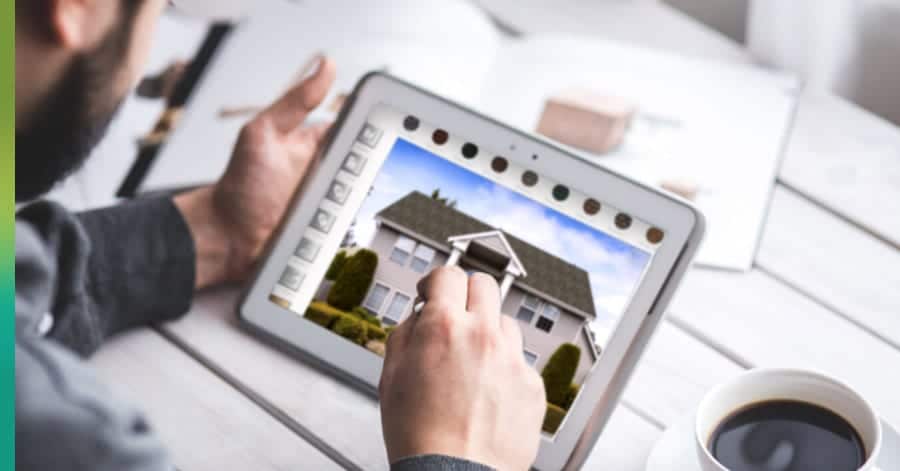 Use iRoofing for Roof Jobs Requiring Snow Retention Attachments
For a digital estimate to be replete with all roof materials and accessories, including snow guards for properties in colder climes, the iRoofing portable DIY app for roofing contractors is the way to go! The world's first and most advanced roofing software app, gives contractors access to thousands of top roofing products available from distributors in their region.
Look to the #1 DIY roofing app in the market for measuring, estimating, simulating, and selling roof projects. The app's digital catalog is adding and updating its extensive roofing products collection, constantly.  In certain markets where snow retention solutions are needed, iRoofing is making those products available, too.