Think about it… You can "build" your new car and see exactly what it's going to look like before you decide to buy it. You can "virtually" plant shrubs and trees around your house without getting a grain of dirt under your fingernails. And, if you're curious about how you might look with dreadlocks, go ahead and simulate your new hairdo before taking the plunge! Simulator applications are incredibly helpful in making any decision easier. And, for roofing contractors, it's a sales tool like no other. 
A new roof is a big ticket item. Before a property owner spends thousands of dollars on a particular roofing material or a color which they might regret later (and blame you for it!), you can simulate your client's new roof with incredible accuracy using an app like iRoofing. And that's how your sales can really begin to sizzle!
Certain manufacturers including Owens Corning and GAF offer great tools on their websites which let you simulate a new roof using their particular materials. But, only one source – iRoofing – lets the contractor choose products from every leading manufacturer and simulate those products on a picture of a client's home or building. 
Roof Simulator - Empowering Contractors
1. A

Plethora of Product Choices
The best roof simulation software allows you to choose from a wide range of materials, no matter who is the manufacturer. Only a mobile roof measurement app with a comprehensive catalog of all leading manufacturers' products can give you such a breadth of options when simulating a new roof. iRoofing contains GAF, Tilcor, Owens Corning, Malarkey, IKO, Tamko, Boral, Eagle, Atlas, CertainTeed, Polyglass, and the list goes on.
Use a roof simulator that enables you to precisely resize the product images; change angles and perspective to accurately comply to the roof slope and pitch, and even let you control shading so you can see how a product will actually look in mid-day, dusk and dawn.
3. Powerful Presentations
With roofing software that contains measurement, estimation, visualization and presentation functionality, your sales pitch will be extremely impressive and professional. Combined with high resolution imagery from iRoofing's Clearoof™ feature, and with the app's smooth integration with drone operations and images, the Roof Visualizer makes your company's proposals shine above all the competition.
You're not always going to be face-to-face with a client when selling them on the virtues of your company and why they should award a roofing project to you. So, when they open an email from you and see the picture of their home with their preferred roof shingles, slate, shake, tile or metal roof simulated perfectly, they'll appreciate it.  You can take that to the bank!
5. Side-by-Side Comparisons
Very few roof visualizers enable you to do one-half of the house with a certain material and the other half with a different product. When you use iRoofing's Visualizer, its flexibility to compare multiple roof materials and colors will really help a client arrive at a confident decision and stop them from straddling the fence.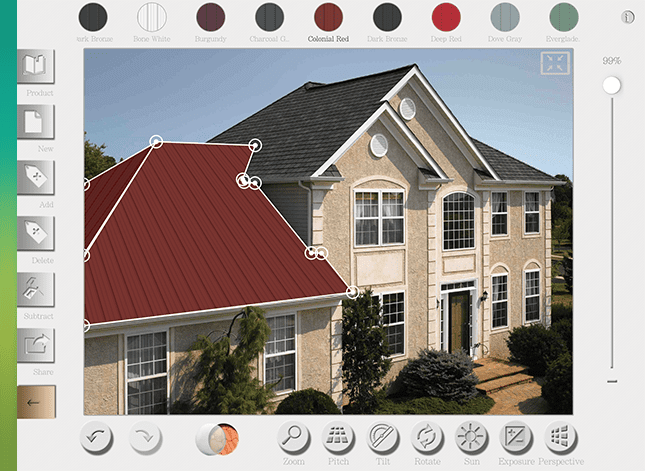 There are times when you feel it's your duty to suggest a better product than the one the customer's inclined to purchase. This creates another opportunity to put the Roof Visualizer to work. You can demonstrate why a different product might be in their best interest while you show how nice it looks on their home and compared to what they initially wanted.  A hot climate coupled with a lack of natural shading on a house might call for a special heat reflective material or lighter colored options which may cost a bit more money. With the Roof Visualizer, you can help homeowners warm up to a cooler roof system. It might cost them more and earn you more, but you'll both know you've done the right thing in the long run.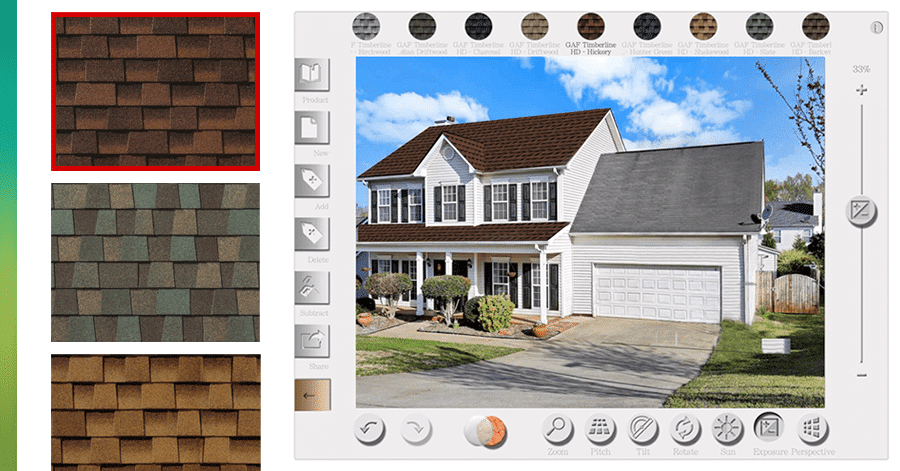 7. Visualize Greater Brand Value
By having a tool in your arsenal as powerful as a new roof simulator, you're adding yet another reason for a property owner to see the value in hiring your company to perform their expensive roof replacement. The 21st Century consumer appreciates and often expects technology to add convenience to their purchase decisions. When they see high-tech put to use by a roofing contractor, they're especially impressed because it's something they don't expect.
Don't Miss all the Benefits of The Roof Visualizer
The only roof simulator that works with multiple manufacturers.

Access to a huge, continually updated selection of roofing materials and accessories.

Customize the tool to show only the roof products that are available by area.

Images of client's property from Google street views or your own snapshots and drone pictures.

Include technical specs, installation instructions, and approval docs.

Roof color visualizer. Shingle, slate, shake, tile and metal roof simulations.