How to Be a Good Roof Salesman
Steve Gardner was a rock n' roller at heart.  Sanger, his stage name, was a whiz on a Fender Stratocaster. He was also a lyricist and a composer, but in a more practical sense, he was a virtuoso at selling. 
Born and raised in Beantown, a.k.a. Boston, Steve's fellow Bostonians included guys from Aerosmith, The Cars, Boston, The Pixies, and J. Geils. No wonder he took to music at an early age. However, like a lot of musicians, he soon turned his attention to a more conventional line of work. In 1989, Steve took a stage dive and landed in sales.
Steve may not have had answers to all the world's burning questions, but after 30 years in sales – many with iRoofing – he discovered a slough of effective techniques for a roofing sales pitch. His methods were tried and true and his clients included some of North America's best roofing contractors.
Residential and Commercial Roofing Sales Tips
Roofing Sales Tips – How to be a Great Roof Salesman:
1. Strive to create genuine dialogue
If a total stranger approaches you and asks to hold your wallet or iPhone, your instinct is to hold back. Steve knew that that kind of reluctance could be quelled in a few minutes of an honest two-way conversation. It's not a trick. It's simply a process of earning trust.
Back when Steve was working in telecom sales, he once met with a visiting Executive VP of Sales. The two hit it off well and chatted about things, both personal and business-related.  The executive had come to inquire as to how Steve had managed to attain record annual sales for the regional office. Halfway into their conversation, Steve complimented the man's watch saying, "That's a nice watch, may I see it? The expensive gold timepiece was handed over without much hesitation. Steve got up and walked away with it. After showing his sales team what he now possessed, and collecting his winnings (the team bet him he couldn't do it!). Steve returned to the now irritated executive. "Why did you do that?" he asked Steve. "Well sir, you asked me how my division managed to increase sales. That's how."  Steve had merely tried to demonstrate how establishing a good rapport can facilitate a desired action… and it worked! In a similar manner, each member of his sales team had done the same with their customers throughout that record-setting year.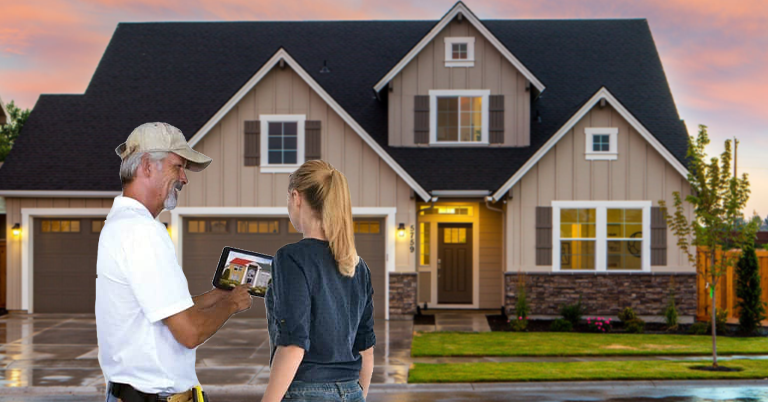 Tip for Contractors
Roofing professionals should share pictures and tell prospective customers about jobs they've completed in the neighborhood. It's a meaningful way to get a productive dialogue started. If the contractor has a history of work in the local area, it makes customers more comfortable and confident about their qualifications and reliability. Maybe the contractor and homeowner know someone in common! After all, they're not only a contractor, they're part of the local community. A pro contractor software app like iRoofing is a great conversation starter and a handy way to display your past work and company attributes. The app's digital pitchbook is fully customizable and the approach you take as a hi-tech roofer provides another reason for customers to recognize the strength of your brand.
2. Focus on benefits, not features
All good products have features. You can read them on the box or on a website. No doubt, great features motivate buying behavior, but when you understand how a particular feature makes life easier, that's what counts the most.
The Lean, Mean Grilling Machine, better known as the George Foreman Grill, was introduced in 1994. Forman hawked the contraption constantly on TV infomercials. The popularity of the grill burgeoned, not because of its practical features but because the former heavyweight boxing champ promised it would "knock out" most of the unhealthy fat from anything cooked on it. The ads showed a perky homemaker in a studio kitchen filling a glass measuring cup with all the excess grease oozing from a juicy burger on the grill. She asked viewers to imagine all that fat going down their gullets. That provocative scenario was far more important to people than the grill's corrugated non-stick metal cooking surfaces and its slanted design that allowed drippings to flow down into a receptacle. The features are merely incidental to the benefit of cutting out the fat. 
Steve practiced the same technique with the product he sold. He recommended that contractors share special attributes of their company that can directly benefit the homeowner.
Tip for Contractors
If a contractor offers special added value, such as free seasonal roof inspections. Like up to a year after installation, that generous and valuable benefit is an effective "differentiator" for their brand. Likewise, if you're committed to using superior products and you customarily steer away from the cheapest materials just to beat others' prices, make customers aware of that fact. It's actually a competitive advantage that doesn't rely on underbidding another contractor. Contractors know how to sell roofs, but adding distinctive benefits to their offerings is key. One additional "plus" you can present to customers is your use of digital measurement and estimate technology. That's where iRoofing comes in to make a great impression!
3. Steer clear from the word "no"
How should a salesperson address a question about something his or her product can't deliver? Steve was always forthcoming about aspects of his product that didn't live up to customers' expectations. Roofing contractors should be mindful to not overpromise but to over-deliver instead. For example, if a contractor can not meet a customer's aggressive deadline, they should explain why it's best to allow for the time needed to do a job well and how rushing things can lead to potential pitfalls. Likewise, if a customer wants a particular product on their roof, often there are contingencies. Is the product available in the local market?  Is it a product that will work well on the customer's house? 
Tip for Contractors
When a contractor explains why they can not fulfill a particular desire of the customer, it is an opportunity to turn a potential negative into a positive. By suggesting better alternatives to the homeowners – options that will actually lead to higher quality and a longer-lasting roof, for example – you can avoid disappointing the customer while reinforcing your expertise in roofing. iRoofing's Roof Visualizer is a tool that draws from the app's extensive catalog of digital roofing products to show just how a new roof will look on an image of your customer's home or building. This roof simulation tool is effective for upselling.
4. Don't talk about yourself
Steve never used the phrase "If I were you…" Instead, he'd find a real-world example of how a customer in the same situation as the one with whom he is working, accomplished an objective using his product or service. Contractors can take the same approach with property owners. Frequently refer to work you've done in the past and how you have solved a problem or exceeded expectations for an actual customer.
Tip for Contractors
Drawing from real-life use cases instead of a "Here's how I would do it" approach helps build credibility and buyer confidence.
5. Don't be left tongue-tied
Steve often cited an old adage, "What's the easiest way to get to Carnegie Hall?" Answer…"Practice, Practice, Practice!"  Many organizations develop scripts that can provide a consistent structure for each sales engagement. While, salespeople never want to come across as sounding robotic or rehearsed, practicing and memorizing a script is an effective way to ensure you're never left speechless.  Scripts can be enormously helpful, but at some point, going off-script is essential. Only through genuine dialogue between buyer and seller can a level of trust be established. Having to think of what to say next can put the kibosh on a potential sale. Eventually, the substance of what you memorize in a scripted sales pitch will begin to come across naturally. So, it's important for any salesperson to become familiar with their company's strategically authored sales scripts.
Tip for Contractors
An important aspect of roof company marketing is to know your capabilities and limitations. Be prepared to give the right recommendation when asked about roofing materials, your installation process, work safety measures, clean-up service, and anything else that's likely to come up during the selling process. The iRoofing app is a tremendous sales support tool thanks to all of its presentation features.
6. Learn your customer's preferences
Steve learned to understand and thoroughly appreciate the common needs and preferences of his clients. He spoke directly to those needs. It's important to lean on selling points that make your message relevant to each individual homeowner. Gaining a deeper understanding of your client's likes and dislikes while knowing and explaining what the right roofing system is for their home plays a critical role in closing a sale.
Roofing is a fascinatingly diverse business. Across the land, there are distinct differences in roof styles, often influenced by the traditions of people who settled in the area or by the dictates of seasonal weather conditions. Different materials are common in different regions. Lower-sloped tile roofing is popular in the Southwest. Steeper-sloped shingle and shake roofs are prevalent in the Northeast. A roofing contractor can fall into one or more of these categories. Also, there are commercial roofers and residential roofers. Some specialize in metal roofing while some concentrate on coatings. Certain contractors are specially equipped for storm chasing. Whatever your specialty is, know the products available and be ready to recommend the materials that complement the home's architecture. Try to know your customer's individual tastes, and be sensitive to their budget.
Tip for Contractors
Learn as much as you can about the property owner's preferences in home decor and architectural style. Get a feel for what price range is comfortable for them for their roof project. Use roofing technology such as iRoofing to show customers the products available. The roofing materials of all leading manufacturers are in the app's digital catalog. By giving homeowners the opportunity to easily see a variety of product choices, you'll save time avoiding all the back-and-forth that comes with a customer's uncertainty during the buying decision.
7. Ask for the sale, then listen quietly
When Steve felt he had explained the main benefits of the product he sells, and after he answered all his customer's questions, the time came to ask if they were ready to make a purchase. Contractors know full well that the answer they get back from most clients is something other than "yes," especially when trying to initially close a roofing job with a client.
If a property owner is asked if they're ready to accept the proposal and they do not answer right away, that is usually a good sign according to Steve, as long as they don't unequivocally say "no."  Most customers just need a chance to contemplate a big spending decision such as a roof replacement. Pressuring them or interrupting their thought process with anxious efforts to convince them to say "yes" can backfire on a contractor.
Tip for Contractors
Using roofing technology like iRoofing enables you to review all the components of the roofing project in a modern, impressive, and illustrious way. In a comprehensive digital roofing estimate, show them photos of the materials you both discussed; the start date and projected completion date; the breakdown of costs involved, and the top 2 or 3 reasons why you're company is uniquely qualified to deliver the best result. Help your customers feel they are really part of the process. You'll find it easier to ask for, and get their business!
8. After the sale, reinforce the benefits
Everyone wants to feel they have made a good purchase decision. Taking time to assure them they've done so is one of Steve's priorities. 
Closing a sale is not the time to spike the ball in the endzone, it's the beginning of building a long-term client relationship. Following their progress, and doing what you can to assure your client's success. After the sale, reassure them that they've made the right decision to engage with your roofing company and review how their new roofing materials will add long-lasting beauty to their home.
Tip for Contractors
When the homeowner agrees to move forward, reinforcing that the new roof will add value to their property. How it might improve their heating and cooling efficiency, and other qualities that make your customer comfortable investing in the long-term worth and structural integrity of their home. When you build a relationship with your client, you can be assured they will call on you in the event their new roof suffers unforeseen damage from severe weather or fallen limbs. iRoofing's built-in customer database is extremely helpful in keeping records of your dialog with a client so when they call your roofing company again, you can instantly recognize them and pick up right where you left off. Make them feel important. After all, happy clients are the lifeblood of your business
Steve's effective sales strategies and customer care culture have rubbed off on others within the sales organizations. that he has managed and worked with. When a person genuinely cares about the success of his or her clients, they will surely build a foundation for growth and success. Your style and philosophy of communicating with customers should be designed to build a long-term relationship. When you do it right and follow tried and true techniques, like some of Steve's, you can expect success, customer retention, and brand loyalty. 
This article has become a tribute to Steve Gardner who is no longer with us. May you be in good peace our dear friend.