Wherever there's a roof, there's iRoofing to measure it!
The long-awaited Summer Olympics are upon us. Did you know that this quadrennial event is still officially dubbed the 2020 Summer Olympics? Originally scheduled to take place last year at this same time, the event was postponed due to none other than… wait for it…the dastardly pandemic, of course! 
The world rejoices over the fact that this beloved sports competition is back, and Tokyo is a fantastic city to host The Games. This modern metropolis is loaded with suitable venues deserving a place on the world stage, including:  
Musashino Forest Sport Plaza – Pentathlon

Olympic Stadium – Athletics, Soccer

Tokyo Metropolitan Gymnasium – Table Tennis

Kokugikan Arena – Boxing 

Yoyogi National Stadium – Handball

Nippon Budokan – Judo & Karate

Tokyo International Forum – Weightlifting

Equestrian Park – Steeplechase
iRoofing will report on what's happening at the Olympics, while taking a look from above the games with Gold Medal-worthy roofing software, the iRoofing app! 
Starting with Kokugikan Arena, where you'll see our American pugilists fight for Old Glory.  You can create a takeoff of any roof from anywhere with the #1 DIY Roofing Software in the World – iRoofing.
The Athletes Under the Roof...
The pyramid-shaped roof of the Kokugikan Arena, built in 1985, is quite interesting. Beneath this metal roof, we'll be cheering on our men and women. Making up the boxing team for the 2020 Tokyo Olympics are:
THE MEN
FEATHERWEIGHT: DUKE RAGAN –Cincinnati, OH 
LIGHTWEIGHT: KEYSHAWN DAVIS – Norfolk, VA
WELTERWEIGHT: DELANTE JOHNSON – Cleveland, OH
MIDDLEWEIGHT: TROY ISLEY – Washington, DC
SUPER HEAVYWEIGHT: RICHARD TORREZ, JR. – Tulare, CA
THE WOMEN
FLYWEIGHT: VIRGINIA FUCHS – Houston, TX
FEATHERWEIGHT: YARISEL RAMIREZ – Las Vegas, NV
LIGHTWEIGHT: RASHIDA ELLIS – Lynn, MA
WELTERWEIGHT: OSHAE JONES –Toledo, OH
MIDDLEWEIGHT: NAOMI GRAHAM – Fayetteville, NC
Kokugikan Arena Measured with the iRoofing App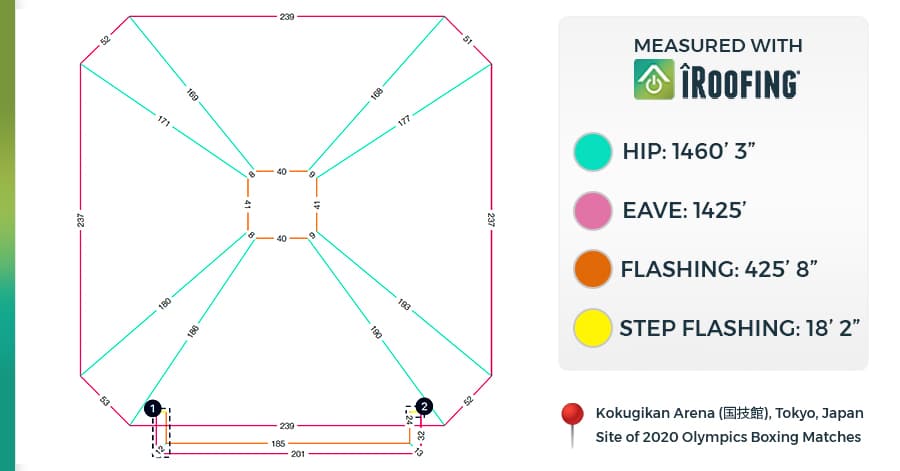 NOTE: A complete iRoofing roof report is a multi-page document of precise measurements and diagrams.  An iRoofing report can convert instantly to a detailed pricing estimate, too. WATCH VIDEO
Roofing contractors who haven't been introduced to the full-featured iRoofing app – the very first DIY roofing software in the industry – should take a look at it today!
Let the friendly, bilingual Software Consultants at iRoofing show you all the amazing features of the iRoofing app. You'll have to admit. It's a Knock-Out!