You're a pro, dress like one!  Teamwear is the essence of branding your company and a uniformed crew makes customers feel great about hiring you.  You already know what to wear when roofing… With matching logo'ed teamwear you'll look like the cohesive team you are, ready to get up on a roof and perform the job like a defense coached by Nick Saban. ROLL…TIDE MEMBRANE!
Here are a few suggestions on how to get great teamwear economically and almost as quickly and efficiently as doing DIY Roof Reports with iRoofing!
CustomInk is one of the big boys in the online custom apparel category. They have a "design lab" that lets you design your own t-shirt and other swag online.  Other biggies are 4Imprint and Vistaprint.  If you're a roofing contractor looking for an easy place to create and order roofers' teamwear, these are great resources. 
InkPop is another good site with a simple-to-use, online design tool. When your crew is working on a roof, they're up there in clear sight of every passerby in the neighborhood.  When your roofing crew looks like a team, with coordinated t-shirts or performance wear, it creates a great impression.  Who knows? It might just be the reason you win another project right next door.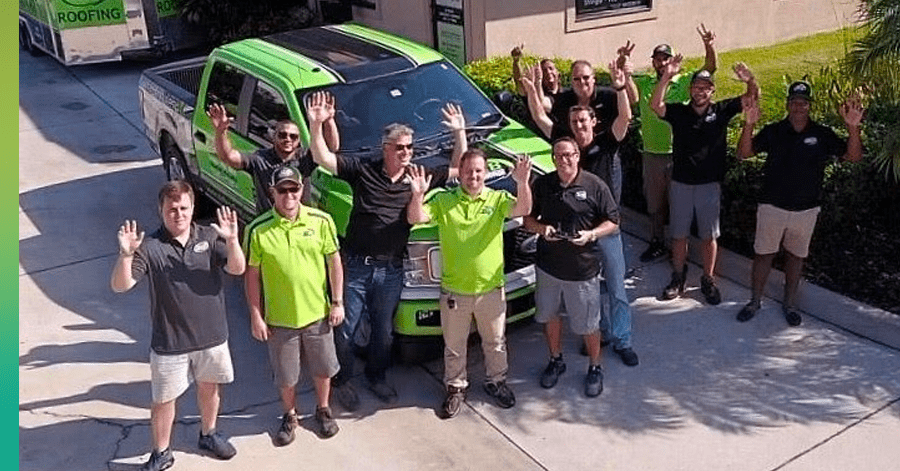 If you want to get fancy and have your company apparel made with Under Amour, Izod, Carhartt or another name-brand maker, try logosoftwear.com, a.k.a. Logo Sportswear. It's one thing to have a great looking crew with matching attire, but it's another to have them sporting a well-known brand. Ordering teamwear with a recognizable outfitter adds just a little more class and credence to your brand! 
Another high-end team apparel resource is Merchology which carries Patagonia apparel. High-quality Patagonia shirts can be customized with your company's branding.  High-end apparel is in vogue when it comes to wear when roofing. Roofers appreciate well-engineered materials, including clothes that will keep them cool and comfortable. Read our blog on Staying Cool on Roofs for some interesting insight on this topic.
Don't forget your mascot wear!  While Zazzle is huge in custom-branded team wear for humans, they haven't forgotten about your most effective, 4-legged salesperson, so be sure and get "Bubbles" dressed-to-sell, too.  We found that many roofing contractors have adorable dogs as mascots. In fact, we wrote a blog about it! Look for "Top Dog Breeds for Roofers," coming soon to the iRoofing Blog.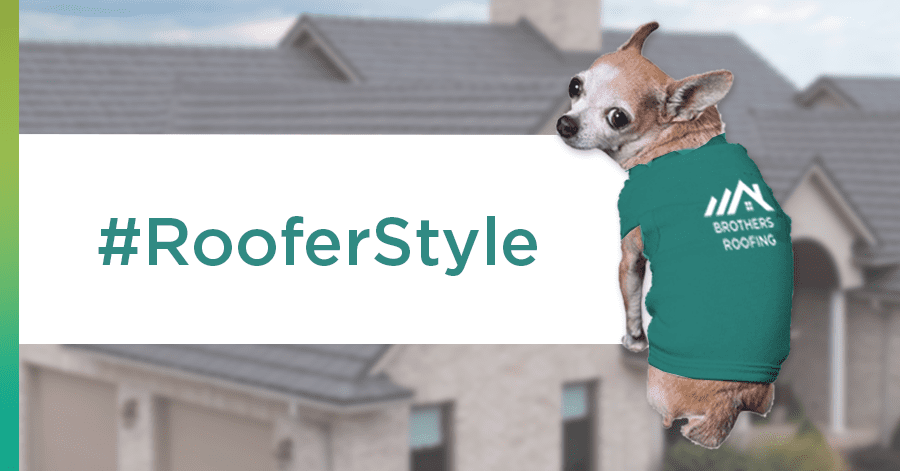 Yelp: Find a Local Screen Printer
Use Yelp if you want to find a local t-shirt printer.  Visit Yelp.com and use the search terms "t-shirt printers" or "screen printing." Going local helps your community. Your roofing business depends almost exclusively on local customers, so return the favor and look for a screen printing shop near you!  Local business depends on local customers, too. 
Post a picture of your coolest branding items or team apparel on Twitter using #RooferStyle