Roofing Sales Success Tips
The principles behind successful roofing sales follow many of the same principles in selling anything else. But, it's important to embed these residential and commercial selling tips for roofing in your head if you expect to make a lot of money (and you can!) doing it. 
How to Master Roofing Sales
From Dale Carnegie to Zig Ziglar to Tony Robbins, these sales gurus have preached generally the same sermon and we've included several of those proven sales techniques while relating them to the roof sales training.  Of course, further reading is recommended and pulp has not been spared on covering the topic of effective selling.  Just search "effective sales techniques" under the books category in Amazon.com and you'll find over 5,000 choices!
1. Learn About Roofing Material and Roof Systems
When it comes to residential and commercial roofing sales it's necessary to know your product. Call it Selling Roofs 101. The more you know about roofing the more authority you will convey to a buyer, and the more confidence they will have in following your advice.
Roofing Products: Start by learning about the shingles, tiles and other roof covering products your roofing company prefers to sell. You'll be talking about these top-layer materials the most and you need to know them inside and out. But you need to be up to speed on what lies beneath the shingles, so learn about underlayments, flashing and other roof accessories. 
In the U.S., roofing product availability varies by region based on the roofing distributors which serve in each region. By concentrating your learning on the most popular products offered by your company, you will be able to address with clients all the details of color selection; manufacturers' warranties; energy efficiency ratings, installation variances and of course pricing. With most product types, there come a range of qualities commonly distinguished between "good," better" and "best."  Knowing the pros and cons at each level of quality will help you sell the material a property owner needs and can afford.
Gutters: Almost all roofs have some kind of a gutter system. Gutters are often part of the services rendered in a roof repair or replacement job, so it's an important subject for any good roof sales pro to know. Gutters come in various colors, metal and non-metal materials and can include gutter guards to prevent leaf build-up.
Finally, understand the "process" your roofing company follows to assure it delivers excellent results for property owners.  You should learn about every step, from assessing the project scope to the final post-project clean-up standards.
The more a property owner knows about what goes into proper repair or replacement, the better they become in choosing the right contractor for the job.  If you make it your duty to educate the customer, they will appreciate and remember you. That's why it's so important to know all about the roofing materials you carry, the roof system and the installation process.
Most people remember a teacher or professor who left a positive and valuable impression on them. Roof sales is no different. You can be that educator who helps a property owner make the right decision on a very expensive home improvement project – a new roof. 
3. Be Responsive and increase roofing saLes!
Assuming you represent a roofing contractor that knows how to find good roof sales leads, you've got to apply discipline in contacting them at once, after they request information. A single roofing lead can cost a business $30, $40, $50 or more in advertising expenditures. Property owners who find you are likely looking at other service providers as well, so don't sit on roof sales leads… contact them right away. Among our roof sales tips, this is Top 3. You've heard the old saying, "The early bird catches the worm!" Reaching out to a prospect shortly after they find your company conveys a sense that you value them and their needs.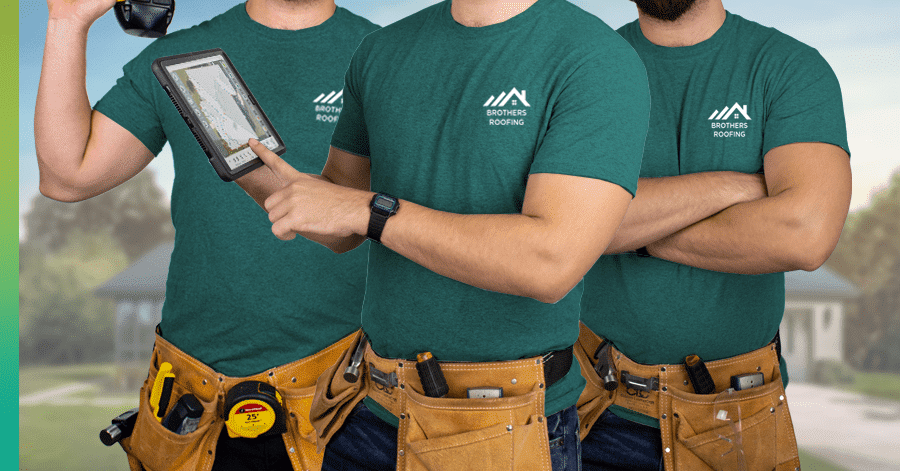 4. Reflect Your Roofing Sales professionalism
This of course goes without saying and there's no difference between selling a $5,000 roof to a homeowner versus selling a $5 million computer network to a multinational corporation. Just because you're in the traditionally "blue collar" field of construction doesn't mean you can get away with being overly casual or gruff. Knowing your product backwards and forwards, knowing your company and what it stands for, looking spiffy and wearing company-logo'ed attire, respecting your competition, being cordial and well spoken… all goes into projecting professionalism. When you adhere to the simple principles of professionalism, you'll stand a better chance of closing a deal and getting the price you want.
Look Professional With a Digital Roofing Pitchbook
Branded with your company's logo and information, a digital pitch book is completely customizable, giving you the ability to upload before & after photos from previous jobs, video testimonials from satisfied clients, your credentials, certifications, accolades, and more!
Custom-branded, colorful and animated content
Upload before-and-after photos from your previous projects
Show video testimonials from satisfied clients
Map the jobs you've completed in the area
Show your company's preferred products
Outline your roof installation "process"
5. Buyer Hesitancy and Rejection During the Roofing Sales process
Few property owners get excited about replacing their roof. Changing their window treatments, painting their house, landscaping, building an addition…. Those are projects people tend to look forward to. So, be ready to deal with customers who want to get away with spending as little as possible on fixing a roof. It's just not part of a property that owners love showing off to friends or enjoying day in and day out like their remodeled kitchen. As you explain the importance of doing a roof replacement the right way – without cutting corners – customers will quickly realize that their roof is worth more than aesthetic elements like area rugs.
6. Schedule a Time to Meet in Person
In this time of social distancing, sales professionals can't even shake hands with a customer. How are you going to create a personal connection with a property owner if you can't share some small talk, sip coffee at their kitchen table, and review the details of a roof proposal face-to-face?  Well, you can still "meet in person" by practicing social distancing while at a customer's home or by holding meetings virtually using Zoom or a similar application. The important thing is to have that face-to-face connection and not rely solely on whatever you share with them in the mail or by email. Read our Ultimate Guide on How to Sell Roofs from Afar to get a full tutorial on the subject, including helpful videos.
7. Offer Roofing Sales Pricing Options
Property owners want options. It's not always easy to tell if a homeowner is willing to invest in the finest products available or if they might be in a tight financial position.  In almost every case, you can offer a customer choices between  "good," better," and "best." Of course you want to upsell them, but at the same time, assure them that even the lower-end products you represent will give them years of protection and still look fantastic on their home. Reinforce that no matter what system they buy, your company will stand behind it and apply the same high standards to the installation process. When a homeowner feels that they don't have to be ashamed about choosing the least expensive path, they're likely to move up to something better, anyway!

8. Think about Financing Options
Not everyone has thousands of dollars to plop down on a new roof.  If your company offers financing options, you'll have a good chance of closing a deal with homeowners preferring to pay in installments. Term loans and lines of credit are ways that your company works with their bank to help property owners obtain a new roof.  A roof costing $8,000 might only set a customer back $100 – $150 per month. Customers can feel good about such a manageable arrangement, knowing that they will have a trouble-free and potentially energy-saving new roof.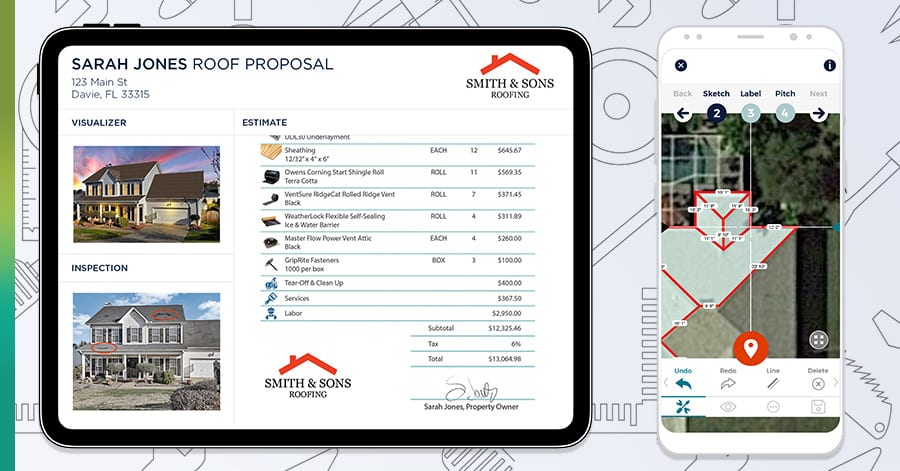 9. Dress Up Your Proposal
A scribbled roof sketch and hand written numbers aren't going to instill much confidence on the part of a buyer, so make your presentations shine by doing them professionally. Imagine giving your customer a detailed digital proposal that you can share with them on your computer tablet, or send to them so they can view it on their PC or even their phone. A proposal should contain their roof diagram with all the roof parts labeled; images of their home marked up to indicate where all the roof conditions issue exist; images of the materials to be used; a breakdown of all the material and labor costs; extra service costs for site clean up; your credentials as licensed contractor, and more.
WHAT'S IN A DIGITAL PROPOSAL?
Your client's roof diagram with all the roof parts labeled
Images of their roof marked-up to indicate where all the roof condition issues exist
Images and specifications for the materials to be applied
A custom simulation of their new roof on an image of their own property… read more about the Roof Visualizer
Breakdown of all the material and labor costs
Extra service costs, i.e., job site clean-up
Your credentials as a licensed contractor
Information about the manufacturer's warranty
Roof simulation using an image of your client's home
The final contract which can be signed digitally!
So maybe you didn't close the sale after the first meeting or two. Don't give up! A roof replacement, especially when it's not an emergency, can take a property owner some time to think about. To become a successful roofing sales person, making lots of many and providing your family with a wonderful lifestyle, takes following up with each opportunity until they make a decision. Obviously, most people who reach out to a contractor for a quote, want a new roof. They want you to nurture this desire in spite of how hard it might be for them to bear the expense.  In time, you can help them understand the long term pay-off of a brand new roof.  Be determined. Be kind. Serve the interests of your customers the way you would want to be served. You're going to do great!
Can I Increase my Roofing Sales Using Technology?
Yes, as long as you are serving clients reliably and demonstrating other tenets of in professionalism, software solutions such as iRoofing.org can greatly enhance your bidding quantity, speed, and accuracy. Great customer care combined with more efficient bidding can lead to increased roofing sales.
How do I avoid property owners' hesitancy to close the deal?
It's natural for a homeowner or commercial roofing sales customer to hesitate in deciding on a larger expenditure for a roof repair or replacement. They want to choose the best contractor and get the best value for their "dollar." Often they will shop bids, but you can get ahead of the game by practicing exceptional customer service and by being transparent, honest, and highly informative. Roofing software that enables digital sales presentations, accurate measurements, and detailed estimates will help you gain an edge on the competition. When you project yourself as a subject matter expert who is thorough, accurate, and honest, you can eliminate a lot of doubt and buyer hesitancy.  
Can a roofing sales app help me be more responsive?
Yes. A portable roofing app, such as iRoofing, has scheduling features that enable you to easily set call-back and follow-up appointments with your prospects and clients.  iRoofing's built-in CRM tool (Customer Relationship Management) keeps contractors "on the ball" and customers impressed with your organizational skills and caring approach to communications.