The Roles of a Roofing Pro
Is there anything more satisfying than knowing you've accomplished something with your own two hands? When you're engaged in a profession that takes worn out things and makes them new again, you can go home feeling proud, especially when the task you completed enhanced the safety and comfort of someone's home or workplace. That's what roofing professionals do every day.
A roofing pro is a skilled technician, a salesperson, and a business leader. Rare are those one-man shows with a pickup truck, a tar pot, a ladder, and a measuring wheel. Modern roofing contractors are entrepreneurial tacticians who combine the insights of a craftsman with the acumen of an executive. After all, roofing contractors now exceed $30 billion in transactions annually in the U.S. alone. An industry that size doesn't happen without a lot of astute business minds behind it.
There are roofing contractors that do millions of dollars in business annually and employ dozens of skilled workers – from office administrators to installers. According to the Bureau of Labor Statistics, there are well over 150,000 men and women employed in roofing work across the nation. This doesn't count the thousands of people who work in the roof material & supply manufacturing and distribution industries. Such companies include household names like GAF, Owens Corning, 3M, Dupont, and Tesla to name a few.
Roofing Job Titles

Of course, depending on the size of the company, a single employee or business owner may take on multiple job roles. Otherwise, just like at a big corporation, there is a place in the roof contracting business for almost every level of expertise – whether it's in the office or in the field.
Although an Office Admin is sometimes considered a mid-level role, those who take on the responsibility are essential to a roofing contractor's  operation. No longer are Office Admins just answering phones and filing papers, they're often computer savvy pros who tend to be very well organized and quite indispensable.
Using roofing software, such as iRoofing, the job of office administrators can be made easier since technicians in the field can now create finished roof reports and estimates that require less editing and refining by someone back in the office.  

Maintaining good relationships with property owners, whether they're prospects or past customers, is key to building loyalty, repeat business, positive reviews and new business referrals. An Account Manager is one of those roofing sales jobs that bear other titles such as Sales Representative, Customer Consultant, etc.   In smaller organizations, separation of specialties may not be as defined as in larger contracting businesses, thus an Account Manager might cover lots of ground from primary sales responsibilities to customer retention.
iRoofing's easy to use customer database helps account managers keep up with customer profiles and projects past and present.
Roofing Sales Rep./Manager
On the front lines of any successful roofing contractor business are solid sales pros with a lot of roofing knowledge and a passion for sharing it with others. Equally important is a roofing salesperson's natural charisma. Good salespeople can establish a rapport with customers instantly. By following through with sound advice for homeowners, sensitivity to their needs and their budget, and genuine interest in Improving their property, a roofing sales person can carry an entire business forward. 
Only iRoofing can give you a complete selling solution from a rich, digital pitch book to a full array of roofing manufacturers' products in its in-app catalogs, and from a realistic roof visualizer to all its instant roof report and estimating capability.
In both residential and (especially) commercial roofing jobs, a Project Manager is assigned to handle tasks that coordinate all personnel involved in the post-sale process. Delivering quality jobs on time requires management at each phase of the project, applies realistic deadlines for each task and keeps each job contributor on point. Follow-up is key to being a good Project Manager and that means keeping everyone on the job accountable for his or her task completions on schedule. Project Managers often must master software programs that enable them to keep track of multiple jobs and multiple crews at the same time, report job progress up the chain of command, and keep Account Managers informed so that they can manage customer expectations by explaining to property owners the reasons for any project delays.
It's always important for a project manager to keep a job progressing on schedule. This is done by monitoring projects constantly, which gets challenging when several projects are in-progress. But, iRoofing gives PMs instant access to each client being served and the status of each project. iRoofing is also introducing iRoofConnect™. This will provide a new layer of management via a desktop console which tracks all activities from the field to the office via cloud computing.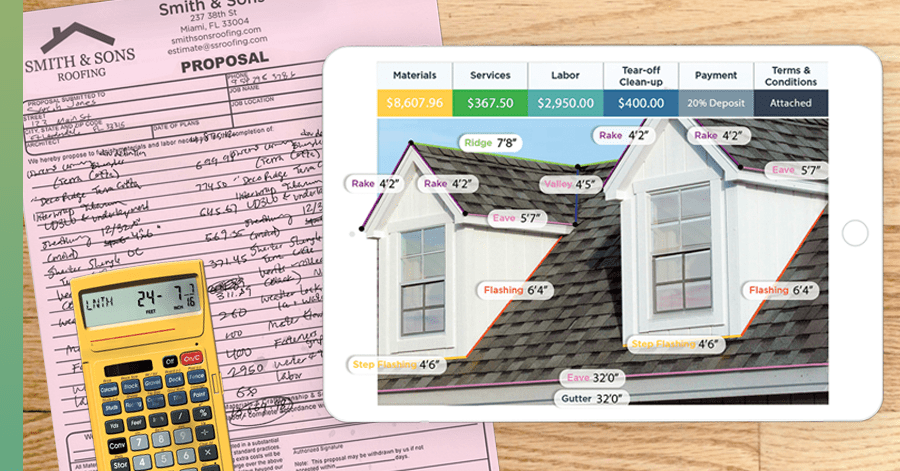 A good Estimator is essential to achieving a fair value for a roof job and getting the adequate profit margin. An Estimator must take into account every necessary element of the project, from the accurate measurement of the roof to the work and equipment required in cleaning up the job site. Inaccurate roof part measurement, roof part labeling, material requisitioning and waste factor calculation can incur lost revenue. Knowledge of any roof repair needs, such as soffit and fascia replacement needed prior to installation of a new roof is also critical. It must be identified prior to setting an accurate estimate. Roofing Estimators know how to apply roofing technology tools like iRoofing to create proper roof reports, and generate estimates in a timely manner in order to close a sale more expeditiously.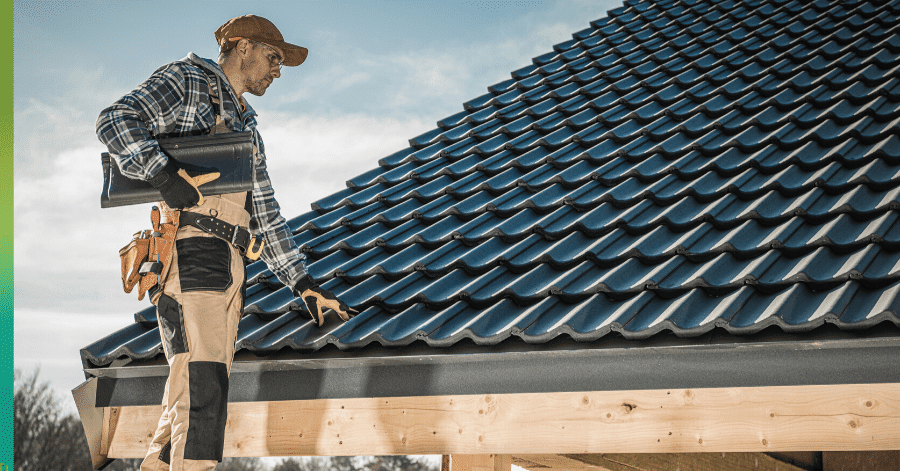 The work of the Installers is where the rubber meets the road, or should we say, where the modified bitumen meets the decking! Installers are those rugged individuals on a roofing crew whose job it is to repair roofs, remove old material, and put down the various layers involved in a new roof system, including accessories such as ice and water, other underlayments, and the top covering of shingles, tiles or metal roofing. Again, Installers could be doing double duty as sales people, estimators, and business owners themselves, but when they are atop a residential or commercial roof making things happen, they're Installers. Installers are skilled in using the special tools of roofing, including heavy duty nail guns, pry bars, roof shovels and roofing hammers. Many Installers have mastered technical tolls of the trade as well — drones and roofing software like the iRoofing mobile app. For all intents and purposes, using today's technical tool gives roofers the same abilities as independent insurance adjusters in assessing roof needs. 
Large and in charge, the Project Foreman directs everything and everyone on the job site. He oversees the crew and is often right up there with the installers sweating it out. Project Foreman are ultimately responsible for the work getting done right, for building codes to be met, for safety requirements to be followed, for ensuring properties are left pristine after the work is done, and for keeping job schedules on track day after day.  A Project Foreman knows how to read and implement building and architectural plans and has expertise in the safe and effective use of all roofing tools, including roofing software such as iRoofing. With it, he or she can access all the information about a job in progress; view and upload photos, and notate images with information that can help installers, as well as, managers back in the office understand special issues and circumstances relative to each project.
Keeping a roofing truck running – or more likely a fleet of roofing trucks and other hauling and roofing machinery – is the job of a good, specialized mechanic. Larger roofing contractors need a mechanic(s) to maintain the performance and safety of their roofing trucks, trailers, welding equipment, cutters, compressors and other gas or electric powered implements used for roof carpentry, installation, and gutter work on shingle, tile, and metal roofing.
A fleet of vehicles in tip-top shape is a selling point to clients big and small. Using iRoofing's digital pitch book, sales reps can show off the roofing company's vehicles with impressive imagery. And having your shop mechanic pictured front-and-center reinforces your organization's strength and attention to detail.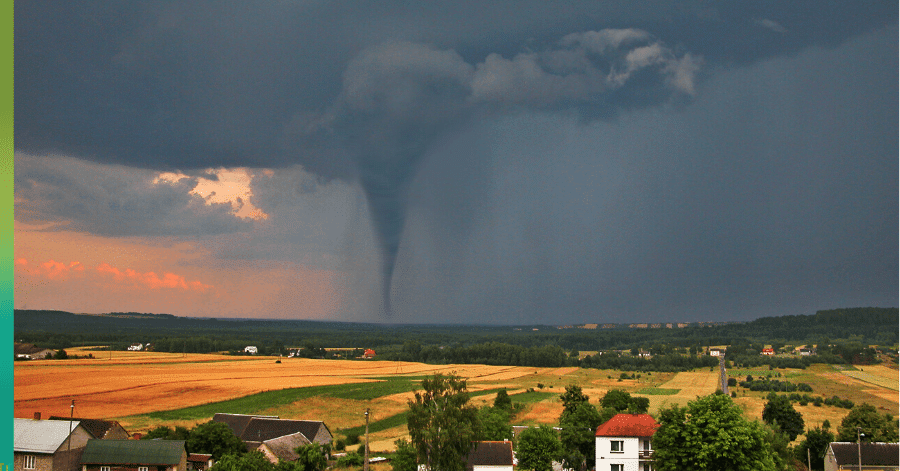 Storm Response Specialist
A specialized area within the roofing industry consists of contractors who are ready and equipped to respond to weather catastrophes.  These specialists are prepared to quickly deploy roofing crews to areas impacted by tornadoes and hurricanes. They often travel out-of-state and maintain licenses in those states prone to severe weather events. Storm Response Specialists can help property owners work through the insurance claims process and get their homes or buildings secured quickly from any further damages from post event rain and gusty winds.
With iRoofing's introduction of its Roof Inspection Report tool, storm responders will have a great tool right on their smartphone which will enable them to produce a very professional roof report, quickly.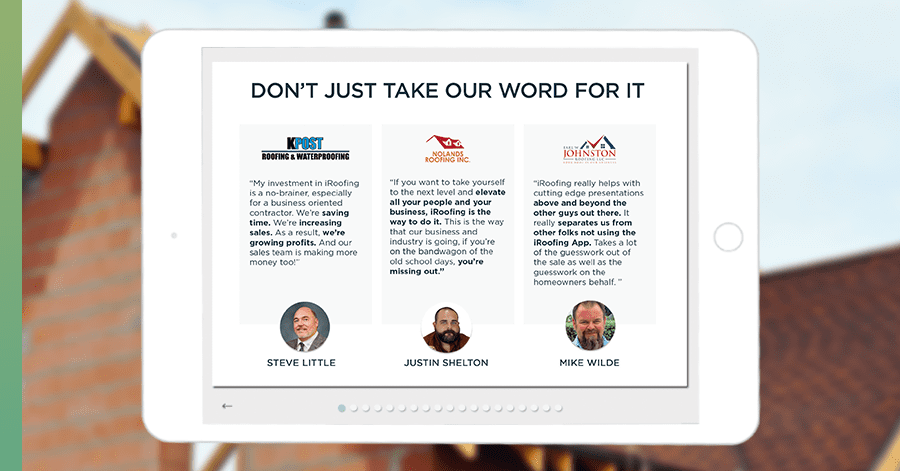 Owners, General Managers… Feel Left Out?
Are you one of those intrepid entrepreneurs who started your own roofing business?  If so, you might be thinking "I'm the Installer, I'm the Office Administrator, I'm the Sales Manager… I'm all of the above!" Don't feel alone, there's plenty of you out there and we tip our hats to you. Let us show you how technology can facilitate a jack-of-all-trades like you.  While there's nothing like having a dedicated team inside your company, iRoofing can fill in the void with software tools that carry the day, plus, unlimited training and support. We're always here to help you with your roof measurement and estimating needs by making sure you're well-versed on using the iRoofing mobile app to get the job done!