Roofing hammers are the traditional tool for cutting shingles and driving nails into them. Nail guns might be faster, but many residential roofers prefer using a roofing hammer. Why has this hand tool stood the test of time?
Shingle hammers are a one-of-a-kind tool designed specifically for roofing. They help you cut, nail, and position shingles – with more precision than a pneumatic nail gun. Roofing hammers – also known as roofing hatchets – continue to be one of the most important tools for residential roofing companies.
There are a few things to consider when shopping for a roofing hammer. What kind of roofs do you usually work on? Sloped residential roofs typically use asphalt shingles, tile, and cedar. Which of these roofing materials is most common in your area? How much weight do you want to carry around on your toolbelt?
With so many different options available, how do you know which roofing hammer is the right one for you? Read on for a few things to keep in mind when shopping for a roofing hammer, as well as the top five picks on the market right now.
What makes a roofing hammer unique?
Effective and accurate, roofing hammers are valued tools that have been used for years. These hammers are incredibly versatile for roofing jobs. While the traditional roofing hammer design hasn't changed much, there are a few new features on the market today.
Modern roofing hammers feature gauges to help you find the correct exposure of shingles. They're also made with special materials to reduce vibration while you work. Understanding the parts of this seemingly basic tool can help you decide which one to invest in for your roofing job.
The face of a roofing hammer – the part that contacts the nail – is usually textured so it can better grip the surface of a nail. Regular hammers or framing hammers have a smooth face, so you'll probably lose some accuracy when driving nails into the roof deck – and you'll definitely lose some nails.
The head of the hammer is the top head. Most roofing hammers include a notched head to help you place shingles on a roof. There's also a blade to cut shingles to size. The claw on a roofing hammer is made for pulling up shingles, and the handle is the tool's base.
If you want a versatile tool that'll last years and help with multiple roofing projects, investing in a good roofing hammer is one of the best things you can do.
Roofing hammers vs. claw hammers
Some roofing professionals recommend using a claw hammer rather than a roofing hammer. Remember that a roofing hammer has a blade at one end of the head, making it easy to cut shingles. Roofing hammers also feature a built-in shingle gauge for accurate spacing.
Claw hammers – also known as framing hammers – are designed for carpentry work. The curved claw at the end is good for pulling nails out of carpentry projects – not roofing nails for shingles. If you bring a claw hammer to a roofing job, you might not be able to remove all the roofing nails or pry up shingles.
Not all roofing hammers are the same
While most roofing hammers feature the same basic features, there are a few key differences to watch out for.
Roofing hatchets: The most common jack-of-all-trades roofing hammer, the hatchet looks like a small ax. Hatchets are mostly used for installing asphalt shingles. They come with a built-in knife for cutting shingles, as well as nail pullers. They may also come with a magnetic nail holder.
Double-claw hammers: This hammer is similar to a typical all-purpose roofing hammer, but the double claw on the end is great for prying wood and other materials off an old roof. Double-claw hammers especially come in handy when you need to pull out a lot of nails.
Roofing pick hammer: Rather than a claw, these hammers have a sharpened, pointed pick. The pick end can be used to pull out nails, but they're mainly used to punch holes.
Slate hammers: This is a specialized roofing hammer for slate roofs. They include a sharpened pick and beveled shaft to cut slates. Slate hammers are designed for either right-handed or left-handed users, so make sure you pick up the correct one. Invest in a slate hammer if you're working in an area where slate roofs are common. The look of slate is incredibly popular, but the cost of real slate can be prohibitive. If you don't serve an area with a lot of slate roofs, the slate hammer may not be the right pick.
What kind of hammer handle is best?
Roofing hammer handles are typically made of steel, wood, or fiberglass. Hammers with steel handles are incredibly durable, especially if the hammer is made in one piece. The downside to steel handles is they don't have good shock absorption. This type of hammer will last a long time, but your arm might get tired quicker. Steel hammers are heavier than fiberglass or wood hammers.
Wooden handles are probably the most comfortable to use, which is a big deal when you're out in the sun hammering in shingles all day. A wooden handle generally has more shock absorption than a steel or fiberglass handle.
The main benefit of fiberglass handles is that they're lightweight. A roofing hammer with a fiberglass handle may not last as long as a steel hammer or have as much shock absorption as a wood-handled one, but it won't weigh you as much when climbing around a roof.
Keep in mind that lighter hammers take more force to drive the nail. Heavier hammers move the nail quickly.
Tips on using a roofing hammer
Get the most out of your roofing hammer by following simple best practices. Roofing hammers are very versatile – for roofs. They are specialized tools. Just like you wouldn't bring a framing hammer to a roofing job, don't use roofing hammers for other home improvement projects.
When working with a roofing hammer, use your knowledge, experience, and common sense. For example, before you cut a shingle with the roofing hammer's claw, mark the cut line with chalk to make sure the shingle is scored in the right place.
Don't strike the shingle over and over again to cut it. Instead, bend the shingle along the score. This keeps the cut straight and prevents any accidents. Follow the shingle guide on the head of the hammer to position the shingles correctly.
Should you get a roofing hammer with a magnet?
You don't need to get a magnetic roofing hammer, but they do make your job a bit easier. Roofing hammers with magnetized heads can hold nails in place. A roofing hammer with a magnet is great for those hard-to-reach spots on a roof.
With a magnetic roofing hammer, you can stick the nail on the end of the hammer and drive it into place. The nail stays on the end of the hammer until you drive it into the right spot. You don't have to hold the nail in place, reducing your chances of accidentally smashing any fingers.
Magnetic roofing hammers are a good choice for safety on the job site. Letting a nail slip on a hot, sweaty day is easy, but the magnet holds the nail in place. You'll drop fewer nails on the ground, making cleanup easier (which your clients will also probably appreciate).
Ultimately, a one-hit magnetic roofing hammer can help you get the job done quickly and safely.
The top 5 roofing hammers
If you're still not sure where to start, here are the top picks for the best five roofing hammers:
Designed with a comfortable wood handle and built-in utility blade, this traditional roofing hammer includes a magnetic head for safe and quick nailing. It also features a serrated face, an adjustable shingle gauge, a utility blade, and a nail puller. This hatchet has good weight and balance with an incredibly strong magnet.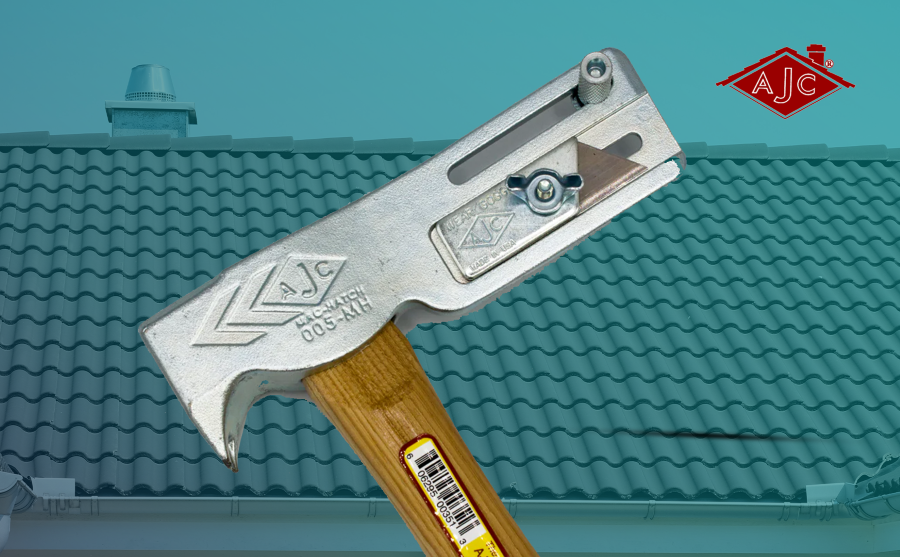 This lightweight steel roofing hammer has an ergonomic grip and magnetic head to hold roofing nails in place. The Anti-Vibe technology helps lower vibrations to reduce shock absorption, giving it an edge over traditional steel roofing hammers. The claw at the back of the hammer's head is great for prying up old, damaged shingles.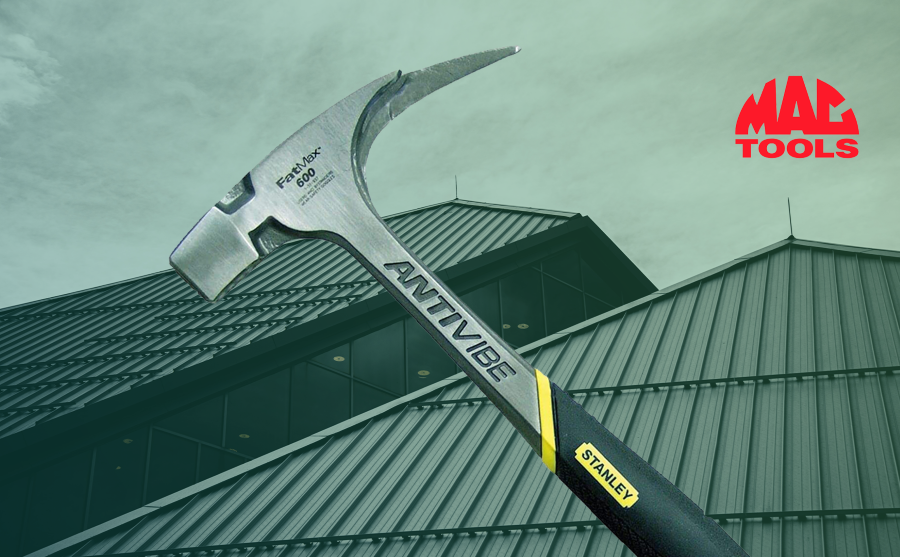 The spike end on this hammer can be used on slate shingles. The head and handle are one piece, so you can use this hammer for years to come. The rubber grip improves shock absorption to minimize arm fatigue. The claw is great at pulling up old nails, even if there isn't much space beneath the nail head. Constructed of alloy steel, this durable roofing hammer is designed to last.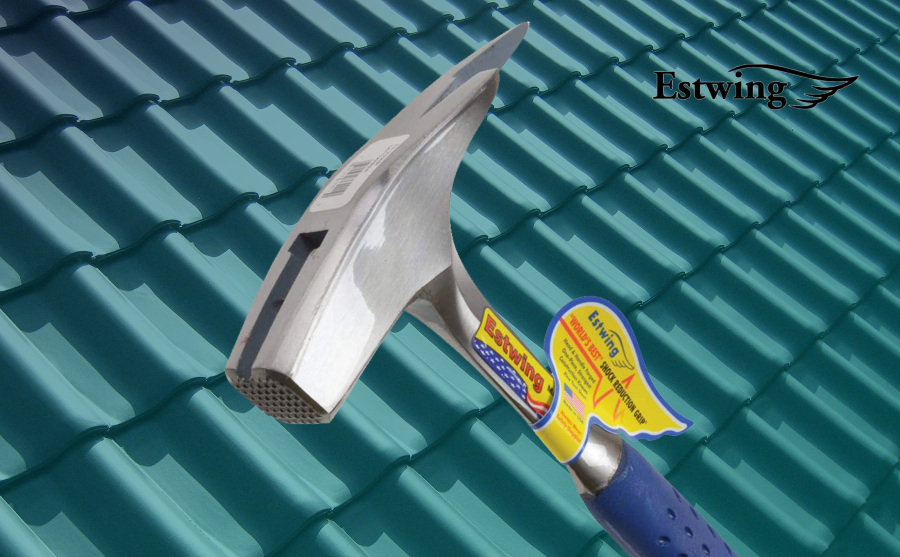 Whether you're right-handed or left-handed, this roofing hammer will work for you. The high-grade hickory handle absorbs shock, and the durable hatchet blade is constructed from treated carbon steel. There's a stationary screw gauge to help you determine shingle exposure between intersections.
This roofing hammer has a milled face, giving you a more precise hit than a smooth-faced hatchet. Forged from one piece of steel, the hammer is equipped with a rubber handle to improve shock absorption. Its gauge lets you set the reveal of shingles, and the blade trims roofing felt and asphalt. Made in the USA, this hammer has a sharp head that cuts easily through wood shakes.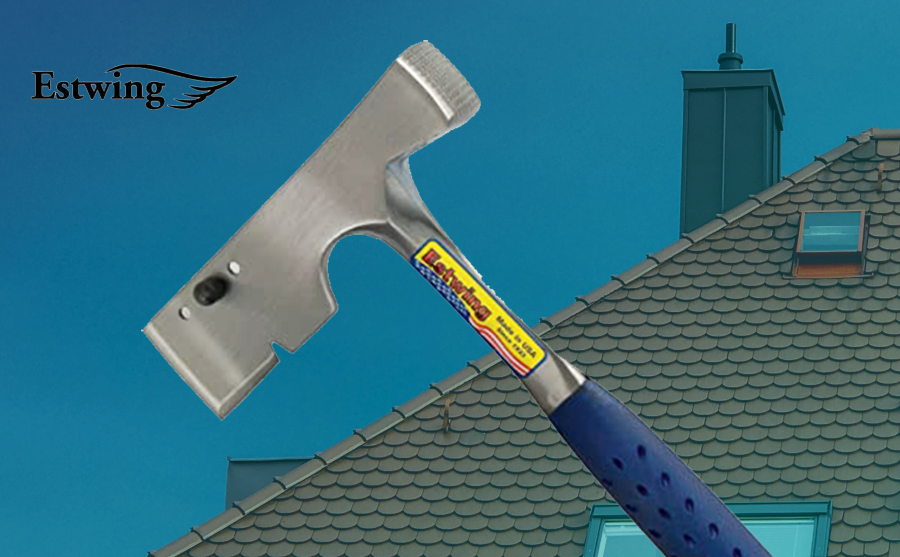 Picking the right roofing hammer is an important investment for any residential roofer. This unique roofing tool lets you nail, cut, and accurately position roof shingles. Keep in mind what types of roofs you serve in your area, what kind of material you're looking for in a roofing hatchet, and how much work may be involved in removing old roofs. From double-claw hammers to magnetized hammerheads, there are plenty of options for residential roofers to choose from