It's no longer baseball season. The Washington Nationals beat the Houston Astros in the 2019 World Series and now star pitcher Max Scherzer is probably just sitting in front of a big screen TV stuffing his face with pizza, drinking beer, watching a Redskins' game and exchanging text messages with his bookie… Not! 
Major League Baseball's off-season is an opportunity for top-notch players to get ready for March when they take the field again and compete for the pennant. Make no mistake, successful pros are finding time to relax and enjoy being off the road after over 160 games, but they remain diligent in doing whatever it takes to prep for the next season.
In a slightly different way, successful roofing professionals are equally diligent in the off-season and their preparations are paying off too! The best-of-the-best are setting goals for the high season, analyzing where they might have fallen short in the past and figuring out ways to overcome weaknesses. 
Keep Your Hardware Humming
During those cold months north of the Mason-Dixon line, many roofing contractors continue to put their tools to work doing inspections; steaming, raking and sweeping roofs; remedying ice dams; repairing hail damage to roofs; performing tree service, and even installing Christmas lights. Some roofing contractors convert their trucks into snowplows to help clear neighborhood streets and driveways.  By continuing to serve clients and stay visible in their local markets, these stay-busy pros are laying a foundation for a winning season!
Software Can Set You Up for Spring
Roofing contractors have more than just hardware to put to use in winter time. If they're among the rapidly growing number of hi-tech roofers they can leverage the power of software to seed their business for a bumper crop of new opportunities for springtime! 
Best of all, with roofing software like iRoofing you can tap into unique marketing benefits that only a remote, unlimited roof measurement and roof simulation app can deliver. So, put aside the ear muffs and thermal underwear. From the comfort of your office, home or even while swinging in a hammock beneath a palm tree in Key West, you can now spin out amazing proposals that will make any property owner think of you first before ordering a roof replacement or repair.
Off-season Advantages of Roofing Software
1. Proactive Roof Reports and Spec Proposals
Roof measurement apps like iRoofing give you access to overhead views of homes, buildings, streets, and neighborhoods via satellite, aerial and drone imagery.
Here's an idea. With your roofing app, pull up a satellite or aerial image of a property address where you recently installed a great looking new roof. Then, look at the overhead images of the homes in the same vicinity. When you spot a home which appears to have an old or damaged roof, zoom in and create a quick measurement report. You can spot aging roofs by looking for signs of delamination, UV damage, mildew or rust. 
Thanks to your smart roofing app, most roof reports should only take a few minutes to produce. Plus, by using iRoofing's Clearoof™ high-resolution aerial imaging feature you can determine roof condition more easily thanks to greater image definition. You can even view a property at different times dating back at monthly intervals. 
Next time you're driving through that neighborhood, drop off your roof report and a nice note in the homeowner's mailbox or at their door stoop. Let them know you're a hi-tech roofer and advise them to get their roof inspected soon, due to the apparent wear and tear you were able to observe. Make sure you let them know you've recently done roofing work in the neighborhood. By personalizing a recommendation using images and roof sketches specific to a prospect's home or building, your odds of landing them as new clients skyrockets!
2. Unlimited Roof Reports = Unlimited Potential
With ample time on your hands and partners or coworkers who are willing to pitch in to create remote roof measurements, you can easily spin out dozens of powerful and personal marketing pieces. From the satellite and aerial images accessible in your app, maybe you found a few homes and buildings which could use a new roof. Your iRoofing software lets you do as many roof reports as you wish. Take advantage of that and use it as a marketing tool! By creating simple proposals from your roof reports, then sharing them with property owners by distributing the proposals as door-hangers or placing them in mailboxes, you'll greatly increase your chances of landing new business for next season.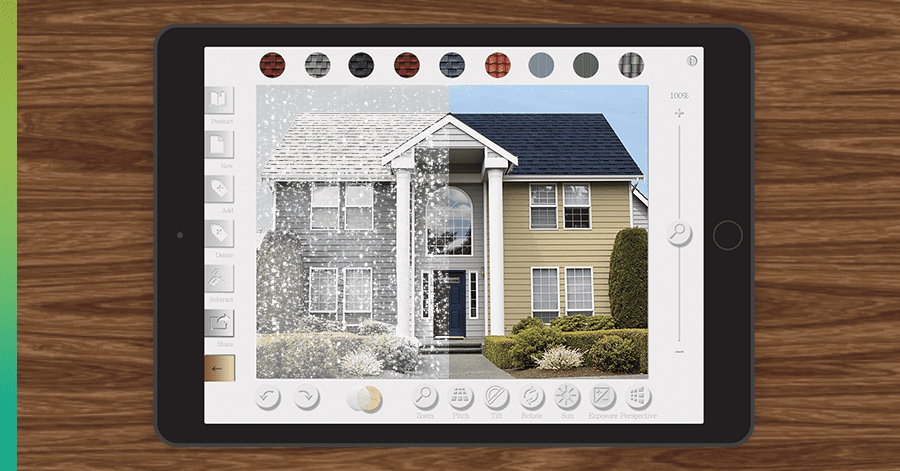 3. With a Roof Visualizer, The Sale is in the Bag!
The iRoofing app has a secret weapon. It's called the Roof Visualizer and it lets you simulate a new roof on a picture of any property. What sets this simulator apart from those available through some of the big roof material manufacturers is that the iRoofing app enables you to access hundreds of different roofing products from ALL the leading makers. It's the world's most complete digital catalog of roofing products and it's only in the iRoofing app. So, when an exciting new product comes onto the market, like Owens Corning's new Pacific Wave shingles, reach out to some of your hottest prospects with an email or flyer simulating the new product on their house. If it's nearing the time for them to have a roof replacement, the Roof Visualizer can really pique their interest and make a lasting impression that may very well lead to a big sale! If you don't already have an image of the client's house, get if off the app by mapping the address and grabbing a street view, or by uploading an image from a real estate site, like Zillow. Making hay with iRoofing's Roof Visualizer is another great opportunity you can pursue during the off-season.
4. Get Ahead with Inspections
After a long season of frigid temperatures and roofs laden with snow and ice, the warmer months can begin to reveal the scars of a rough winter. This is a prime time for property owners to take preemptive measures by having their roof inspected and getting any damages addressed before rainy weather or the next winter season. Roofing software can greatly facilitate detailed Inspection Reports. The iRoofing app presents all reports and proposals in templates bearing your company identity. It's very professional! Since iRoofing works on Android phones, it's the perfect tool for contractors whenever they need to get on a roof for an inspection. With it you can simply pull out your phone to take pictures of roof damage. Your images will seamlessly  integrate into the roof inspection report.
Winter is an opportune time to reach out to property owners with emails, flyers and ads letting them know that it's a good time to order a roof inspection.  Consider running a special offer at an aggressive but profitable low price and let the business roll in. Roof inspections frequently turn into repair and replacement work!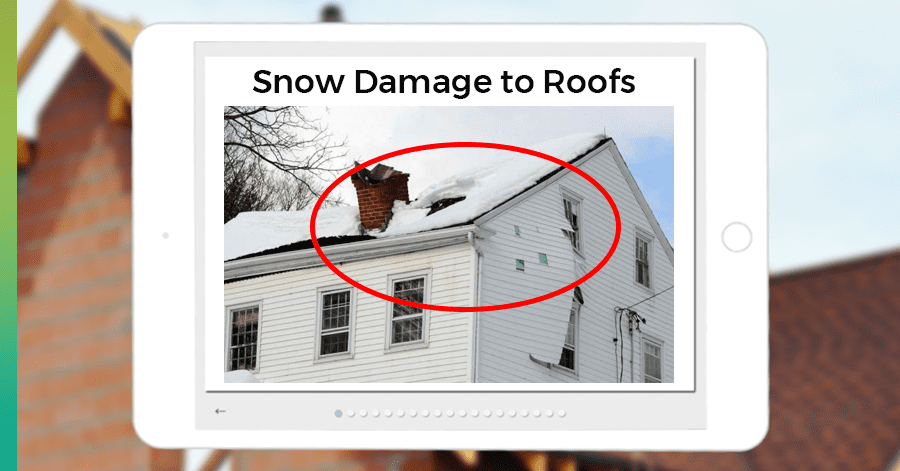 5. Educate Property Owners on the Hazards of Snow and Ice
Snow and ice buildup on a roof can create problems. Just 1 inch of accumulation equates to over 1 lb. of weight per square foot. If three inches of snow accumulates on a 2000 sq. ft. roof, it means that the roof is holding 6,000 pounds of snow. That's like two Nissan Rogue SUVs parked up there!  Snow buildup like that often melts and refreezes on the edge of a roof and causes ice dams. In turn, ice dams can cause water to pool onto a roof, putting heavy weight stress on concentrated sections of the roof. Hail storms also inflict damage to roofs by knocking granules off shingles leading to faster deterioration. Furthermore, strong hail can damage certain underlayment material.
In areas where heavy snowfall occurs, contractors should consider reaching out to property owners in late winter. You can share facts and figures about the roof hazards from snow, ice and hail. This is a great opportunity to show off your drone and offer to inspect the homeowners roof for any related damage once the weather warms up.

6. Educate Prospects About Your Hi-Tech Process
The 21st-Century consumer expects high-tech solutions to assist them with their every want and need, but rarely do they expect high tech applications from traditional work teams.  By informing property owners about your use of roofing software, you can really impress them. By sharing your company attributes in a digital presentation prospects will realize they're working with a top-notch pro! As they learn more about how your use of technology adds to job safety, reduces trips to the property, and reduces waste through accurate estimates and material orders your company will be at the top of their list and in the forefront of their mind. When property owners see their roof report quickly delivered to them thanks to your ability to leverage satellite and aerial images for measurements and estimates, your potential new clients will really be blown away. You can be sure they'll remember your company for a long time to come. And, when they're ready for roof work, they will think of you!
So, during the coldest months, work on strengthening your pitchbook by adding information about your roofing software and how it makes the contractor-client relationship easier, more convenient and promises to save time and money. iRoofing can supply you with videos and images to illustrate common uses of roofing software. You can use such content in flyers, mailers, ads and emails or create your owner content personalized with images of a prospects property.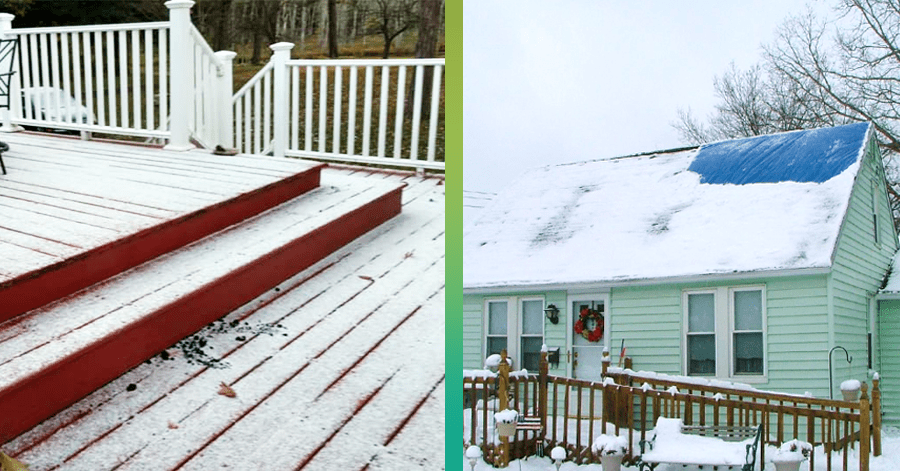 7. Get in The On-Deck Circle
A roofing application which gives you clear and ready access to satellite and aerial imagery makes it simple for you to find homes with large outdoor decks. Homeowners enjoy decks all year around. Even in the cold months, entertaining under the stars in the brisk, clean air is exhilarating. But, if a deck is covered in snow or poses any slip-and-fall risk, getting it cleaned off is a must, especially before a holiday get-together.  So, via the satellite and aerial imagery in your roofing app, canvass neighborhoods in your service area. Find addresses with nice big decks and drop off flyers or door-hangers advertising your deck de-icing and cleaning services. It can be a great source of income in the off-season!
Winter storms can bring urgent needs for roof work thanks to  falling limbs, ice dams, and excessive water intrusion. If your roofing company is prepared to rescue homeowners by installing tarp, you can quickly provide them an accurate estimate. With overhead images of their roof, you can measure the total area and understand the dormers and penetrations you'll need to work around. In minutes you can tell the property owner a total price, get their "OK," and make one trip to the site to get the job done.  The rapid response will please the client and you'll be pleased with all the time you'll save getting approval for the job!
Use Your Down Time to Rev Up Your Business!
What are your off-season money-makers?  Share your ideas and make the roofing world an even better place than it already is!