Roaring Twenties Redux...
Will 2020 be anything like the Roaring Twenties of yesteryear? The 1920's embraced what was seen as the coming of a Modern Age after WWI. Likewise, the new decade of the 20's, just a few weeks away, seems poised to celebrate tremendous advancements in modern technology.
This article looks at some of the more interesting and practical innovations that will prove useful for many of today's roofing contractors. While some of these innovations are still incubating, others are here now and are aiming to grow rapidly in the new Roaring Twenties. Let's take a look.
What's Driving New Innovation?
Energy efficiency and global sustainability seem to be the main forces pushing new innovation. In nearly every industry, new product lines are coming to market which no longer leave dirty footprints in their production and consumption paths. This movement toward "healthier" products and processes, reduced waste, lesser emissions, longer product lifespans and higher work efficiency is gathering speed and it's especially apparent in the roofing industry.  For example, CertainTeed, a major manufacturer, is expanding its shingle recycling program through a partnership with Southwind RAS. The program offers an environmentally friendly option for shingle disposal by collecting, recycling, and transforming the shingles into road paving materials.  Recycling is yet another positive movement toward sustainability, led by a roofing company.
An industry once perceived as slow to adapt to technology, the $30+ billion roofing sector is now among those at the forefront.
As 2020 approaches, companies are no longer just appealing to an environmentally-conscious society with "paper straws" of good intent. Real true benefits are now possible by investing heavily in product development which translates to long-term cost savings – mainly through energy efficiency and recycling. Take Tesla's solar roof shingles for example. 
Environmentally-friendly initiatives aren't the only things that will gain more traction in 2020. Software advancements, new tools and gadgets will also help roofing companies prosper. 
While 1920 bought us the National Prohibition Act, 100 years later we have the somewhat opposite Hemp Farming Act so, in 2020 we should expect a great exhale of hemp products! Hemp is already used in a mind-numbing amount of things including roofing material! Pay attention, because in the new Roaring Twenties you just might become a dealer of this counter-contraband. 
Every acre planted with hemp seed has the potential to generate up to 25 tons of construction-grade fiber. Makes your head spin, doesn't it? But, it hasn't been legal to farm hemp in the U.S. until recently. In December of 2018, provisions of The Hemp Farming Act finally passed in Congress making it legal to farm hemp for industrial purposes. Numerous countries around the world have already been producing hemp-based building products, including Canada where a groovy product called Enviroshake was developed. It mimics cedar shakes (thus the "shake" in its name. No pun intended). Enviroshake is made with 95% recycled materials, including hemp fibers. It also carries a lifetime warranty and is reportedly more resistant to mold, fire, insects and mildew than asphalt shingles. Will this tie-dyed innovation lead to Roofer Madness? On the contrary. It's a smart sustainable material with a promising future. So, plan on smuggling it across the U.S./Canadian border in 2020 or simply order it from iRoofing's in-app manufacturers catalog.
Tesla Solar Roof Shingles
Tesla's photovoltaic glass tile is the company's third attempt at perfecting a market-ready system and now they feel they've got it! With fewer parts and sub-assemblies, Tesla shingles have a simpler design than previous prototypes. The product is both durable and visually appealing. Tesla's CEO, the inimitable Elon Musk, is right on time with his revolutionary innovation, as state after state consider bills to require new homes, renovations and commercial construction to incorporate energy-wise roof systems. Read more in our article Tesla Solar Shingles: What Every Roofer Needs to Know.
Cool New Colors for the Roaring New 20s
Starting in the 1920s, wood shingling began to slip in popularity thanks to the advent of asphalt shingles and concerns about fire safety. Back then, asphalt shingles came in two different colors, black and… black!  Today property owners have a rainbow of options to choose from, plus, as we enter the new Roaring Twenties, roof material manufacturers are discovering new methods to make their materials more energy efficient.
The new roof colors featured below by Owens Corning and Boral have earned the Energy Star® rating. These shingles use reflective components, decreasing the amount of heat transferred to a home's interior — and the amount of air conditioning needed to keep buildings comfortable.
Owens Corning – Pacific Wave
Leave it to the mighty Owens Corning to come up with the color that won 2019's Shingle Color of the Year Award. Pacific Wave beat out all the other colorful contenders and in 2020 the whole world will be asking for it. 
Boral – Shadow Black
Keeping with a Pacific coast theme, Boral was inspired by the Golden State to create new colors for their concrete roofing tiles. "We have identified new hues (which) celebrate the natural terrain and landscape of California," said a spokesman for Boral. Take a gander at Graphite, Sepia, Shadow Black, Oceana and Saddleback Blend. 
The more portable, the better as far as we're concerned. Portability is the key to a do-it-yourself roof measurement and estimate app, so why not the drone, too?  DJI's newest drone, the Mavic Mini, is no bigger than a box of Animal Crackers and weighs just a little over 2 lb.s. Because it is under 250 grams, most states and provinces don't require people to have a license to legally fly the Mavic Mini, but roofing contractors should check local regulations relative to commercial use. Read more in our article MAVIC MINI: Downsize Your Drone. Upgrade Your Image.
Made for roofers by roofers, The Catch-All which started in 2018 is the best thing to happen to roofing since the invention of the nail gun! Imagine a huge bib skirting the house. The simple system is highly efficient at catching all the debris from a roof removal. Thus, it serves to protect homeowners' cherished flower beds and other landscaping. No wonder The Catch-All won the "Most Innovative Product in Roofing" Award in 2019. So, in 2020 this sensible skirt promises to be the hottest fashion statement on the roofing runway.
The Catch-All is also a tremendous marketing tool… literally!  Roofing contractors can order The Catch-All custom branded with their logo. Think of Morton Salt's gargantuan tarp that rolls out during rain delays at Major League Baseball games reminding everyone "When it Rains, it Pours."  Or, the All-State Insurance extra point catcher that rises from behind the goal posts of almost every NFL game. All eyes on The Catch-All in 2020!
Smartphones are getting fancier.  In 2020 we'll see which of the newest styles stick.  Will it be LG's dual screen innovation? With LG's G8X you pair a little monitor with the smartphone. Do a remote roof measurement on one screen while watching game highlights on the other!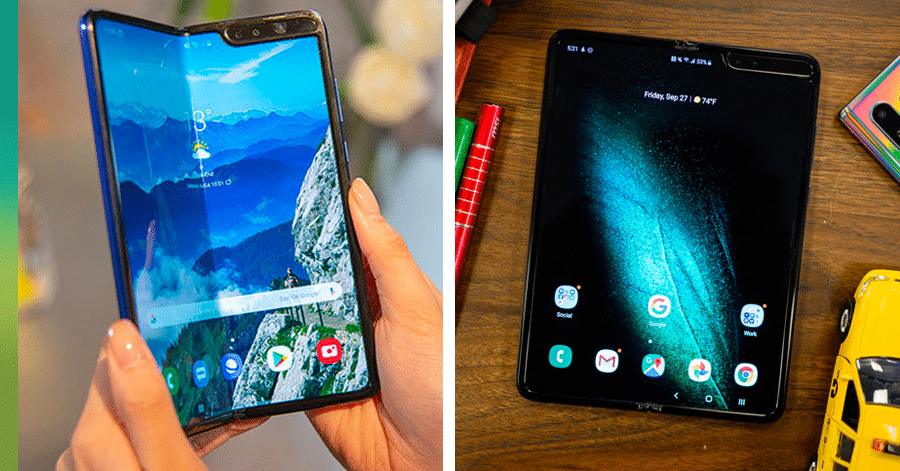 How about the Galaxy Fold? Will it catch on? It's Galaxy's newest innovation that essentially doubles the width of your screen. Folded, the phone is the same dimension as a normal cell phone, but it unfolds to more than 7" in width giving users a big screen experience!  This sounds like it could be great for impressing clients by showing them your company pitch book, their custom roof report, and a life-like simulation of their new roof… right from your Android phone. 
Everyone is flipping out over the Motorola Razr. It seems like decades ago that the Razr was the hot phone to have but those days faded away as the iPhone began to win the smartphone turf war.
Hold on… is the Razr really making a come back? Yes, this quirky flip phone is back and clearly better than ever. The new generation of this favorite phone gives users an elongated screen that extends from top to bottom when it's flipped open.  We're not sure how this can directly benefit roofers like the LG's G8X or the Galaxy Fold can, but if you're into trendy things and have a wad of extra cash, the $1,500 Razr could be for you.
Updated Aerial and Satellite Imagery
Back in the 1920s, we got our first hint of an earth observation satellite. The concept was introduced in an obscure book entitled The Problem of Space Travel by Herman Potočnik, a Slovenian rocket engineer. This non-fiction work imagined, among other things, an orbiting spacecraft that could observe the surface of The Earth. Forty-four years later, the U.S. launched the Earth Resources Technology Satellite (a.k.a. LANDSAT), laying the foundation for what is used in modern roof measurement software.
Few things have impacted the way roofing contractors do business as much as satellite and aerial imagery. In 2011, iRoofing integrated this imagery as the backbone of its multi-faceted roof measurement solution, the first ever, do-it-yourself mobile app for roofers. Over the past decade satellite and aerial imaging has greatly increased coverage area and it has gained clarity. In addition, high resolution aerial imagery like Clearoof™ gives contractors overhead views during leaf-off seasons, enhancing their ability to perform more accurate measurements and estimates. Clearoof's imagery comes from specially equipped aircraft. It supplements the satellite imagery in roof measurement applications. But there's a long way to go and the roaring new twenties will take this technology forward in amazing ways.
In the next few years, we'll see the deployment of the futuristic sounding Worldview Legion – six new satellites that will supply images to us on a much more frequent basis. Starting sometime in 2021, satellite imagery will be updated about every 2 weeks compared to every 8 months, like it is today. What does this mean for tech-savvy roofing contractors? For roofing jobs related to new builds and on homes that may have undergone recent add ons, current views of such properties will be accessible like never before. 
Satellite image resolution may not improve that much since aerial images now fill the need for high definition imagery.  For example, what a roofer often sees when he zooms into an address using a measurement app such as iRoofing, is a satellite image but he's also able to seamlessly switch to higher resolution imagery taken from aircraft. Come 2020, these aerial images will be made up of pixels each representing less than 3 square inches of roof! Amazing.   
Considering all that is progressing around satellite and aerial imagery, 2020 promises to make remote, DIY roofing software more useful to more contractors around the globe.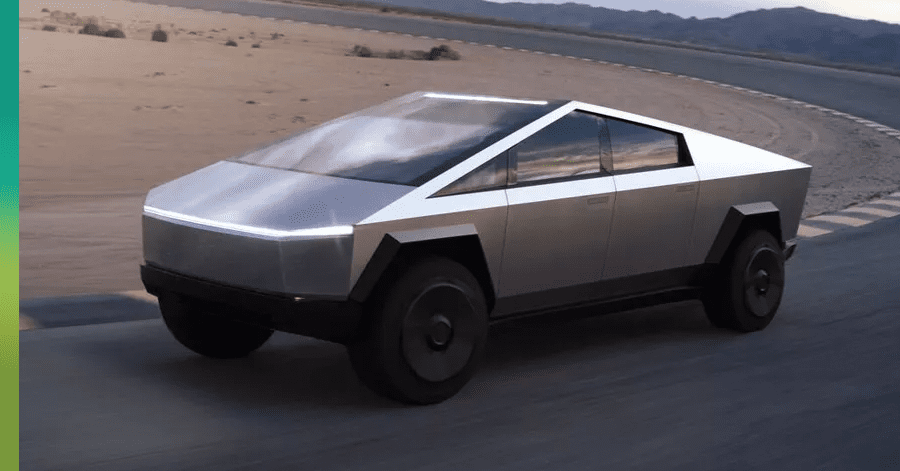 Face it.  You're probably going to be driving an electric truck someday. Every major automaker seems to be quietly vying for a lead in the emerging EV truck market. Tesla isn't being so quiet, however – unveiling their Cybertruck on November 22, 2019 with all the fanfare Elon Musk is known for.  
2020 could be the year when the newest electric vehicles hit the seen in serious numbers. Which of them will make inroads based on their load capacity, durability, affordability, etc.?  Will it be the Rivian R1T, the Tesla Cybertruck, the Atlis, the Workhorse W-15, Chevy's entry in EV trucks, or Ford's EV F-150? Hopefully each and everyone will do well!
Rice & Beans? Goodyear's Tasty New Tire Technology
Before 1920, tires were made mostly from rubber harvested from trees in the Amazon jungle and other tropical areas. Then, in the Roaring Twenties, Bayer (Yes, the aspirin maker) came up with synthetic rubber made from petroleum byproducts. Now, tire companies like Goodyear have engineers working overtime to find materials to replace or reduce the use of fossil fuel-based tire ingredients.
At Goodyear's Innovation Centers engineers are pushing the boundaries of tire technology. Soon they will start utilizing ash left over from the burning of rice husks as an environmentally-friendly source of silica for use in their tires. 
Goodyear has also found that using soybean oil in tires can potentially increase tread life by 10 percent. Using such renewable resources can also reduce Goodyear's use of petroleum-based oil by nearly 7,000,000 gallons each year.
Hint: 2020 may be the year for you to plant that rice paddy or soybean field you always wanted.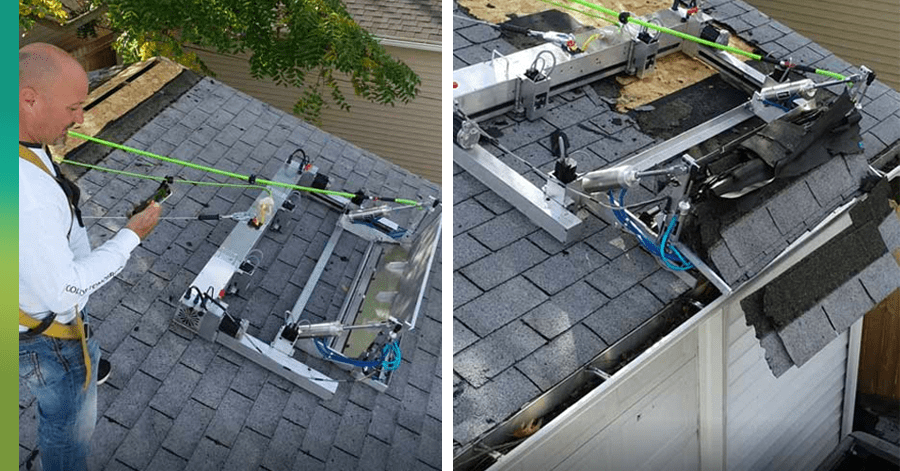 There are almost 5,000 nails in the average residential roof and over 2 tons of roofing material. Not too many strong, young workers aim to become roofers nowadays. It's a tough job and there are too many light-weights out there unwilling to do the work.  Conditions in today's labor force are driving innovations that replace the need for arms and legs with machines instead. One such innovation, the RoboRoofer was created by a roofer. It promises to perform roof removals in less than one-half the over 30 hours it currently takes on average. Among RoboRoofer's superhuman talents are sensors that detect nails to ensure they don't get passed over. The contraption neatly rips up old roof while being operated by just one person. RoboRoofer also hauls the debris across a sloped roof to dump it in whatever disposal container is positioned astride the house or building. 
Labor shortage? Maybe roofing contractors won't have to worry about that in the new Roaring Twenties, because here comes RoboRoofer. He won't talk back and he's always on-time. Learn more at http://roboroofer.com/
The New Roaring Twenties is Upon Us!
The next decade will very likely mark the tipping point, when entire systems migrate to new sources of energy and new workforce paradigms. Roofing, an industry once perceived as slow to adapt to technology is now among those at the forefront.  Roofing companies aren't just adapting to changes, they are driving change. Most notably, huge manufacturers like Owens Corning, CertainTeed, Boral, Tamko and GAF are developing earth-friendly solutions.  
Roofing contractors are using software-driven measurement and estimate technology, making major strides in profitability and work efficiency. Software providers like iRoofing which pioneered remote DIY measurement will embrace the new Roaring Twenties giving roofing contractors a chance to see fantastic new innovations. Stay tuned to the iRoofing blog for exciting details on new releases!
Roofing professionals are more sophisticated than ever before and ready for 2020!