Create Instant & Unlimited Roof Measurements On-The-Go
✓ Create accurate, professional roof measurement report in minutes
✓ Unlimited reports from Satellite, Aerial, Drone & Blueprints
✓ Featuring Clearoof™ technology for crystal clear imagery
✓ Determine precise roof pitch from a street view photo
✓ Free Training & Software Support
Roof Measurements From Satellite, Aerial, Drone images or Blueprints
Your roof measurements app - for Apple and Android tablets and smartphones!
The iRoofing Measurement Tool allows you to create accurate, professional measurement reports in minutes, from an iPad, iPhone, Android tablet or Android phone. There's no need to order reports, then wait to receive them. Simply use iRoofing to measure from satellite, aerial drone or blueprint imagery and quickly create your own report.
There's no cost per-measurement and every membership includes unlimited access for three devices. Take control of your measurements with the iRoofing Measurement Tool and start saving time and money!
Whether you're installing shingles, metal, tile, composites, slate, shake, or commercial roofs, the iRoofing Measurement Tool will increase your efficiency, helping you save time, increase sales, and grow your business.
Roof Measuring App - Measure Roofs Easily and Accurately
Scaling a ladder and crawling atop a roof can be time-consuming and hazardous. Our roof measurement solution gives you the ability to produce professional roof reports and estimates. We've created powerful roof measurement tools for use on-the-go. Our new iPhone app and Android phone app now makes things even more convenient. The benefits of iRoofing's portable roof measurement solution include:
Prepare roof measurements and professional estimates from anywhere.

Print email and share digital reports with property owners or with your team. 

Eliminate unnecessary trips to the job site. 

Spend less time on roofs and more time with customers face-to-face.

Impress clients with new roof simulations, roof diagrams and other visuals.
See our roof measurements feature in action!
iRoofing measurements will include all the information you need to prepare estimates and sell the job, including all square and linear totals for:
Ridges

Flashing

Eaves

Rakes

Valleys

Hips
Ridge Vent

Ice & Water

Drip Edge

Gutter

Gutter Top


Satellite Roof Measurements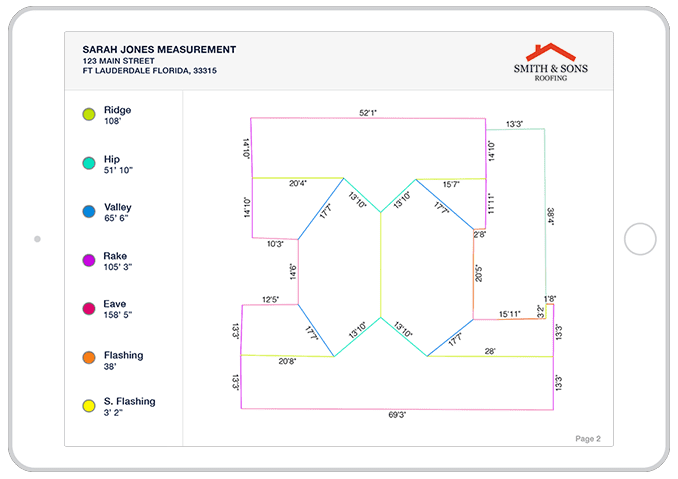 In most areas of the United States, a satellite image provided by iRoofing of a home's rooftop is perfectly suitable as your basis for a complete and accurate roof measurement. iRoofing has integrated this technology into a simple user design. Search by address in the iRoofing app; click to open the satellite view and zoom right in. Now, just trace the linear features of the roof, which instantly calculates precise measurements. Now you're ready to see a detailed report with the press of a button. It's all there, the total square footage, roof squares, waste factors, and professional roof diagrams. In no time, you'll master this simple application with your tablet or smartphone. Get ready to work more efficiently and more profitably!
Aerial Roof Measurements with Clearoof™
iRoofing introduces Clearoof for amazingly sharp images that make roof measurement easier than ever.  iRoofing is the only roofing app that integrates Clearoof high-resolution images into its software platform.
Clearoof is currently available in most parts of the US and much of Canada. Members receive Clearoof credits to access high-resolution overhead images. Clearoof is a great tool to have when conventional satellite or drone images haven't captured the optimal view you need. Plus, clear images mean more precise measurements and better estimates.
Now iRoofing isn't just for roofing jobs. iRoofing with Clearoof is great for real estate agents and developers, landscape architects, engineers, driveway installers, insurance adjusters and any professional who can benefit from clear aerial imagery!
When you have the need for closer inspection of a roof due to an inadequate or obstructed satellite image, drones can be a great asset. You can take pictures of any part of the roof, close-up and from any angle. With iRoofing's affordable drone package you get the full-featured iRoofing app along with a brand new drone or you can also use your drone. The roof-measuring drone seamlessly integrates with your phone or tablet. Fly it high above the roof, snap a picture and guide it back to Earth. It's easier than flying a kite! Upload your images into the iRoofing app and you're ready to measure, estimate, simulate, present a professional proposal to your client, and close the deal! Plus, use your new drone for roof inspections and storm damage assessments.
Blueprint Roof Measurements
Architects and builders frequently show only a roof outline on their blueprints, leaving out the roof square measurements as well as the linear roof measurements. With iRoofing, that's no problem! Using your tablet or smartphone, easily upload a blueprint; trace the linear features of the roof; verify scale and the app instantly and accurately calculate the measurements. For existing structures or for new builds, the iRoofing app is the 1-stop solution for any roofing scenario.
iRoofing's Innovative Pitch Detector
With the industry's only Pitch Detector that can detect a pitch by valley, hip, and slopes (not only by a rake) you can now define roof pitch from our built-in Google street view. Using this ingenious new tool you're able to pull up the home's street view on your tablet or Android phone then follow the simple step-by-step instructions in the app to determine pitch. In a split second iRoofing processes the pitch factor to come up with the true roof area measurement. No guess-work.
With iRoofing, you'll become a tech-savvy contractor overnight. The app is easy to use but super powerful! iRoofing's Training Team gets you up-to-speed rapidly and they remain accessible to you for any and all the support you'll need, for as long as you use the app.
Total Roof Measurements Report
The first page provides an overview of the property, including:
Total Area in Sq. Ft.

Total Slopes

Total Squares

Linear Measurements

Waste Factors







This report provides the Total Area, Total Slopes, and Pitch of the roof
Total SQ footage of each slope
Total number of slopes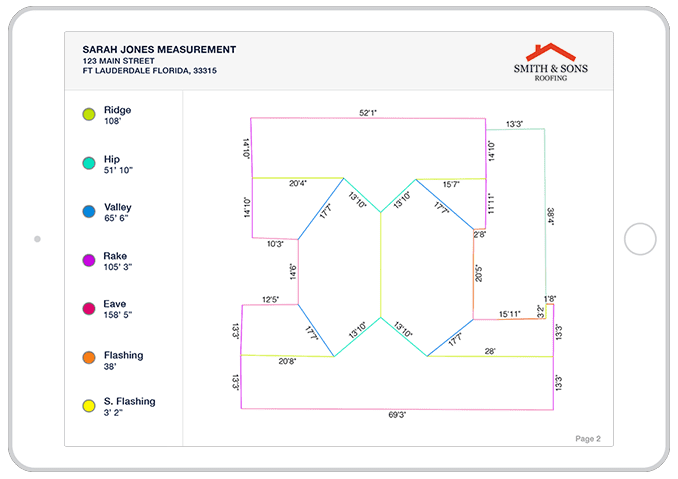 The second page provides all linear measurements for the property, including:
Ridges

Flashing

Eaves

Rakes

Valleys

Hips

Ridge Vent

Ice & Water

Drip Edge

Gutter

Gutter Top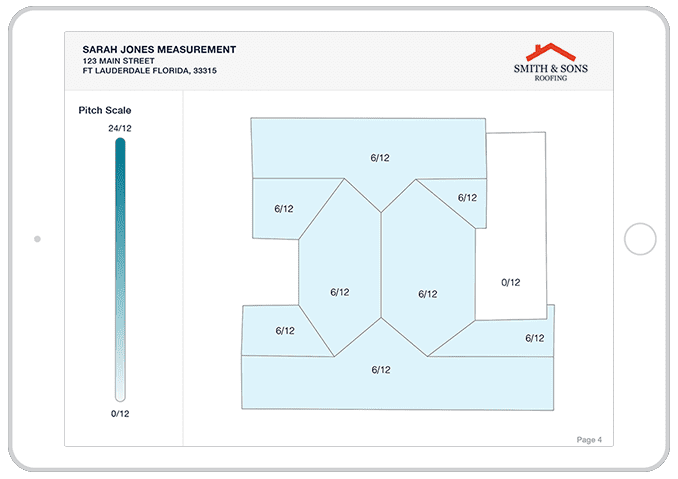 This report provides all individual slopes and their Pitch measurements.
Pitch of each slope
Color-coded pitch factors
This app changed my life!!! It completely changed the way we work. It took us from traditional roof measuring techniques to a high-tech, state-of-the-art measuring tool on their app, and made us way more efficient!!! This is one of the more important tools I OWN!
I am a iRoofing addict for almost 2 years; successfully executing flawless measurements and winning the professionalism game!!
This is Chris Ortiz with Earl Johnston Roofing. We have been using iRoofing for a while now. From my experience using iRoofing, I have found it is a very helpful tool. I can show homeowners samples of roof products and what their roof is going to look like when it's done. This is an awesome feature and homeowners love it. iRoofing makes my job a lot faster and more professional. I'm able to measure a roof from my office before I go to the house so I'll be ready when I get there. The customer service for iRoofing is the best, they have always been there when I needed any help. Bottom line: iRoofing is a great tool to have! It's definitely the best thing since sliced bread. Any roofing company that's not using iRoofing #ShameonYou.
I have spent untold hours trying to get roof measurements. The simplicity and accuracy I get from the iRoofing app is amazing. I've always been the guy who could foul up anything technological, but they have been able to keep me up and running, and now I'm the one teaching everyone else how to utilize the system.