Limitless Roof Measurements & Instant Estimates
At your command, whenever and wherever you need them
Create accurate, professional roof measurement reports in minutes
Roof measurements app for tablets, phones and desktops
Unlimited reports from Satellite, Aerial, Drone & Blueprints
Clearoof™ for unobstructed aerial roof measurements
Determine precise roof pitch from a street view photo
Free Training & Software Support
The iRoofing roof measurement calculator allows you to create accurate, professional roof measurement reports in minutes, from an iPad, iPhone, Android tablet or Android phone. There's no need to order reports, then wait to receive them. Simply use iRoofing to measure roofs from satellite, aerial drone or blueprint imagery and quickly create your own report.
There's no cost per- roof measurement and every membership includes unlimited access for three devices. Take control of your measurements with the iRoofing aerial, drone, blueprint, and satellite roof measurements tool and start saving time and money!
Whether you're installing shingles, metal roof panels, tile, composites, slate, shake, or commercial roofs, the iRoofing measuring app will increase your efficiency, helping you save time, increase sales, and grow your business.
iRoofing wouldn't be worth its salt if it wasn't accurate. We've worked hard to incorporate all the tools you need to assure roof measurements that translate to precise estimates and minimal material waste.
Scaling a ladder and crawling atop a roof can be time-consuming and hazardous. Our aerial, drone, blueprint, and satellite roof measuring software gives you the ability to produce professional roof reports and estimates. We've created powerful roof measurement tools for use on-the-go. Our new iPhone app and Android phone app now make things even more convenient.

The benefits of iRoofing's portable roof measurement solution include:
Prepare roof measurements and professional estimates from anywhere.
Print email and share digital reports with property owners or with your team.

Eliminate unnecessary trips to the job site.
Spend less time on roofs and more time with customers face-to-face.
Impress clients with new roof simulations, roof diagrams and other visuals.
Calculate precise linear measurements to scale.
Measuring from a drone or blueprint image? Scale Verify enables you to calculate precise linear roof measurements by factoring in a single roof part measurement from satellite imagery or an on-site manual measurement.
Determine the angles of a roof with our roof pitch calculator.
How to measure a roof from the ground, you ask? Our roof measuring app features an easy, accurate Pitch Detector that can detect a pitch by valley, hip, and slopes (not only by a rake).  You can now define roof pitch from our built-in Google street view. Using this ingenious new tool you're able to pull up the home's street view on your tablet or Android phone then follow the simple step-by-step instructions in the app to determine pitch. In a split second iRoofing processes the pitch factor to come up with the true roof measurement. No more guess-work with your roof measurements.
The app adjusts measurements for each labeled roof slope.
Rakes and hips are rises, eaves are level. When you properly apply roof part labels, the app adjusts measurements accordingly, always calculating total SQs accurately.
The app reduces waste from over-ordering roof materials .
Obviously, accurate roof measurements mean less waste when ordering materials. Wasted materials mean wasted profits and surplus materials to deal with. Avoid that waste with smart technology.
average time it takes to measure a moderate sized roof with the iRoofing software
"This program is fast and reliable! I am able to show up with the roof measured and priced out. I have eliminated the wait time for each and every measurement report not to mention the cost per roof measurement! "
Paul Perez | TEXAS FAMILY ROOFING AND CONSTRUCTION
Carry iRoofing roof measurements app on your Android Tablet or Phone, iPad or iPhone.
We upped our mobility by introducing our Android phone app. Whether you use an iPad or Android device you're always ready to do roof measuring and bidding.
Create unlimited roof reports and proposals remotely on-the-go with the world's  #1 roof measuring app.
It literally takes a few minutes to create an accurate roof report. Create reports remotely and on the go, Get more bids out and see more sales close!
Unlimited Roof Measurements
Save money instead of buying 3rd party reports.
Save money by not having to travel to the property or by not purchasing 3rd-party measurement reports again. Use the iRoofing roof measurements app instead and do as many DIY reports as needed.
Save money instead of buying 3rd party reports.
iRoofing's reports and estimates are clean, detailed and professional. You'll clients will be impressed by how fast, efficient and well-organized you are.
Use iRoofing & Save Calculator
Amount is calculated based on your avarage report price and amount of lead your company handles per month minus iRoofing yearly subscription for 3 users
"I have spent untold hours trying to get roof measurements. The simplicity and accuracy I get from the iRoofing app is amazing. I've always been the guy who could foul up anything technological, but they have been able to keep me up and running, and now I'm the one teaching everyone else how to utilize the system."
BILL TAYLOR | Vertical roofing
iRoofing is the only roof measuring app that lets you work from satellite, drone, high-resolution aerial images or from blueprints. You'll never again need to order a roof report from someone else!
Satellite Roof Measurements
Imagine having the features of Google Maps and Google Earth overlayed with simple-to-use tools for roof measuring, labeling, and pitch detection.
A drone is a great asset whenever you need a closer roof inspection because of an obstructed or inadequate satellite image.
When you need a high-resolution overhead view or a view "back in time" during another season, you have it in iRoofing with our Clearoof ™ aerial imagery.
Upload a blueprint, trace the linear features of the roof, verify scale and the app instantly and accurately calculates the roof measurements.
Leading the DIY roof measurement market with millions of roof reports generated
"Game changer! We love iRoofing, it has reduced our costs and improved our accuracy and pricing. The staff is always helpful. Easy app to use, we recommend it all the time."
Anna olivier | roofing louisiana
iRoofing measurements will include all the information you need to prepare estimates and sell the job, including all square and linear totals for residential sloped roof or commercial flat roof measuring.
You're in control over what information you want to share with others. So, no one can take your roof measurement report and bid it out to other contractors!
Roof reports will always carry your logo. Plus, the digital sales presentation template, your contracts, and your roof inspection reports, and your estimates are fully customized with your corporate logo, colors, and contact info.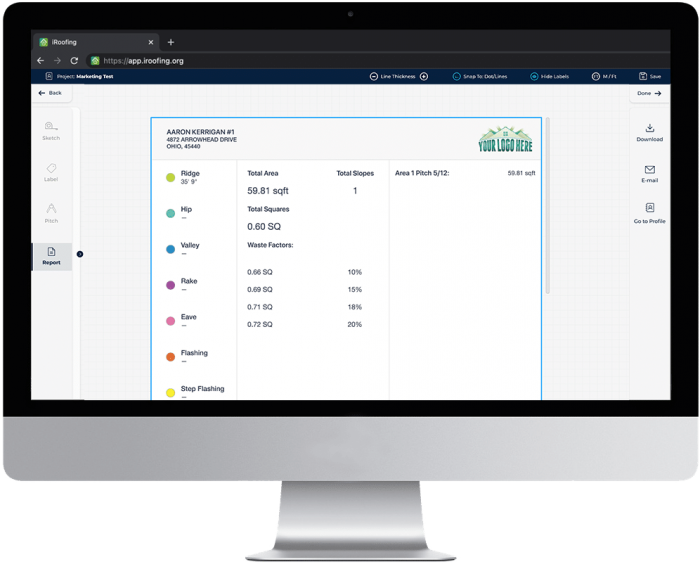 Roof measurements Imagery Solutions
Satellite
In most areas of the United States, a satellite image provided by iRoofing of a home's rooftop is perfectly suitable as your basis for a complete and accurate roof measurement. iRoofing has integrated this roof measuring technology into a simple user design. Search by address in the iRoofing app; click to open the satellite view and zoom right in. Now, just trace the linear features of the roof, which instantly calculates precise roof measurements. Now you're ready to see a detailed report with the press of a button. It's all there, the total square footage, roof squares, waste factors, and professional roof diagrams. In no time, you'll master this simple application with your tablet and your Android phone. Get ready to work more efficiently and more profitably!

Drone
When you have the need for closer inspection of a roof due to an inadequate or obstructed satellite image, drones can be a great asset. You can take pictures of any part of the roof close-up and from any angle. With iRoofing's affordable drone package you get the full-featured iRoofing app along with a brand new drone or you can also use your existing drone. Plus, a drone seamlessly integrates with your phone or tablet so that roof measuring specification go straight into the iRoofing app and in your client's profile. Fly your drone high above a roof, snap a picture and guide it back to Earth. It's easier than flying a kite! Access your images in the iRoofing app and you're instantly ready to measure, estimate, simulate, and present a professional proposal to your client, so you can quickly close the deal! Plus, use your new drone for roof inspections and storm damage assessments.
BluePrint
Architects and builders frequently show only a roof outline on their blueprints, leaving out the roof square measurements as well as linear roof measuring details. With iRoofing, that's no problem! Using your iPhone, iPad, Android phone or tablet, easily upload a blueprint; trace the linear features of the roof; verify scale and the app instantly and accurately calculates the roof measurements. For existing structures or for new builds, the iRoofing app is the 1-stop solution for any roof measuring scenario.
Aerial
iRoofing is the only roofing application that integrates Clearoof™ high-resolution images into its software platform. (Currently available on tablet devices only) Clearoof™ is currently available in most parts of the US but not yet in Canada. Members receive Clearoof™ credits to access remarkably crisp home and building images. Clearoof™ is a great tool to have when conventional satellite or drone images haven't captured the optimal view you need. Plus, clear images mean more precise roof measurements and better estimates. Now iRoofing isn't just for roofing jobs. iRoofing with Clearoof™ is great for real estate agents and developers, landscape architects, engineers, driveway installers, insurance adjusters and any professional who can benefit from clear aerial imagery!
More about the power of Unlimited Roof Measurements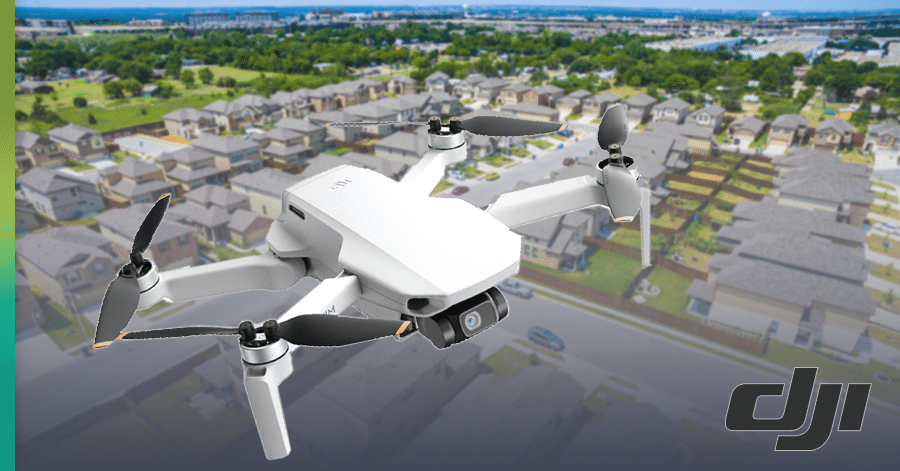 The New Drone Every Roofer Needs to Own It's here… another new drone from DJI and this one is even more nimble and less expensive
Read More »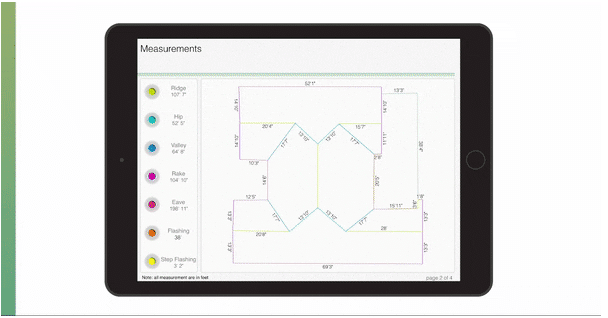 Having remote, do-it-yourself roof measurement technology at your fingertips gives you some unique advantages… advantages that extend far beyond selling single roof replacement or repair
Read More »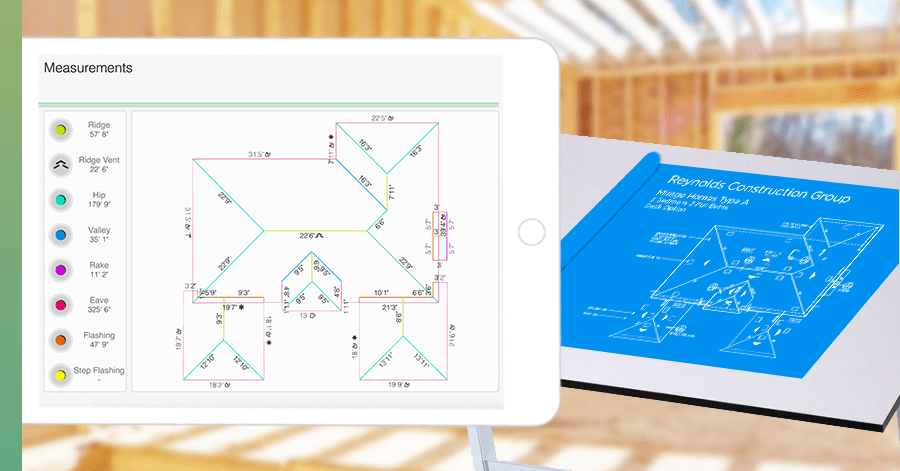 Measure a roof from blueprints with simple-to-use technology. When the economy is growing and consumer confidence is high, new home construction follows suit. Not everyone
Read More »
Roof Measurements - Frequently Asked Questions