iRoofing Introduces Roof Measurement Online. Perform Takeoffs from Desktops, Laptops, and More
iRoofing has always endeavored to build the app that all roofing pros want and need. As the roofing world rings in 2022, iRoofing introduces a new web-based measurement solution. Since 2012 iRoofing has offered roofing contractors its unrivaled DIY app for portable devices, compatible with iOS and Android phones and tablets, capable of producing detailed measurement reports from satellite, aerial, drone, and blueprint images. Now it features a fully
web-based measurement tool.
The #1 DIY Roof Measurement Software is Now Online
iRoofing has put its roof measurement tool online, giving contractors yet another convenient way to create and share with coworkers and clients detailed, professional reports created from satellite images.
iRoofing's innovations over time have included not only its advanced measurement tool that revolutionized the way contractors specify and sell residential and commercial roofing jobs, but also an instant estimator, realistic roof simulator, lean customer management tools, and, most importantly, digital sales presentation tools.
Roof Measurement Online Facilitate a More Focused Sales Effort
The web-based version of iRoofing sets the stage for increased efficiency within any size organization. Now online roof measurements become a task easily performed by office personnel so that sales representatives never have to take time away from presenting and "closing" new opportunities.
Create Detailed Measurement Reports on a Big Screen
The new web-based version of the app also gives users the option of creating roof measurement reports on a desktop PC —  a larger work screen interface compared to iOS and Android smartphones or tablets which up until now were the only devices compatible with the iRoofing app.
Roof Measurement Online... More Devices at No Extra Cost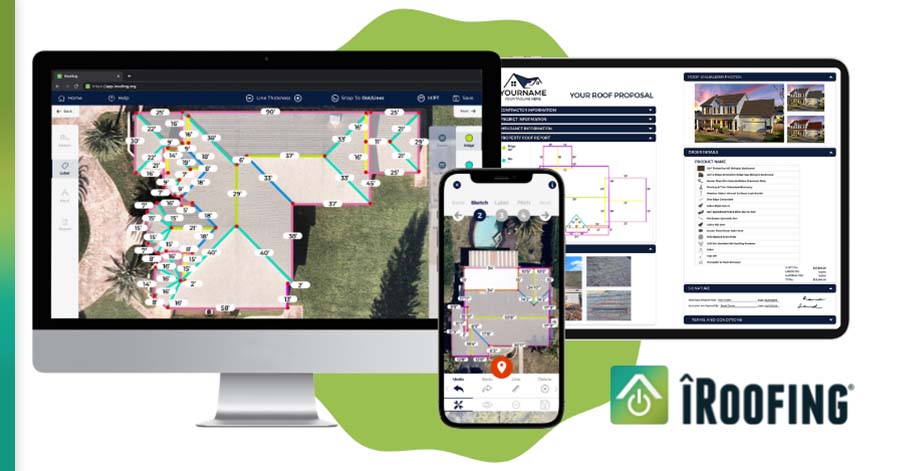 A single iRoofing subscription has always allowed companies to have not just one user, but three. Plus, there is no additional cost for access to roof measurement online with iRoofing's web-based version – essentially providing 4 software "licenses" under one, low-cost monthly or annual subscription.
Unlimited DIY Roof Reports, Instant Estimates, Roof Visualizations, and More
iRoofing's full-featured, simple-to-use app is subscription-based and lets contractors create an unlimited number of roof reports, instant estimates, simulations, and presentations that save businesses time, reduce ladder time, enhance on-the-job safety, and frees them from any need to purchase reports from 3-party vendors, many of which share personal data and company contact information with aggressive marketing partners.
Roof Measurements Online - The First Step Toward a Cloud-Based Collaborative Roofing
The web-based version of iRoofing is just the first step toward a fully collaborative, cloud-based platform in which users can share data in real-time. Permission-based access will be fully controlled by the contractor's assigned staff administrator(s). 
iRoofing's first iteration of its web-based option is simple but powerful, containing the DIY satellite image roof measurement feature which put the company at the forefront of roofing software a decade ago. The new web-based version of iRoofing makes a perfect companion to the full-featured portable app. In 2022, iRoof-Web will undergo enhancements, adding iRoofing's Instant Estimator, Roof Visualizer, comprehensive Digital Products Catalogs<, onboard CRM, and Digital Pitch Book for custom-branded sales presentations.