You don't need a flagpole to display Old Glory.  With the contentious election results this year and as Veterans' Day 2020 draws near, we celebrate the patriotic Americans who show off the red, white, and blue on their roofs and buildings!  From creative shingle "mosaics," to manufactured gable vents… From colorful outdoor decor to spirited bunting, citizens are proud of property ownership and the freedom to pursue the American Dream.
Instead of a flag blowing in the wind, the wind blows through this flag! Even some roofing supply manufacturers have boarded the patriotic bang wagon. American Louver and Vent company "represents" with this unique gable vent.
Delving into other kinds of patriotic makeovers for home exteriors, there's no reason why a gung ho American homeowner can't pledge his or her allegiance with siding, like this!
A few years ago, disabled Marine combat veteran, Bob Daugherty, had the shingles of his porch roof made to display the great Stars & Stripes!
Wilson Roofing and Construction of Illinois performed the job… a true American classic for a true American hero.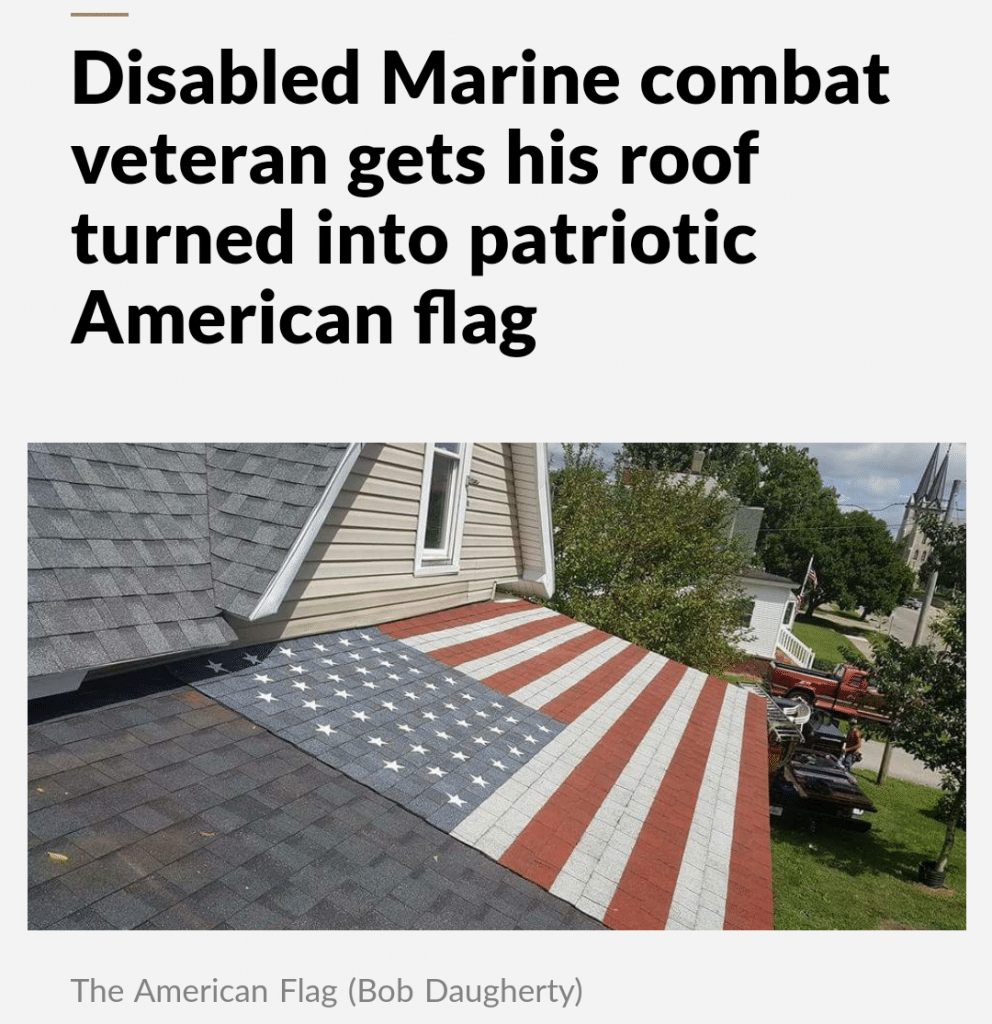 Asphalt roof shingles come in a wide variety of colors.  So, why not mix it up a little and show your true colors, as this patriot does? Coupled with a stellar nativity scene, his God Bless America message is complete!
Barns have long been used as billboards for one thing or another.  They're fair game, especially when they are just sitting there no longer housing tobacco or grain. It doesn't get any more Americana than seeing Old Glory gallantly hanging from an old barn!
Metal roofs are perfect for showing The Colors. All it takes is a good coat of exterior paint. Make-believe you're that famous Army veteran, Jasper Jones, whose painting entitled "Flag" was auctioned for $36,000,000 in 2014!  OK, you probably won't get rich painting your roof with the stars and stripes, but your patriotism can't be bought and sold, anyway!
Check out artist Scott LoBaido's depiction of a giant flag on the roof of a factory near the Houston Hobby Airport!  America is the land of big dreams where anything is possible, right?  Evidently, big flags are a thing too. Well, everything's big in Texas, so they say.
Hey, wait a minute.  Trucks have roofs, too… and siding, and windows, just like homes and buildings. Why can't they reflect American patriotism? Ah, they can. Just look at this inspiring roofer ride. Check out other "Wicked Wheels of Roofing" in our blog.
Have you seen any roofs that "represent?" Share them with us on Facebook @iroofing and we'll post them here.