Slip on a pair of cat-eyed sunglasses and try to think back to a time in the 1950s and 1960s when porches, carports, sheds, shelters, and even a few quaint little homes sported mod roofs of wavy, translucent fiberglass panels. Can you picture it? That casual and inexpensive form of roof covering always managed to cast a warm, psychedelic-tinted glow on indoor and outdoor spaces alike – letting in just enough sunlight to create the grooviest ambiance in the neighborhood. If you looked closely you could see a helter-skelter of fiber "mesh" impregnated within the resin-like polymer of the roofing panels, contributing to the material's incredible strength and ideal light-filtering qualities.
Corrugated metal roofs have a similar shape to fiberglass panels, but the colorized and non-pigmented fiberglass-reinforced sheets were a do-it-yourselfer's dream back in the day and homeowners were able to find these products at most local hardware stores and lumberyards.
Of course, this material is still around – it's just not that popular anymore for widespread residential uses.  However, corrugated fiberglass continues to find a place in many commercial projects and for architectural accents.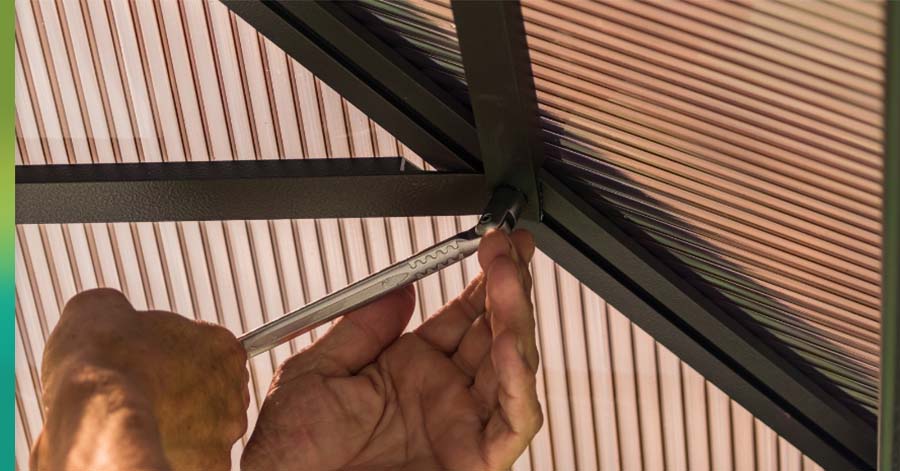 Key Benefits of Fiberglass Roofing Panels
Commercial use:

Corrugated fiberglass roofing panels (FRP) are sensible for many commercial projects because they can be scaled for large installations.

Water-tight:

Overlapping panel assembly prevents water from getting in between the panels, similar to top-of-the-line commercial and residential metal panel roofing.

Stylish and durable:

FRP is flexible, tough, corrosion-resistant, stylishly translucent, and available in several color choices.

Cost-effective: Fiberglass roofing panels are easy to handle, transport, install, and they last a long time. Compared to other materials such as wood, steel, aluminum, which are competitively priced, fiberglass generally lasts longer and is easier to maintain.
Shabby Chic and Cost-Effective
Seldom associated with the permanence and elegance of a slate, shake, tile, or even asphalt shingle roofing – colorful, translucent, corrugated fiberglass roofing was desired for its practicality and its "cool factor." Lately, there's been a resurgence of corrugated fiberglass for architectural accent walls, privacy fencing, and alternatives to the customary siding.  Both corrugated metal panels and fiberglass are being used for these purposes to add a chic, contemporary look to homes and buildings.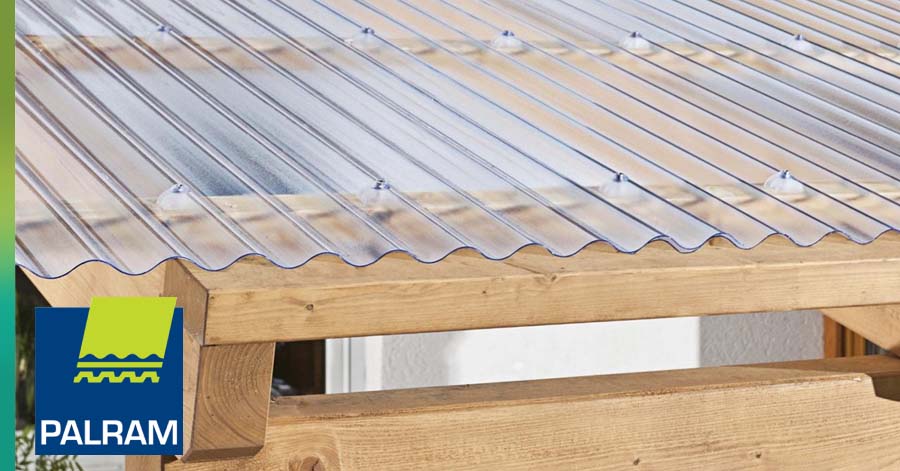 Popular Brands of Corrugated Fiberglass and Polycarbonate Roofing
What are corrugated fiberglass-reinforced panels (FRP)?
FRP is the industry acronym most commonly applied to corrugated translucent fiberglass reinforced plastic (or polymer). The material is made from polyester resin and fiberglass.  When a hardener is added to the resin the material performs in extreme heat and cold weather conditions without shrinking, curling, cracking, or expanding.  One of the most appealing aspects of FRP and polycarbonate panels is that they filter sunlight, diffuse glare, and provide a cooling effect to the spaces they cover.  Some materials also block out solar ultraviolet radiation. The load capacity of the panels depends on the supporting structure, i.e., framework and decking.
Uses of Corrugated Fiberglass Roof Panels
Contemporary, structural daylighting solution

Patio, entryway, carport, greenhouse… single-skin roof system

Factory or warehouse roofing

Commercial walkways, parking lot and transit shelters, 

Shed, gazebo, and other auxiliary building roofs

Privacy walls and siding accents