Remember when your dad tried to teach you the proper way to use a hammer? Kids tend to hold the hammer near the top of the handle, but dads know better. To drive a nail into a board with just a few swings requires gripping the hammer towards the lower end of the handle, which gives the hammerhead the velocity and power needed to sink that nail in a few strikes! It took some smooth technique to hit the nail on the head each time, and as a kid you might have bent more than a few dozen nails just getting the hang of it! Roofers might be among the best nailers in the universe, and while many still rely on the old fashion roofing hammer to install shingles, most opt to use a nail gun. Nothing provides the speed and convenience of a modern pneumatic roofing nailer!
Special Nailers for Specific Jobs
Roofing nail guns are distinct from nailers used for other tasks like framing. Nail guns for roofing have a shallower angle and hold coiled fasteners to reduce the need for frequent reloading, which would add another safety risk while working high atop sloped roofs.
Evolution of the Roofing Nail Gun
The concept of using pressurized air as a way to perform various jobs more easily emerged about 2,000 years ago from the mind of Greek mathematician and engineer Hero of Alexandria who invented the first steam-powered device. Centuries afterward, a German came up with the idea of a vacuum pump, leading to the invention of pneumatic-powered tools. The precursor to modern-day roofing nail guns appeared in the 1940s. A civil engineer working on Howard Hughes' ambitious aircraft, the "Spruce Goose," christened in 1947, developed the nail gun as a means to more efficiently assemble all the wooden planks that made up the airplane's striking veneer, ascribing to it another nickname – The "Flying Lumberyard!"
Roofing Hammers Remain a Mainstay
Today's roofing guns are extremely popular with builders and roofers, despite some contractors remaining purists who prefer the precision and control afforded by a good ol' roofing hammer. According to Bill Ragan Roofing of Nashville, Tennessee, "While air gun nailing might seem faster, the key difference is accuracy. Hand-driving nails into shingles allows for the roofer to place the nail on the proper nail line and then drive the nail in, ensuring that the nails are properly placed each and every time because the head of the hammer stops flush on top of the shingles." 
Handle Roofing Nailers with Care!
If not used with care and plenty of practice, nail guns can be hazardous. Each year, approximately 42,000 people check into emergency rooms courtesy of a nail to the hand or foot by reckless use of roofing nailers, and 60% of the self-inflicted are building pros! Nevertheless, roofing nail guns are the ideal tool for speeding up a roof installation or roof repair job and there are about thirty brands of roofing nailers available in the U.S.  
Pneumatic Nailers Lead the Way in Roofing
Pneumatic nail guns are the most popular type. They function using a compressed air supply. Roofing nail guns are commonly pneumatic-powered tools, but they can also be solenoid-powered.  Solenoid-powered nailers operate with electromagnetic polarization. Some nail guns simply plug into 120-volt outlets, which aren't great for roofers for obvious reasons. Powder-actuated nail guns use an explosive gunpowder charge to drive pins into concrete, steel, and hard backing materials. Finally, there are nailers which utilize gas cartridges. These are called combustion-powered nail guns.
Nail Gun Energy Sources:
Pneumatic nailers (Powered by an air compressor)
Air spring drive nail guns (Springs fire nails out of the chamber)
Solenoid nailers (Powered by electromagnetic polarization)
Cordless nailers (Powered by AA batteries and fuel cells)
Plug-In, electric-powered nail guns (Plugs into a standard 120v outlet)
Powder-Actuated nail guns (Works similarly to a firearm)
Combustion-powered nailers (Powered like a car's pistons) 

Nail Gun Uses and Common Specifications
If you think nailers are used exclusively for roofing and framing jobs, think again. Nail Gun Depot categorizes its inventory into more than a dozen different specialty nailers. Nail guns are designed differently for each job purpose:
Roofing Nailers
Cap Nailers for house-wrap or roofing underlayment
Brad & Pin Nailers
Framing and Sheathing Nail Guns
Flooring Nailers
Siding and Fencing Nailers
Pallet and Crating Nail Guns
Metal Connector Nailers
Concrete & Steel T-Nailers
Duplex Nailers for building concrete forms and scaffolding
Jumbo Timber Nail Guns for "post & beam" construction
Palm Nailers for confined areas
Nail Guns for upholstery work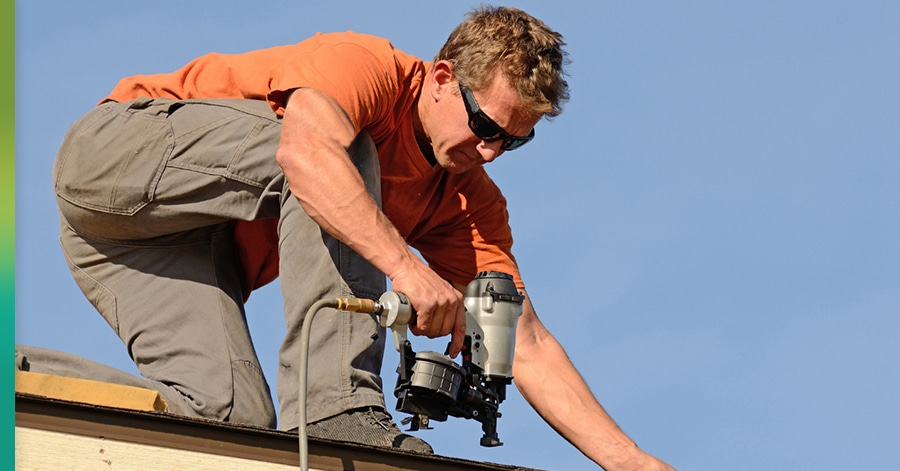 NOTE: Most roofing nail guns will be described with a degree of angle, i.e., "15°." The angle degree can refer to the slope of the feeder that holds the nails, but it commonly refers to the angle at which the nails are set into their drum or cartridge. Nail configurations are often described as collated or coil. For pneumatic nailers, collated nails are nails assembled in strips, while coil roof nailers use a round drum, similar to an old infantry machine gun. Nailer descriptions also include the nail size (length and gauge) accommodated by the tool, i.e., "1-¾".
Like many other product evaluations, judging the quality and performance of nail guns for roofers can be a bit subjective. iRoofing found over 25 brands of nail guns made for roofing and other applications. We chose 10 of these brands to feature here, but if you're serious about getting a nailer with the power-source and features you need, check out all the many offerings presented by multi-brand retailers like Grainger, Nail Gun Depot, Harbor Freight, Home Depot, Lowes, Tool Barn, Amazon.com or your favorite roofing supply distributor. Based on product features and reviews, here are iRoofing's top picks…
Our Top 12 Roofing Nail Guns:
1. Bostitch Roofing Nailer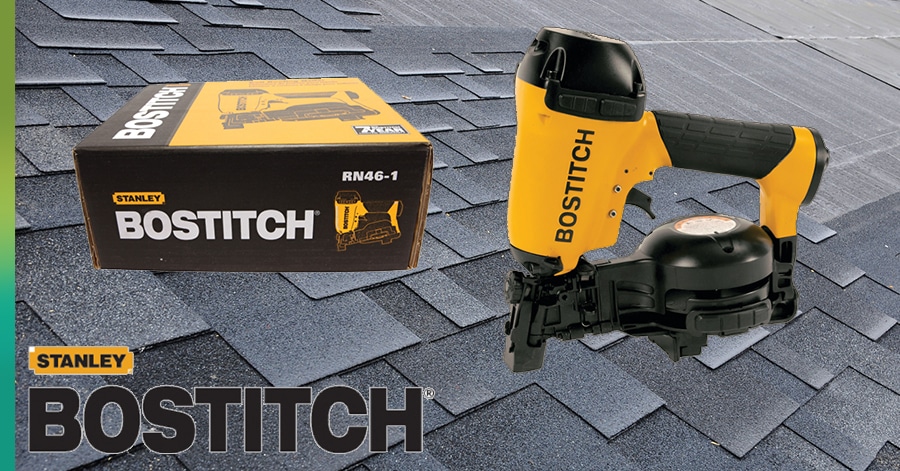 Stanley Bostitch is a long-time leader in the design and manufacture of staplers, staple guns, nailers, riveters, and other power tools. The company's cordless, air-powered roofing nail guns, like its RN46-1 coil roofing nailer is excellent for composition roofing, vapor barrier installation, insulation board, fiber cement siding and vinyl siding.
" Worked perfect, as expected from a new Bostitch. Never a misfire, and loading is super easy with the flip open one-piece side." Real User Review
2. WEN 61783 Roofing Nailer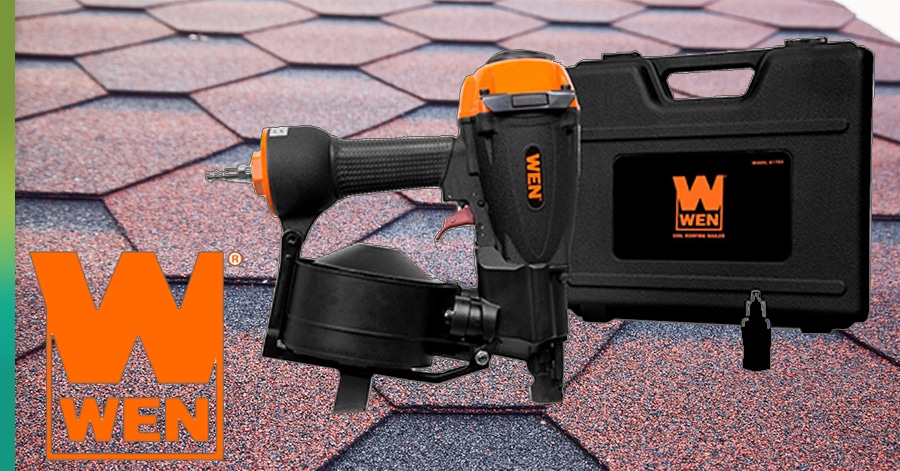 This moderately-priced roofing nailer holds up to 120 nails per load and allows a variety of 11-gauge (.12 inches) nail sizes ranging from 3/4 of an inch to 1-3/4 of an inch. You can adjust the firing depth of nails with an easy depth-setting wheel on the head of the tool, and clear jammed nails with the quick-release compartment aside the magazine. "This is my 2nd roof using the WEN Pneumatic Coil Roofing Nailer and it is flawless. Great price, easy to load and use, and it comes with its own case." Real User Review
3. Makita AN454 Roofing Nailer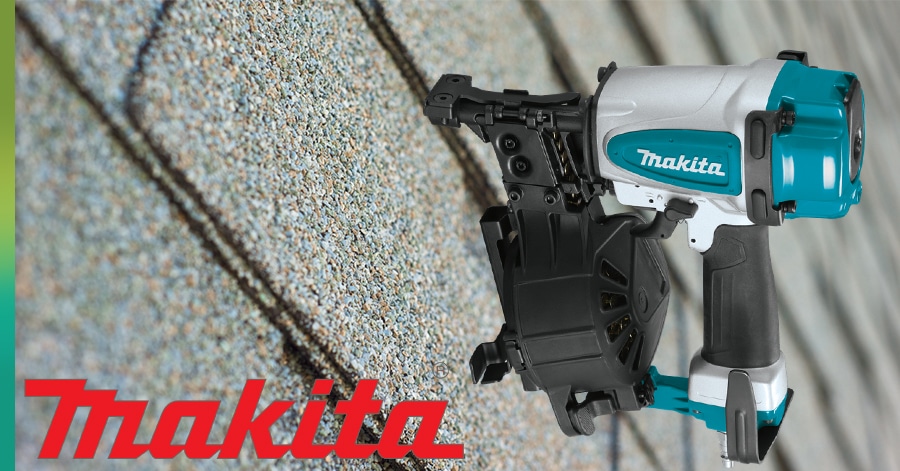 Count on precise control and flush nailing with this reasonably-priced roofing nailer. The Makita AN454 uses 120 shank diameter coil roofing nails from 3/4" to 1-3/4" nails in length. This long-lasting tool's lightweight aluminum housing reduces fatigue, but its steel wear plates reduce abrasion damage to the tool. 
"This is an excellent tool… works perfectly. I have only done one roof with it so far but very impressed, it makes a job go very quickly. This was also the best price I could find for a name-brand coil roofing nailer."  Real User Review
4. Milwaukee Tools Roofing Nail Gun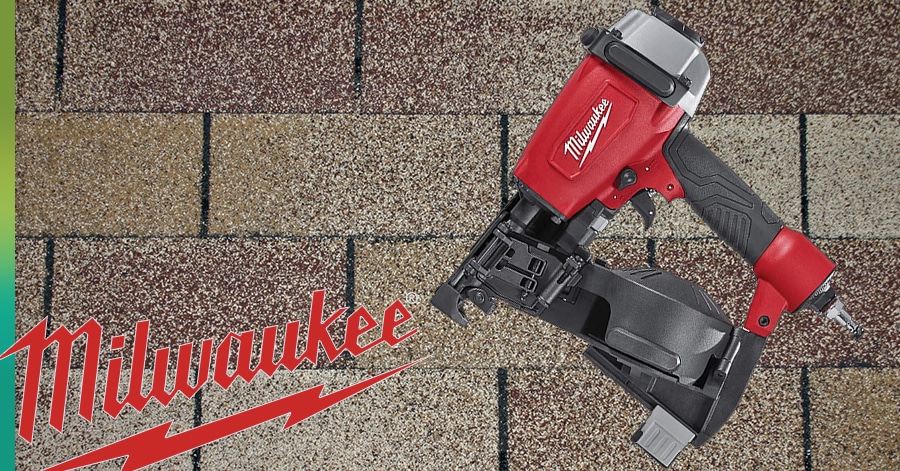 Milwaukee Tools' 1-3/4" roofing nailer has a magnesium housing so roofers can work longer without tiring out. The magazine holds 120 galvanized wire collated nails from 3/4 in. to 1-3/4 in. length. This tool is smartly designed to avoid overdriving nails. There's a nifty self-cleaning air filter to keep out dust from the machineworks. Breath easy, as the tool also has a muffler to blow exhaust away from the user.
"Works very well and consistently puts down nails at the correct depth. Other tools I've used would vary the depth of the nail and I had to either drive them in by hand or put in another nail because it went through the material." Real User Review
5. Dewalt DCN45RNB Roofing Nail Gun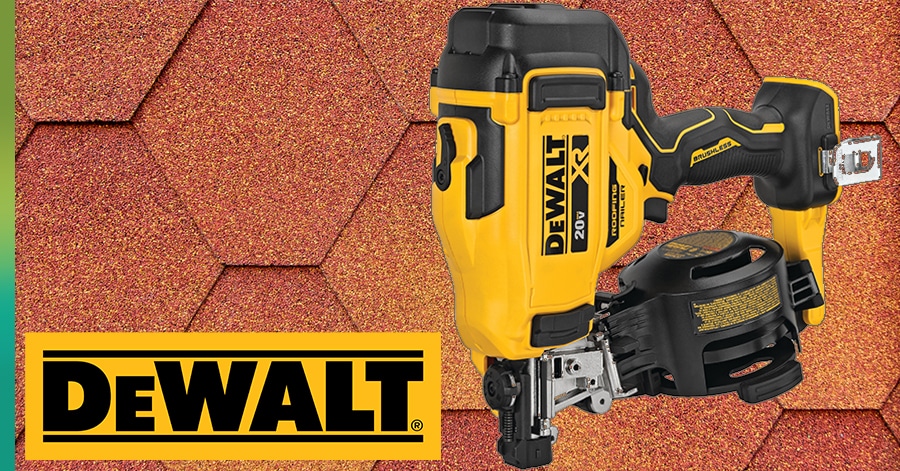 Dewalt's 20-volt 15° nail gun is a convenient backup tool to a roofer's heavy-duty nailers. It's ideal for roof repairs and small jobs. No hoses, no compressors, no gas cartridges required. Though it's a light-duty tool, this cordless roofing nailer accommodates a full range of roofing fasteners. Dewalt's effective depth adjustment provides precise nail placement, too. "Larger jobs would require a pneumatic gun, but there isn't a doubt in my mind that this nailer could tackle a full roof…"  Real User Review
6. Rigid R175RNF Roofing Nailer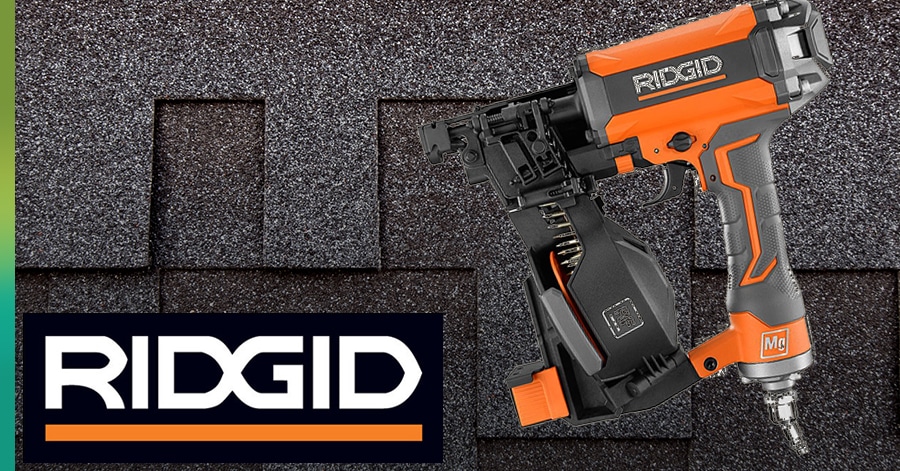 The Rigid 1-3/4 inch roofing nail gun combines ideal weight, speed, and power. This coil nailer serves roofers' needs well in any type of job. Ridgid provides one of the best service agreements in the power tool industry, so when you get one of these dependable roofing nailers you automatically qualify for free life-long replacement parts – such as those that tend to wear on all pneumatic nailers: o-rings, free piston stops, free driver blades, and the like.
"I switched all my tools over to Ridgid back in 2008 and this included 6 pneumatic roofing coil nailers, 2 Shingle Cutters, 2 palm nailers, 1 Jobmax with sander & saw heads, 1 Tri-Stack Compressor…These tools are about 12 years old and I've only had 2 Battery packs die, and regular wear service on my Compressor since! Real User Review
7. Grip-Rite Roofing Nailer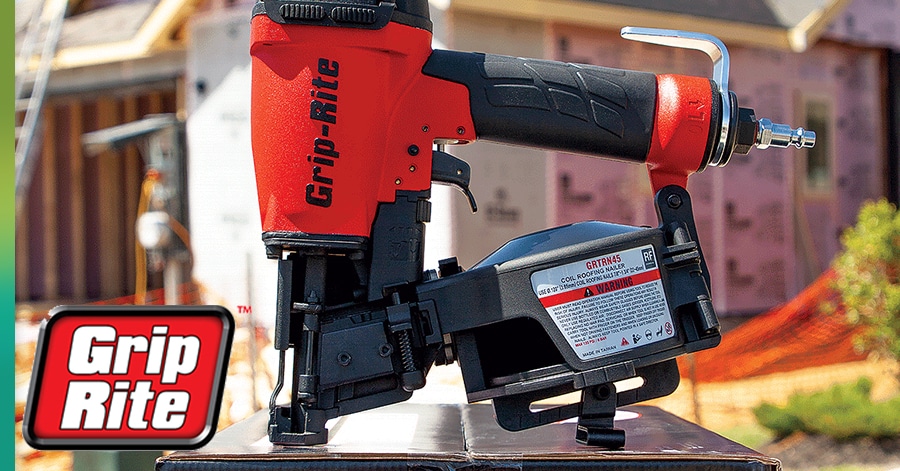 Another roofing nailer with favorable reviews is Grip-Rite's lightweight nail gun, model GRTRN45. It has excellent balance that reduces arm and back fatigue, and it features a metal rotating belt hook for convenience. A fixed metal exhaust plate adds to the tool's performance on heavy duty jobs.
"Overall it's a nice roofing nailer for the price. Lightweight and easy to carry around. I must say it worked great!" Real User Review

8. Porter Cable Coil Roofing Nail Gun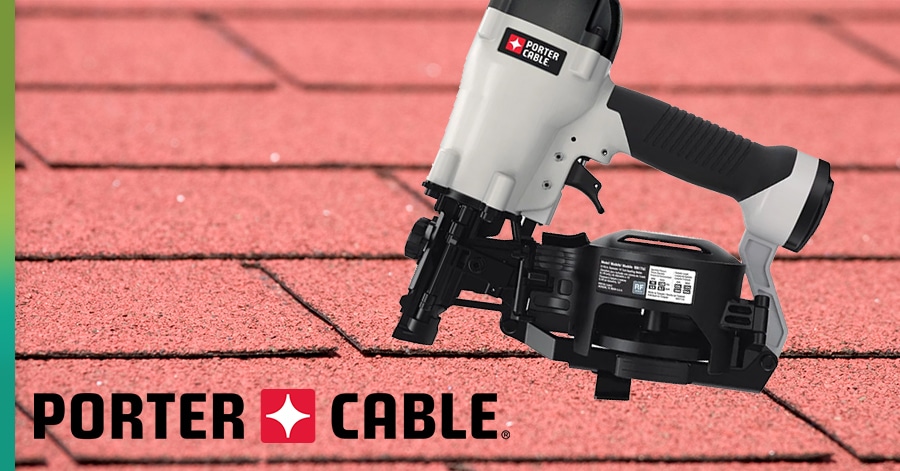 Porter Cable presents yet another fine 15° degree pneumatic coil roofing nailer that drives 3/4 to 1-¾" nails. It's lightweight and very well balanced. Since carpal tunnel syndrome can be a side effect of heavy use of nailers, Porter Cable's focus on ergonomics and comfortable grip design promote trouble-free task completion on even the biggest jobs.
"I put on 72 bundles of architectural shingles. Gun performed very well. 21 more to go!" Real User Review
9. Husky Pneumatic Coil Roofing Nailer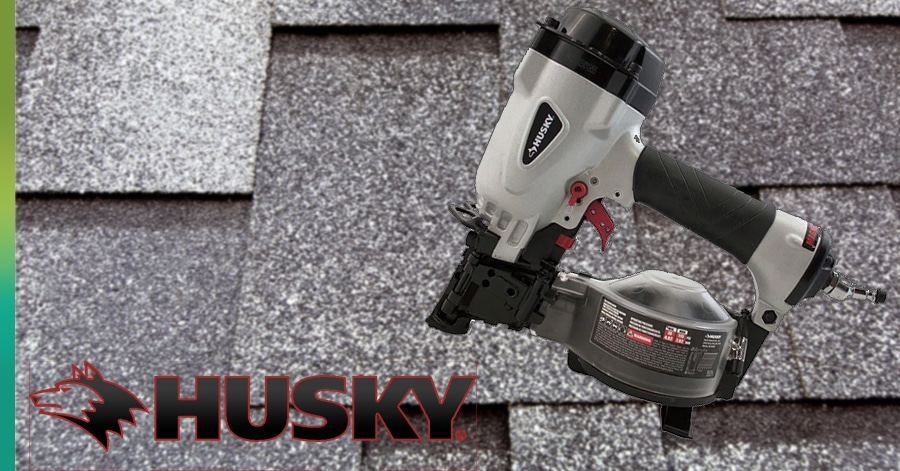 Husky's affordable roofing nailer is great for installing asphalt shingles, cedar shingles, roof and wall sheathing, insulation board, and fiber cement siding. This nailer drives 15° wire-collated roofing nails from 3/4 in. to 1-3/4 in. Specifically designed for fast and repetitive bump firing. "The little thing rocks. It's a manageable size, easy to load, and hasn't jammed at all. Made my job way faster and easier. So glad I got it." Real User Review
10. Freeman PCN450 Roofing Nailer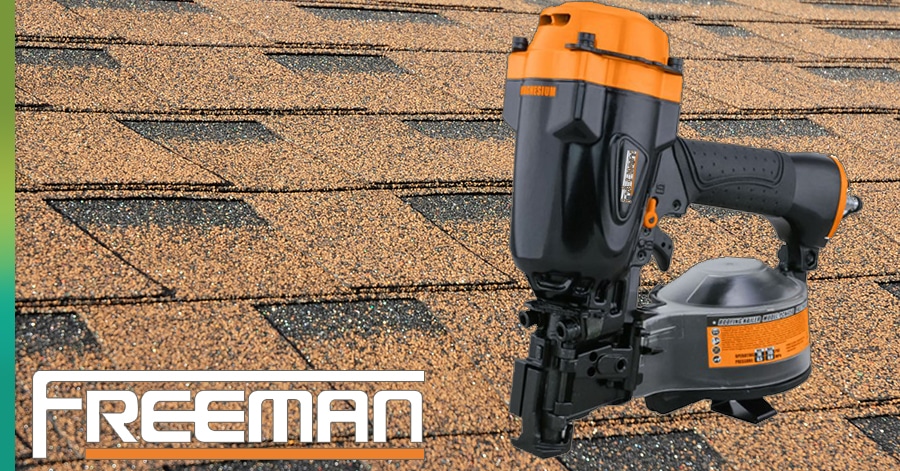 Another of the solid, lower-priced nailers is Freeman's pneumatic 15° 1-3/4″ rapid-fire coil roofing nail gun – the PCN450 model. Designed for applications including siding, underlayment, asphalt, and cedar shingles, this nail features a magnetic nail holder that aligns the nails when loading and helps prevent jamming. Speed and accuracy are facilitated by the nailer's bump fire trigger. This is another comfortable, lightweight tool thanks to its magnesium body.
"I bought this as a replacement for a less expensive gun that would not reliably shoot 1/34″ ring shank siding nails. Still had a few jams but it performed very well. The nail depth adjustment works very well and with a little practice." Real User Review
11. Metabo Roofing Nail Gun (formerly Hitachi)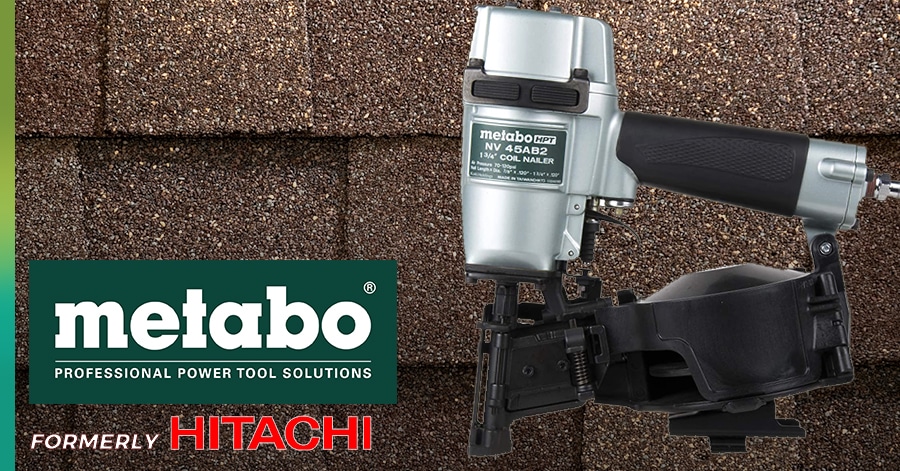 Roofing Pros who've seen this blog have asked us "What about Hitachi?" Great point. Hitachi nailers were rebranded under the name Metabo. One of Metabo's great nail guns – the Metabo HPT NV45AB2 roofing nailer – is well balanced and just a little over 5 pounds. Since the nails are coiled, as they are in other brands we reviewed in this piece, the center of gravity is just right. The HPT NV45AB2 rarely misfires or jams. The Metabo expels nails sequentially with a pull of the trigger, but it also bump fires with just a quick switch of the trigger setting.
"…I have purchased 5 Hitachi and 3 Metabo tools – all of which are of the highest quality. Some have suggested that the name change (from Hitachi) resulted in a poorer quality. Nonsense!" Real User Review

12. MAX CN445R3 Superroofer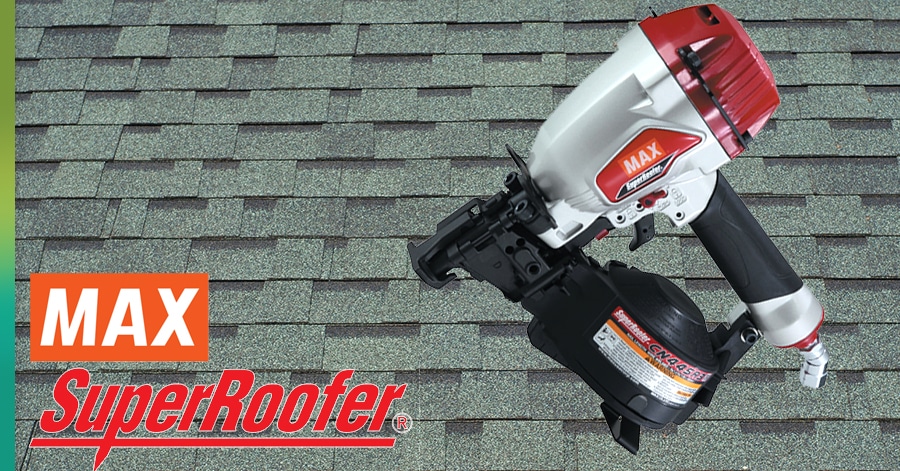 MAX stakes the claim of "the world's first roofing nailer." The company's high-performance fasteners are durable and engineered for safety. The SuperRoofer® CN445R3 coil nailer allows roofing specialists to drive nails in "flush," thanks to in part to a full round head driver blade. The Max nail gun for roofing also features a tar-resistant nose to thwart tar build more effectively than competing brands.
"Solid. American made. Drives nails the perfect depth consistently. Used daily for two weeks straight. The only time it misfired or jammed, was my fault as the pressure was set too low…"  Real User Review
Look for updates to this blog as the team at iRoofing studies many of the other roofing nail gun brands on the market. The list goes on and on.  As always, iRoofing wants to make your job safer and more efficient. That's why our software is used by thousands of roofing pros throughout North America and even overseas!
Again, look for updates to this blog to include other nail gun brands, like…
Ryobi nail guns for roofing pros
Stinger nail guns and fasteners
Paslode nailers for roofing jobs
Duo-Fast nail guns for roofing applications
Porta-Nails nail guns for roofers
PowerSmart nail guns
Banks roofing nail guns
Crisp-Air roof nailers
Prebena roofing nail guns
Senco nail guns and fasteners
Iron Horse nail guns for roofing pros
Steel Core nailers