A terrific piece was published on March 30, 2020 by Roofers Coffee Shop editor, Karen Edwards. In the article, Edwards addresses 10 Questions Roofing Companies Need to Ask When Looking for New Software.
Today there are several roofing applications— some the same; most vastly different. The cavalcade of handy apps range from the simplest measurement tools to truly full-featured solutions designed with the supreme intent of helping roof pros bid and sell more jobs.
Almost all roofing companies can benefit from adapting to technology, but making the right decision on roofing software could be the difference between transforming your company overnight versus struggling with a solution that doesn't achieve the results you expected. Ultimately the results that roofers seek include safety, speed, cost-efficiency and bottom-line profit!ers
Here, iRoofing answers each of the questions Roofing Contractor Magazine features in 10 Questions Roofing Companies Need to Ask When Looking for New Software.
1. Is this software the best for my company's specific need?
If you do in-home presentations, measure, estimate, and order materials iRoofing is the software for you. It fits the vast majority of roofing projects and there is nothing as comprehensive and as reputable in the market as the iRoofing mobile app for iPads, Android tablets, and smartphones.
2. Does it have an open, scalable platform?
We address this in the related question, below…
3. Is the software scalable and does it allow employees to access and work virtually?
Yes. Each subscription includes 3 users. You can add as many users as you'd like and all can communicate between themselves. With the addition of iRoofConnect (coming out Spring 2020), your assigned admin will be able to see any project at your company, whether it's completed, proposed, or underway.  Download and share measurements reports, estimates, and simulations. Upload photos to your PC and from there, add them to any CRM.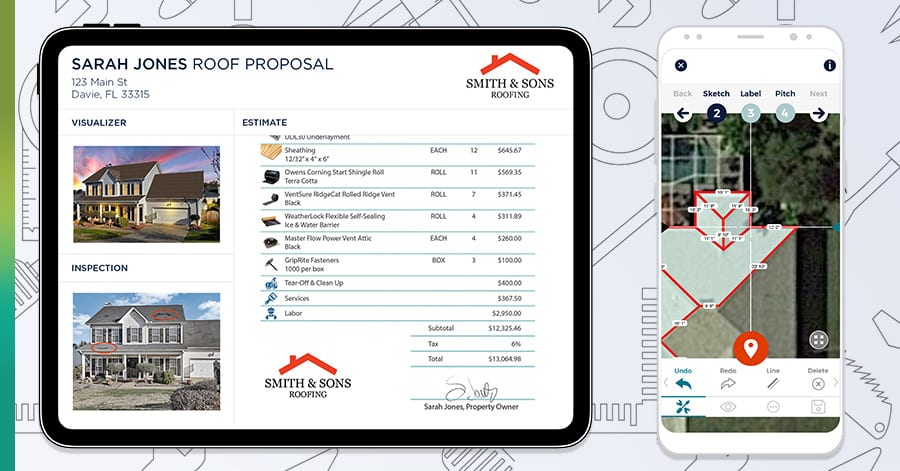 4. Does it fit the roofing company's employees, processes, or workflows?
iRoofing is a great software for sales presentations, plus it's so easy to learn that anyone at your company will be comfortable using it. It  saves money on measurement reports and reduces the need to drive to the jobsite. It also saves time on estimation and measurements thanks to the app's instant estimate function. But above all, iRoofing's greatest value is aiding the closing of more sales via responding fast and impressing property owners. Your customers will appreciate the verified technology; your accuracy and transparency; and the magic of the app's Roof Visualizer to make their product selection with greater confidence and ease.
5. Does the software company have experience in commercial roofing?
Yes. iRoofing is constantly adding more features for commercial roofing pros, such as, a new parapet wall measurement functionality and additional manufacturers' product lines for commercial projects. These are all accessible within the app's extensive digital catalog. Plus, the creators of iRoofing come from the fields of roofing material distribution and architecture. They and the whole iRoofing team continually works to add new features and device compatibility.
6. Does the software company offer knowledgeable support teams, training, and service?
Free & unlimited training is another core strength of iRoofing. You'll be assigned a dedicated Account Manager to work with and learn the software. We'll pick up the phone, respond to online chats, as well as, your posts on social media, quickly! Our hours are 8:00am – 6:00pm EST Monday-Friday.
Many of the reviews we receive from clients attest to the responsiveness of our support team.
7. What does the industry say about the software?
Since iRoofing, back in 2011, became the first DIY tool in the market for satellite, aerial, drone and blueprint measurements, the brand has garnered a lot of positive press and support from the industry. But don't take our word for it. See for yourself what contractors are saying about the software. We are present at the major industry events and try to make a strong impression thanks to our full-featured platform and our ever present DINOSAUR who reminds contractors to EVOLVE or go extinct!
8. Does the software company have a history in the industry?
Yes. Again, the founders come from backgrounds in roofing distribution and architecture. Some of our Account Managers and Software Consultants have worked in building and construction. Plus, iRoofing never stops innovating. Now, the company is enjoying its 8th year of success. We keep proving our strength and stability as a company even during the crisis of COVID-19.
9. Will the software fit our budget?
Nothing in this price range ($129/mo for 3 users…$35 for each additional user) provides an entire tech toolset in one dependable application. Unlimited, instant roof reports, estimates, and simulations make iRoofing so much smarter than spending money, time after time, on 3rd-party roof measurements. The money that you save is one thing… the money that you'll earn is more significant.
It's iRoofing, need we say more? A FREE demonstration and FREE no-obligation 14-trial will convince you that iRoofing can be a key sales driver for your business…iRoofing.org
Finally, if you are experiencing any demand for estimates that do not require a face-to-face visit with the property owner due to social distancing, or just because you'd rather sell from the comfort of your office, iRoofing can be your ace in the hole. Let us explain how. Try it for free.  We are in this TOGETHER!