Tried & true methods for preserving your profit margin and building your brand
Roofing Contractors are lucky folks. Why? Because there's a lot of opportunity out there. With the steady growth in the economy and consumer confidence on the rise, property owners are better prepared and more willing to maintain or upgrade their homes and businesses. Insurance claim values are also on the rise. Homeowners' payouts climbed 373% in just a little over a decade, reaching $12,654 (2018) on average per claim according to the latest figures available from the Insurance Research Council.
While contractors in construction fields are now paying about 30% more for labor due to the constraints on immigration, they don't need to absorb that cost. Labor costs affect all contractors in the same way, so a rise in labor costs don't produce any special competitive advantage or disadvantage. Increased roofing labor costs, just like increases in material costs, need to be passed along to clients.
It's worth adding that the U.S. labor force consists of outstanding workers and tradesmen whose work ethic is second to none. Regardless of the higher cost for labor, they earn every penny of it, especially roofers whose work conditions are inherently hazardous.
Any extra expenses you absorb will equate to a lower profit margin, less income to invest back into your company and equipment, and less money to expand or reward your crew.
When prices are on the rise, consumers have added motivation to search for the best value. In their assessment of overall value, a lower or mid-level price point usually ranks highly. As such, roofing contractors often find themselves on the battlefield of a price war.
Do You Have the Best Price or the Best Value?
While price too often reigns supreme, customers do care about other attributes when considering hiring a roofing company. The same goes with most products they buy. There's no better example of this than with personal items like clothing. Brand is often the #1 motivator. When you can find your preferred brand at a great price, the satisfaction is complete! Most customers are OK paying more for something they feel is going to deliver high quality, durability and a great new look. This also applies to roofing contractors and roofing materials.
Challenges to Roof Project Profitability
Sometimes you just have to play the game and get the job, even if it means going a little below your desired price. But you shouldn't let that become your business strategy like others do.
Whether your company is old or new, you have an opportunity to set yourself apart and stand above the majority of competitors who are fighting for projects by low-balling their bids.
This article addresses the common factors that can cause contractors to over compromise and negatively impact their profit margin:
Bidding too low to win a job

Underestimating the work by miscalculating SQs and material quantity

Losing profits due to onsite errors
Andy Near, the owner of Empire Contractors, a 20 year-old roofing company based in Michigan. Empire leads the commercial roofing industry in the Grand Rapids. Near says that bidding your worth should start with getting the most accurate measurements possible. "Contractors often get too busy to take the time and effort to properly measure a roof. This can lead to underbidding and a loss of profit potential to their own detriment." Mr. Near uses the iRoofing software to measure remotely from satellite and aerial imagery. While those measurements are consistently accurate, he backs them up by spot checking measurements when he gets to the job site.
Here are a few tried and true methods for protecting your profit and building your brand. By operating a modern, efficient, brand-oriented business, you'll be able to bid your worth and win more jobs: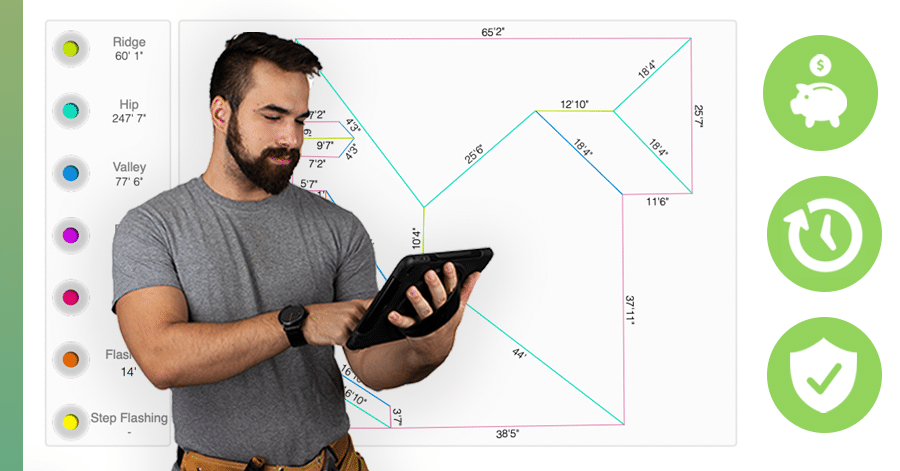 1. Accurate Price Projections
Bidding a job that will serve the best interest of your client and your own bottom line goals starts with carefully scoping the project. Know all the costs involved and understand how much time it's going to take. 
Measure each slope of the roof and factor in the accurate roof pitch. If the roof has a steep pitch, you know you'll need to factor in extra time and equipment.

Select appropriate and available roofing materials that suit the tastes and budget of the property owner.

Factor in all materials and accessories; bitumen sealings, drip edge, underlayment, ice and water, shingles, adhesives, flashing, coating, etc.

Determine if any added work is needed due to conditions of the decking. Sometimes light carpentry may be needed to repair eaves and soft spots in the decking.

Include an extended warranty. 
You can save a lot of time and ensure that your estimate is accurate by using roofing software like iRoofing. Perform measurements remotely and show up to meet the property owner fully prepared. 
When your estimate is carefully prepared and all-inclusive, you can review it step by step with the property owner so that they know what goes into a job done right! Your professional measurements and estimates are essential to gaining the customer's trust and justifying your pricing.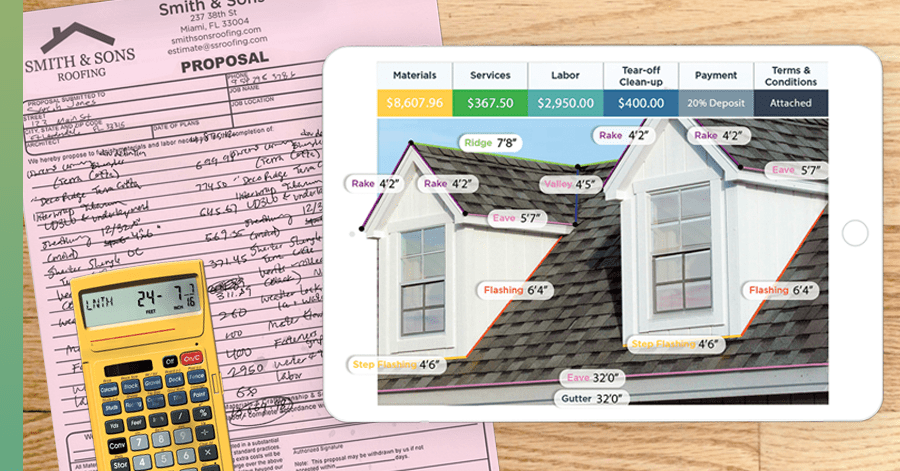 2. Educate the Client as You Explain Your Services, Estimate, and Products Advice.
You work hard to carefully put together your roof bids. You make an effort to account for all the right materials and accessories. You try to choose quality products and you're willing to put your reputation behind your workmanship.  If you're competing for the job or even if you're the lone consideration, it's a good idea to take time with the client to go step-by-step through each line item of the quote. This educates them about proper roofing installation practices and it helps them understand the value of your bid. Plus, if your customer does intend to get another estimate, they'll be prepared to compare apples-to-apples.  Your bid may be higher than a competitor's but the client will now know the reasons why. When hiring a roofing company property owners will appreciate your complete and inclusive line items and they'll understand the "extras" you bring to the table that can end up making your company the ideal choice. 
This is why iRoofing was created in the first place.  It's not just highly effective in driving productivity, it's a complete presentation tool which professionals like Andy Near use in all customer-facing situations. No other tool is designed from the ground up to marry productivity with impressive  sales presentation features.

3. You Are Not a Commodity
A commodity is a product or service that is without distinct differences from one to the next, like a barrel of crude oil or a grain of wheat. It makes no difference which one the buyer chooses.  Since there is no difference in the benefits between each product sample, price becomes the only determining factor to buyers. You don't want to be a commodity. In order to avoid being like all the rest, Reid Ribble – CEO of the National Roofing Contractors Association stresses the need to differentiate your brand. Identify and communicate some of the added-value benefits of working with your company, such as courtesy services. For example, Empire Roofing of Shelby, Michigan offers free roof inspections; referral rewards worth $200; and a free follow-up visit after any off-season roof replacement in order to check things out after the last winter snowmelt.
With iRoofing, digital roof inspection reports are detailed and professional. Unique  offerings can prevent your roofing company from being just a roofing service commodity.
4. Building Your Credentials
Many roofing contractors specialize in the roof systems of certain brands. Manufacturers like Certainteed, Boral, GAF, Owens-Corning, Conklin, and Johns Mansville issue star ratings, certifications or other forms of recognition based on the level of training in which a contractor has participated. For contractors who specialize in specific roofing systems, their strong manufacturers' ratings can serve as a unique selling point. 
It is also important to dispel any preconceptions a property owner might have regarding the professionalism of roofing crews. Subcontractor labor or crews that convey the image of a strong team can become a concern to property owners. Stress how your company tightly manages its crew. It's a plus when your crew members are your employees, too.  
Some contractors put their installers through rigorous training both in-office and on the job. Inform clients of your commitment to developing a skilled team that knows every detail of the roof installation process. 
Roofing contractors also hold memberships in trade organizations which can further vouch for their credibility. Empire Contractors touts their membership in the Choice Roof Contractor Group™, a nationwide group that provides high-quality commercial roofing services. Endorsed members of the group receive intensive factory training and instruction to ensure exceptional work quality.  
Demonstrating your company's involvement in the roofing industry and its commitment to keeping in step with the latest innovations in roofing materials and systems is certainly a factor to help you bid your worth and win more jobs.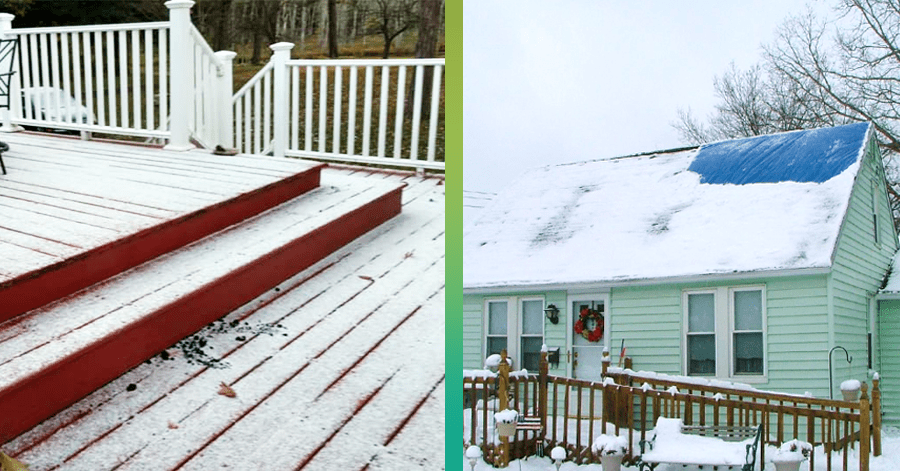 5. Anticipating Property Owners' Needs
Seasonal weather changes, severe weather events, signs of poorly installed roof systems, and aging roof materials are all motivating factors for property owners to engage with a roofing contractor. Instead of waiting for the demand that will inevitably come when bad weather or a deteriorating roof forces homeowners to seek assistance, you can be proactive! Invest some of your time and budget to get in front of the situation. Create the demand yourself! 
With a few advertising dollars invested in local media like radio, outdoor signage, social media, door hangers or mailbox stuffers you can be among the first and only roofing contractors to give prospects the heads-up on how to stay dry if their roof needs attention.
It is also advantageous to mention that you're a hi-tech roofer who is comfortable with modern tools – tools which can add safety and accuracy to each job, as well as, facilitate property owners' product selection process.  
Anticipating property owners' needs helps build your brand. With a strong, respected brand you should have no problem bidding your worth.
6. Modern Hardware and Software
When you run your business efficiently and when you bid your worth and end up with a fair profit for each job, you end up with more resources to invest in the best roofing tools. When you deal one-on-one with a client and you're reviewing the roof estimate on your iPad or Android tablet it sends a message. Property owners like to see that you are comfortable with technology. A great roofing app like iRoofing replaces the need for clumsy sample boards. A digital pitchbook takes the place of binders and documents can be filled out and signed right on the iPad or Android tablet, eliminating the need for carbon forms and a clipboard. 
Having new hardware solutions as well as the latest software is also helpful in bidding your worth. Empire Contractors invested in the Equipter® roofing buggy which makes installations and clean-up more efficient.  Homeowners don't like having their property reduced to a messy construction site. Modern machinery like the Equipter® , which helps keep the job site tidy and the roof removal process more efficient, serve as an effective selling point and can boost your company's perceived value.  
7. Branded Vehicles and Team Apparel
Roofing contractors who value brand consistency usually end up looking like top professionals. When a crew pulls up in a roofing truck emblazoned with the company colors, logo and slogan, property owners instantly sense they are dealing with an established brand. When they see you and your crew also donning apparel that carries your corporate identity, they sense your company is one they can rely on. And when they also see your branding designed into roofing software, (iRoofing enables you to easily do this), they are further impressed and confident in your professionalism. Check out this blog for ideas and resources.  Having a strong and consistent brand identity tells prospects you're serious, hard-working and successful. This will help you bid your worth and get the job.
8. Customer Service and Communication
Property owners businesses that provide exceptional customer service. Staying in close touch with customers through the presentation and sales process, the installation process and clean-up process lets them know you care. Strong customer relationship management contributes directly to positive reviews, recommendations and referrals. Satisfied past customers are key to bidding your worth.
NOTE:  Special thanks to Andy Near of Empire Contractors of Shelby, Michigan for his time and advice on how to earn the rightful amount of profit on roofing projects and how to avoid getting into bidding battles. 
iRoofing's mobile app for do-it-yourself roof measurements, detailed roof estimates, roof simulations, and more was built to support many of the value propositions outlined in this blog. We know that members, like Empire Contractors, are among the best in North America and we always value your input. 
Please comment below this article to share your thoughts.