Roofing Shirts to Facilitate Your Productivity
Short sleeve or long sleeve? Button-down or pullover? V-neck, turtle neck, or collared, pocket or pocketless? Men's or women's? When it comes to roofing and construction, the shirt holds the keys to comfort. What you slip over your torso could mean the difference between cool, productive roofing performance versus suffocating heat and soaking sweat.
Like no other work garment, roofing company shirts have benefited from endless hours of field testing and technical innovation to achieve shoulder and arm flexibility, overall breathability, sun protection, and style! Yes, pants, shoes, headgear, and the rest of a workman's ensemble are important too, but comfort begins at the top!
At iRoofing, we examined what today's roofers are wearing and why. Sometimes a roofer's shirt is part of a required company uniform – often screen printed or embroidered with a company logo. Uniforms provide a look of professionalism and instill an extra element of trust with customers. And, when roofers are free to wear what they please, they choose garments that will regulate their proper body temperature whether they're in cold conditions or toiling under oppressive heat.
Advanced-fabric button-down roofing shirts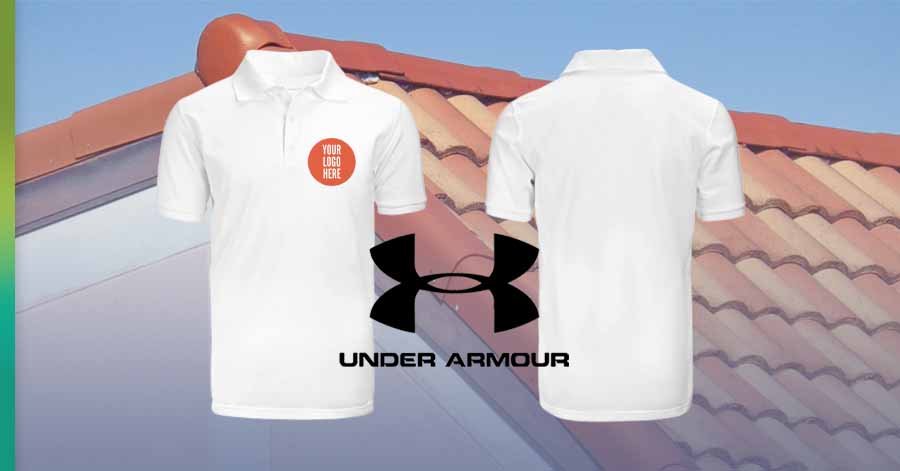 Under Armour helped pioneer specialized garments that keep athletes and laborers dry, cool, and comfortable all workday long. Among the brand's expansive collection of performance wear are great-looking polos for outstanding, branded roofing company shirts.
When you think of vented shirts for fishing, the brand Columbia Sportswear should come to mind. In 1938 the company began as a hat maker. Today, Columbia makes top-of-the-line outdoor wear including shirts including styles perfect for custom roofing shirts with mesh-lined back vents to let in and out a cooling breeze that's great for hot-weather roofing.
Breathable t-shirts for roof workers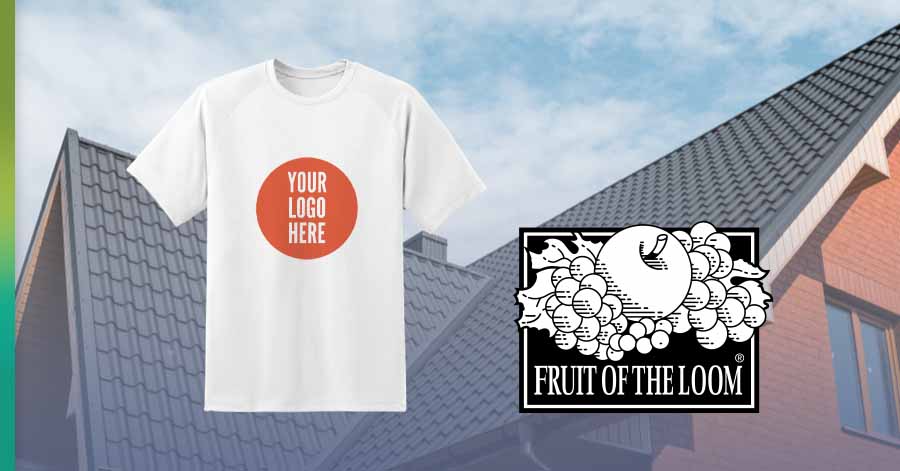 T-shirts are easily the most popular articles of clothing in world history. Tees never go out of style and never stop functioning perfectly for all kinds of activities, including sleeping! In a world where inflation is running rampant, the dependable Fruit of The Loom basic t-shirt is still just under $6.00!
You know them by the cool little "C" logo on the sleeve – Champion is a long-trusted brand making a wide array of comfortable threads for work and play. Their Classic Jersey Tee is just right for roofing pros, and it's made from U.S.-grown cotton.
Polos with your roofing company logo!
Port Authority makes this shrink resistance, moisture-wicking polo with a stain-release finish. It has odor-fighting properties, dyed-to-match buttons, and breezy side vents. This wrinkle-resistant shirt is perfect for meetings with property owners and other pre-construction activities.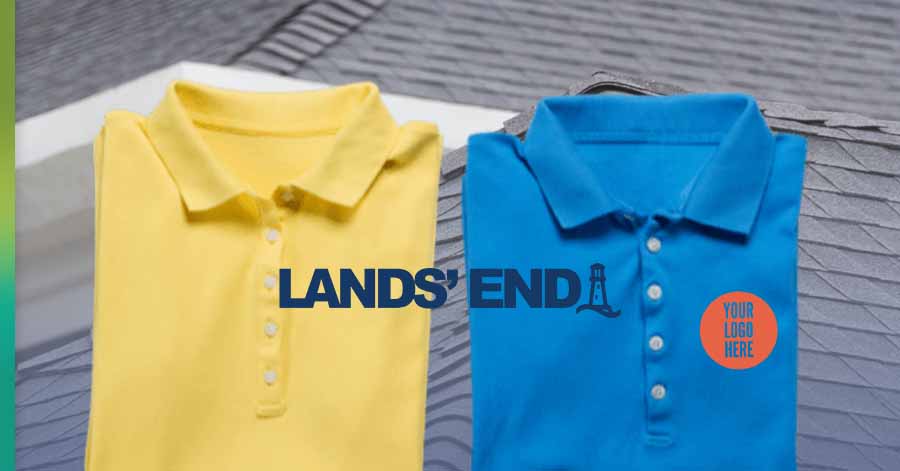 You'll make a fantastic first impression with property owners when you sport a Lands' End short sleeve rapid dry polo Shirt. It's breathable & slightly stretchy which helps wick away moisture, so it's great as a logoed roofing company shirt. The fabric also provides UPF 50 sun protection.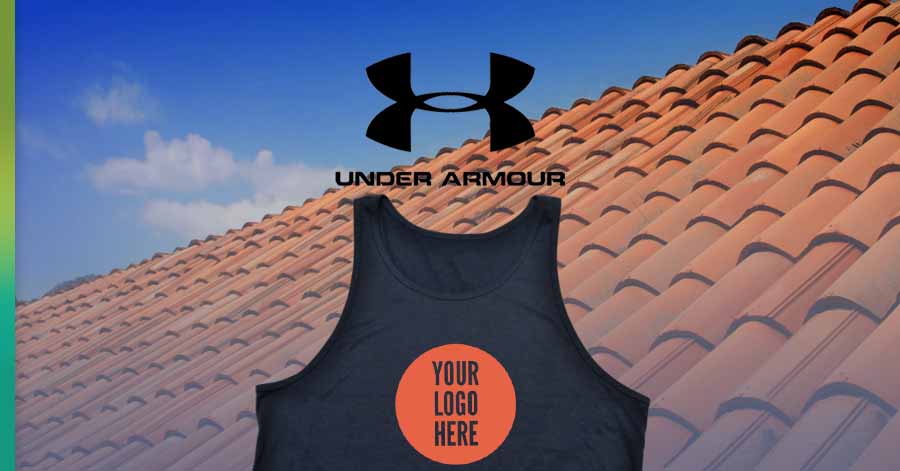 When you're performing roof removals or installing shingles, your body emits a lot of energy. Under Armour's mineral-infused fabric improves endurance with cooling mesh panels for efficient ventilation. Anti-odor technology prevents the growth of odor-causing microbes.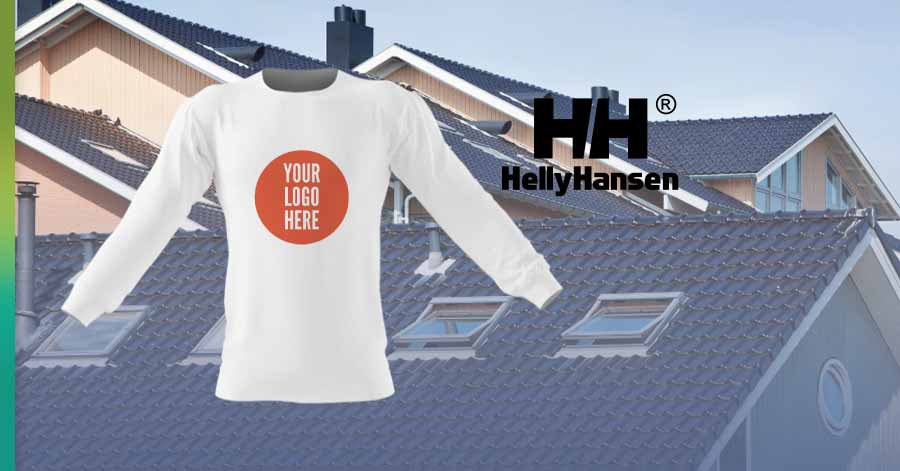 This comfortable performance men's base layer provides moisture management during aerobic activities. The HH® LIFA® construction is quick-dry, extremely breathable and light.  It's made from Polypropylene and specializes in wicking moisture away from the skin.


Make an Extra Fashion Statement with Roofing Technology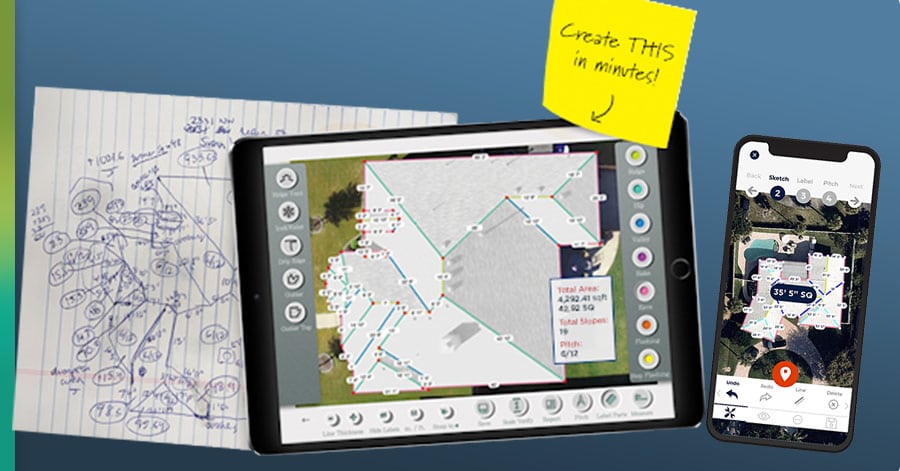 When you know what to wear for roofing safety, comfort and a professional look from head to toe, there's only one more thing more you must have to fully impress clients… the iRoofing portable app for measuring, estimating, simulating, and selling roof projects. Your iRoofing software for tablets and smartphones can be branded just like your team wear and truck wraps to make a strong statement about your roofing company. It's time to be a high-fashion, Hi-Tech Contractor™. Bid more, sell more, and look marvelous doing it!
Top Rated Roofer Clothing & Accessories
Visit a category below. Click on the box that interests you and see what workwear ranks among the best for those who toil on rooftops!