Integrated, Single-Sourced Roof Systems
Roofing Contractors tend to favor certain roofing products and accessories – brands, such as Owens Corning, Certainteed, GAF, Malarkey, and Atlas, just to name a few. Often, a contractor will earn a preferred status with a manufacturer or with multiple manufacturers. These preferred levels are essentially certifications, letting others know (by badges displayed on contractors' websites, truck wraps, and brochures) that they possess special skill levels and education in handling those products.
The availability of roofing products also varies from region to region. It's not uniform throughout North America and this often dictates which manufacturers and which products a contractor ends up favoring.
But there's more than shingles that make up a manufacturer's inventory of roof system components. The bigger brands offer all the major and minor parts, specially engineered to complement their shingles, tiles, or flat roof coverings. We're talking about the underlayments, ridge and gap shingles, starter strips, and ventilation parts.
According to Bobby Lambrix of Malarkey Roofing Products, "Component parts of our roofing systems are all made in the same facility. That's important because elements like shingle granules, NEX polymer modified asphalt, and fiberglass mat are all produced at consistent levels of quality control." 
Complete Roofing Systems Come with Stronger Warranties
When, in a single project, a contractor uses multiple components from the same manufacturer, they (and the property owner) normally qualify for upgraded warranty terms.  Sometimes these generous warranties allow every component to align with the shingle material guarantee, promising decades of total coverage on any factory defects to any and all components in the single-sourced roof system!  
Key Components of a Shingle Roofing System:
Strip shingles, dimensional shingles, or premium roofing shingles

Underlayment/Ice & Water shield

Starter shingles

Hip and ridge shingles

Ridge vents, static vents, and intake vents
Malarkey-certified contractors who install Malarkey shingles and at least 3 Malarkey accessories for what the company calls its Secure Choice™ system are provided an extended Emerald Pro Warranty at a non-prorated period. Malarkey's Emerald Premium Warranty is provided when shingles and 4 accessories are used in a Malarkey roof system. 
Owens Corning is one of the market leaders which produces all the components needed in a fully integrated roofing system. Depending on the products purchased and the number of roof system components those products represent, progressively stronger warranty levels apply, up to OC's ultimate Platinum Warranty. 
According to David Stillwagon, Tampa-based Area Sales Manager for Owens Corning, it's important to consider getting not only OC's shingles, but also the felt or synthetic underlayment, ice and water barrier, starter shingles, and hip/ridge shingles to complete the truly integrated roof system. "It's like Legos®," says Stillwagon. "If your kid loses a few of his Legos®, you can replace them with an off-brand or with authentic Legos®.  If you choose the off-brand, which looks and feels the same as real Legos®, they probably will not fit the real Legos® perfectly and color variation may be obvious."
In the case of Malarkey Roofing Products, contractors working on a roof that features low-slope and steep-slope combinations can count on Malarkey's OmniSeal rolled roofing system to have cap sheets that are specifically designed to match colors in the company's shingle lines.
Contractor Certification Means Better Warranties, Too
Because accuracy and precision are required in assembling an entire roof system, installation standards must be met to qualify for the best warranties.
For example, the highest certification level among GAF-certified contractors is called Master Elite Certification. Master Elite contractors are committed to ongoing training with GAF for new products and practices. GAF certified installers are licensed and insured. Invariably, they have great customer ratings, too, partly due to the strong warranties they qualify for and pass along to property owners, such as GAF's Golden Pledge. Owens Corning has its Preferred Protection System warranty and Platinum Protection System warranty. Other renowned manufacturers have similar warranty levels for their certified contractors.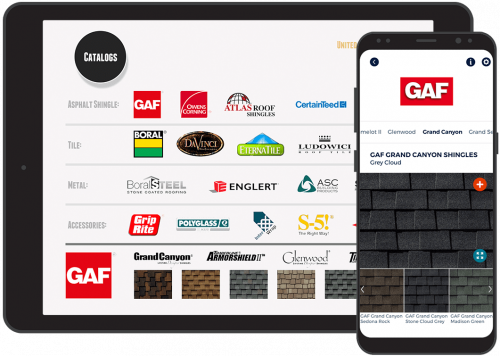 iRoofing Contains Digital Images and specifications for All Leading Roof Product Manufacturers!
With iRoofing's in-app digital catalogs, a roofing contractor can select a product image and superimpose it perfectly onto an image of their client's home or building. With the app's Unlimited Roof Reports and Estimates, each component of a roofing system can be incorporated into the roof take-off, and pulled into a digital Estimator for accurate pricing and purchase orders which they can send off to their distributor instantly.
Opt for a Single-Sourced Roofing System Whenever Possible...
Depending on your project needs and budget, the best route to take is to buy all roofing components from the same manufacturer.  There is no better way to assure that the roofing system will perform at its highest level, thanks to the orchestration of the unified components, as designed by the manufacturer. Plus there are great selling points to the property owner, including strong warranties, trouble-free installations, and perfect color coordination.