Our world is full of brilliant innovators, so much so that almost every great new idea seems like it's been thought before. Nevertheless, it's fun to invent things and we've all probably come up with an idea that is sure to make us rich someday!
What tools do you need for roofing
Among the products featured here, you may find a few you've already heard of. These aren't all roofer tools, per se, but we hope that you will find some of them interesting if not potentially useful in your work or home life.
You're riding around in your tricked-out roofing truck when you notice the pesky check engine light is on.  You assume it's something inconsequential because your gauges indicate nothing is the matter. Yet, you can't help but feel a little concerned, especially if you're responsible for taking good care of the company vehicle. Don't fret. Now you can play master mechanic with just a simple app! With FIXD you can continuously monitor your truck or car for any engine problems, instantly diagnose why the engine light is on, and even view repair estimates before calling a mechanic!  Check it out.  https://www.fixdapp.com/
2. Safety Helmet Ball Cap
Could anything be more in line with your everyday fashion sense than this practical baseball cap retrofitted with a protective shield? Nowadays this headgear won't just come in handy when you're tearing off asbestos shingles, it also fits right into everyday life in the Age of Coronavirus. Wear it to the grocery store. Pick-up your take out with renewed confidence. Starting dating again and feel more comfortable getting close. If she's not coughing or running a fever, lift the shield and give her a big kiss! Shielded baseball cap 
Let's talk caulk. Getting a bead of sealant put down just right takes a bit of skill. Many of us know this from a sloppy job we might have done ourselves at home when the shower or tub needed attention. But roofing pros can't afford to flub up on jobs when their reputation is at stake. With the Cobra Lap Joint Nozzle, a nice wide bead goes down to expertly seal all kinds of lap joints, flashing, window fins, and thresholds. Your beautiful bead of sealant is designed to be thicker in the middle and thinner on the edge, so the bulk of the goop ends up exactly where it's needed.
4. WorksWell WIRIS Thermal Imaging Camera
Whoa Nelly! This gadget is not cheap (north of $3,000 based on our quick research) but if you're big into  commercial roofing or you're a residential roofing company that's ready to take things to the next level, this thermal imaging system for drones unites a thermal camera, a digital camera, and a control unit with an optional recording unit. Roofing professionals have been using thermal imaging cameras for years to pinpoint water intrusion, find moisture beneath the surface, and document dryness with accuracy and confidence, but for thermal inspections of industrial buildings the WIRIS mini, aboard a drone, is a tremendous time-saver!  Thermal-sensing drone camera
5. Catch All Roofing System
Imagine a huge bib skirting the house that you're re-roofing. The Catch-All does just what it's name implies— it catches all the debris from a roof removal while protecting homeowners' cherished flower beds and other landscaping. In 2019, The Catch-All even took away top honors when it was voted the "Most Innovative Product in Roofing." And, The Catch all roofing system is a tremendous marketing tool… literally.  When you order the product it comes branded with your roofing company's logo! Think of rain-delayed Major League Baseball game, when the infield is covered with a giant advertisement for Morton Salt… "When it Rains, it Pours."  Make sure you cover all your bases when tossing bulky debris off your client's property. Put The Catch all roofing system up to bat!
6. Smartphone Roof Inspection Report Tool
The great minds at iRoofing have managed to do it again! They've made the competition look passé by coming up with a sophisticated, simple-to-use, DIY Roof Inspection Report tool. iRoofing set out to give contractors a roofer tool that offers a smart way to document roof repair needs with just a smartphone and the iRoofing phone app. The innovation saves the data to a customer profile within the app's svelte CRM. iRoofing's roof inspection reports are ideal for formulating cost estimates that are backed up by full evidence of the roof damage. The groovy new tool is slated to debut this spring (2020). Plus, under a basic iRoofing plan which accommodates up to 3 users, there's no extra charge for it.  Phone App and Inspection Tool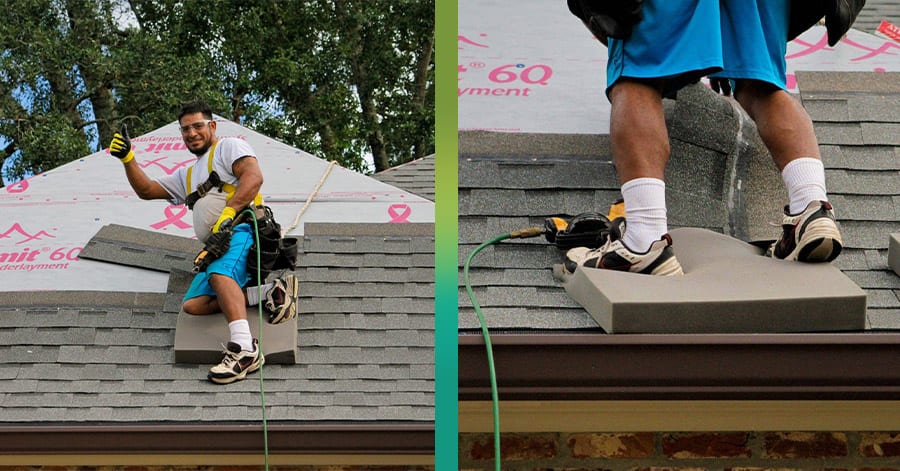 Okay, maybe you knew this product existed, but we're just roofing software developers who don't come across these types of things too often. We thought Roof Grippers were worth a shout-out because we're always concerned with your safety up there on steep roofs. That's why we created iRoofing, so you wouldn't have to scale a roof, at least not to do measurements and estimates. Roof Grippers aren't things you strap to your feet which can scuff and scrape asphalt shingles. Instead it's a comfortable and insulating foam gripping pad that prevents sliding and provides a cushion between your feet and the roof surface. In fact, the product was conceived by roofers who used to use pick up couch cushions they found which people had thrown out. Keep those puppies of yours from slipping or overheating. 
8. Clearoof™ - A "First" among Roofer Tools
Here's another shameless self promotion for iRoofing… Our contractors who serve areas in the Lower 48 love Clearoof™.  The feature provides high-resolution aerial imagery in the occasional times that satellite imagery can't cut it due to seasonal foliage obstructions and other natural or technical difficulties. Clearoof™ credits are provided free of charge and credits automatically replenish each month. Heavy users of Clearoof™ might require a mid-month bump in credits, which iRoofing can provide upon request.  https://iroofing.org/clearoof-aerial/
9. K-Guard Heated Gutter System
We all think icicles are pretty. We loved them as kids and would often break them off from wherever they were hanging so we could suck on them like flavorless popsicles. But property owners cringe when they see heavy spikes of ice hanging from their eaves; pulling down on their gutter system. K-Guard utilizes heating cables inside their reinforced gutter system. This prevents ice build-up. The system is entirely self-contained, eliminating unsightly loops of heat cable on the edge of your roof.  https://www.kguardcleveland.com/heated.html
Let's say you're casing out a property in order to determine all the special roofing needs your potential job will require. You don't have time to get on the roof and you left your drone back at the office. Nevertheless, you need to get some tight close ups pictures of soffit damage up under an eave and it's too high up for your camera to get a suitable shot. Stop right there. If you had a Starscope Monocular you'd be in business. This high-powered lens snaps on to your iPhone or Android to provide 10X magnification. It's really cool and the property owner is going to be amazed at your gadget knowledge, especially when you deliver their digital estimate from the iRoofing app, replete with images you uploaded from your Starscope!  https://www.starscopemonocular.com/ 

At iRoofing, we love gadgets and innovations, so we'll keep a look-out for more products that our roofing contractors might like. In the meantime. Be Safe and Happy Roofing!